Airlines Face Desolate Future as Attempts to Reopen Crumble
(Bloomberg Businessweek) -- Airlines have felt the pain of the coronavirus pandemic more than other companies. Almost overnight the bulk of their business ceased. But in mid-2020 there was at least hope that Covid-19 might not be as virulent as first thought; that warmer months would bring some respite; that travel corridors—agreements allowing passengers to fly between two countries without quarantine—might get people back in the air.
Now, almost eight months into the pandemic, with cities reentering lockdown and a vaccine likely months away, it's apparent there will be no quick comeback. International air traffic in July was 92% below 2019 levels, and there was little sign of improvement in August, according to the International Air Transport Association (IATA). More than 400,000 airline jobs have been cut since February, according to data compiled by Bloomberg. "This is lasting longer and is deeper than most people thought," says Scott Kirby, chief executive officer of United Airlines Holdings Inc. "And our view is demand is not coming back. People are not going to get back and travel like they did before until there's a vaccine that's been widely distributed."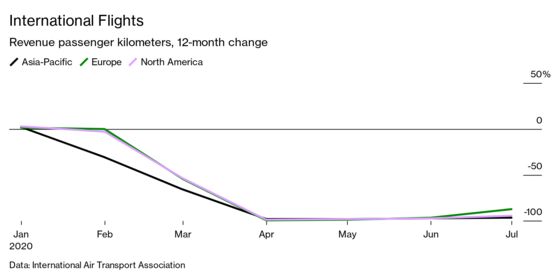 British Airways CEO Alex Cruz says the airline is "fighting for survival." Cathay Pacific Airways Ltd. has said it's restructure or die. And Singapore Airlines Ltd. boss Goh Choon Phong called the decision to slash 4,300 jobs—about 20% of his workforce—the "hardest and most agonizing" he's had to make in 30 years with the company.
Airlines in the U.S. are expected to lay off thousands of additional workers when the Coronavirus Aid, Relief, and Economic Security Act, or Cares Act, expires on Oct. 1. United Airlines is burning through $25 million a day, and "you just can't go forever on that," Kirby says.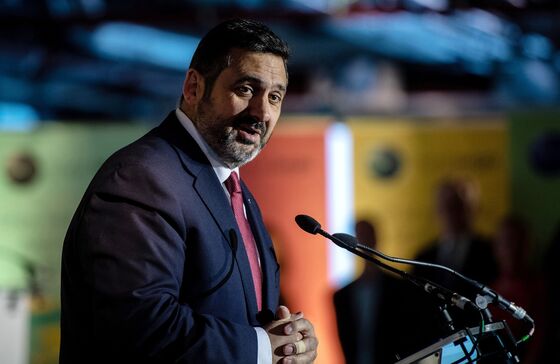 In Europe a pickup in air traffic in July and August, as vacationers sought to escape monthslong lockdowns, has abruptly gone into reverse as virus flare-ups send people scurrying home before borders close and new quarantine restrictions kick in. Carsten Spohr, CEO of Deutsche Lufthansa AG, is preparing for deeper job and fleet cuts, saying it will "take a marathon to get through the crisis, not a sprint." Europe's biggest airline, which accepted a €9 billion ($10.5 billion) German bailout in early June, doesn't expect to see a full recovery in traffic until the middle of the decade.
According to IATA, 25 million jobs are at risk in airlines and associated businesses such as travel and tourism. That's more than the 22 million the International Labour Organization estimates were lost globally as a result of the 2008 financial crisis.
More staff reductions are coming. American Airlines Group Inc. plans to dismiss 19,000 workers on Oct. 1 following the expiration of job guarantees tied to $25 billion of federal payroll aid under the Cares Act. United Airlines is expected to eliminate at least 13,000 posts. Delta Air Lines Inc. is trying to avoid large-scale layoffs until next summer now that thousands of employees have left voluntarily or taken unpaid leave.
Losses in the Asia-Pacific region, meanwhile, seem implausibly small, researcher Five Aero says. That would indicate Asia may be on the cusp of a torrent of cuts. Cathay is working on a restructuring that should be announced in the fourth quarter, and analysts at Jefferies Hong Kong Ltd. have said more staff reductions at the airline are inevitable.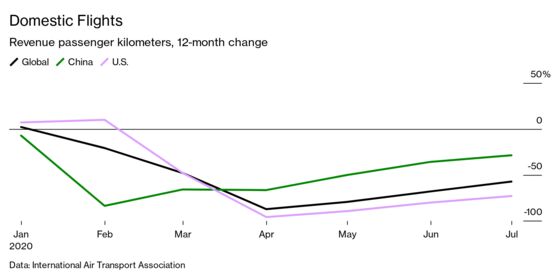 Government aid has helped, but there may not be much more. Carriers in Europe alone received €29 billion of aid, state-backed loans, and other forms of support through Aug. 27, excluding furlough money, with a further €3.4 billion in the pipeline, according to Greenpeace's European airline bailout tracker. Airlines in India, until recently the world's fastest-growing aviation market, are seeking at least $1.5 billion as an interest-free credit line from the government, Civil Aviation Minister Hardeep Singh Puri said on Sept. 17.
With airline stock prices plunging, attracting fresh investment is getting harder. Warren Buffett has completely exited his stakes in the four major U.S. airlines, and carriers that are for sale haven't found any buyers. Malaysia's AirAsia Group Bhd., once the leader of a low-cost revolution in Asia, may borrow as much as 2.5 billion ringgit ($605 million), and Thai Airways International Pcl, which has about $11 billion of debt, recently got court approval for a restructuring. Richard Branson's Virgin Atlantic Airways Ltd. is under­going a £1.2 billion ($1.5 billion) rescue built around a loan from a hedge fund. The pandemic is pushing airline Virgin Australia into the hands of private equity in a deal approved in September.
In the U.S., Delta was able to raise $9 billion in the industry's largest debt sale ever, offering yields as high as 4.5% to lure investors. Delta's bonds are secured by its frequent-flyer program, and this is one part of airlines' business that's holding its value. American Airlines' loyalty program is worth as much as $30 billion, and United Airlines sold $6.8 billion of debt in June backed by its program.
Aircraft are in a crisis of their own. A third of the world's 26,000 passenger jets remain grounded, parked in deserts or lined up in rows along the tarmac, aviation data provider Cirium says. Those in the skies are only about half full, according to IATA.
The fleet reductions are squeezing plane makers. Airbus received only one order in August, and Boeing is fighting to stop cancellations of its 737 Max, which was grounded after two fatal crashes. Airlines are also seeking to defer previously ordered planes. "An aircraft manufacturer has to oblige their customer in difficult times," Qatar Airways CEO Akbar Al Baker said on Sept. 2. "People who do not oblige and stand with us at this particular time will not see us again."
Corporate travel may never recover, as business­people everywhere realize they can close deals and get the job done over Zoom and from home even. Leisure travel is expected to spring back once there's an effective vaccine, but tourists will probably be more cautious. Jaunts to far-flung places where medical help is remote may hold less appeal.
Wizz Air Holdings Plc relaunched services more aggressively than any other European carrier but has since hit the brakes, freezing capacity plans for the fourth quarter at current levels. Norwegian Air Shuttle ASA has dumped its signature model of low-cost trans-Atlantic flights until at least next year—if it can survive the winter.
Others are introducing new destinations. United is adding nonstop flights to places such as Lagos in Nigeria and Bangalore in India to serve the large diasporas living in American cities. Traffic from trips to see family and friends is withstanding the pandemic better than other segments, says Patrick Quayle, United's vice president for international network and alliances.
After cutting planes, pilots, and crew, airlines are tearing into ground services such as baggage handling as well as fixed costs like property, cleaning, and electricity. Qantas has said it may shift its Sydney headquarters to another city as part of an Australia-wide property review. It's already trying to sublet 25,000 square meters (269,000 square feet) of real estate. —With Christopher Jasper and Justin Bachman
 
Read next: Carnival's Ruby Princess Cruise Ship Spread Coronavirus Around the World