J.C. Penney Bankruptcy Shows That Retailers Need to Slim Down
(Bloomberg Businessweek) -- For a half-century, J.C. Penney Co.'s store count grew along with American malls, eventually earning the company the crown as the most ubiquitous retailer anchoring those centers. It now operates about a fifth of all the anchor stores in U.S. malls. But when the department-store chain filed for bankruptcy on May 15, it said it would close more than a quarter of its 846 stores.
That retrenchment reflects a dire financial position: J.C. Penney's $8 billion debt burden was simply too heavy to bear. But it also signals a growing realization among brick-and-mortar retailers that the relentless pursuit of growth in number of stores hasn't served them particularly well for years. The amount of merchandise sold per available square foot of selling space in stores has fallen in recent years, while rents have continued upward. And the explosion in online shopping means fewer consumers trek to malls. Now Covid-19 could finally force a reckoning for overstored America. One result: As the lights come on after an almost total shutdown of national chains, many retailers are deciding some of their stores will stay dark forever.
"I think for the first time, companies don't have to decide which stores to close, they have to decide which stores to open," says Simeon Siegel, retail analyst at BMO Capital Markets. "They will find that they have been forced to make decisions that they probably have been putting off."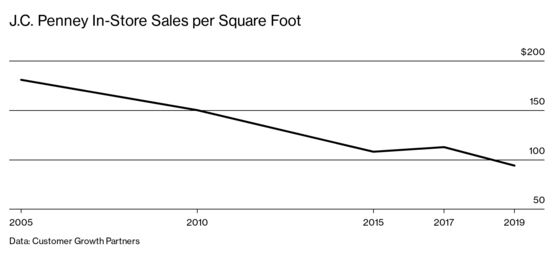 It's much more than a Penney problem. The U.S. is the leader in two categories: most retail selling space per capita of any country, but also lowest sales per square feet, according to commercial real estate company Cushman & Wakefield. It says the U.S. has 25 retailing square feet per capita that brings in about $500 in sales, compared with China, which has less than 5 square feet per capita that accounts for $1,000 in sales. Conditioned by decades of more-is-better thinking, many retailers have been reluctant to close stores. They're also afraid that a smaller physical presence could harm e-commerce sales.
But the pandemic is ripping up the traditional retail playbook. U.S. retail revenue fell 16.4% in April from the prior month, almost double the 8.3% drop in March. And even when lockdowns ease, the new normal isn't expected to be particularly heady: More than half of mall-based department stores could close by the end of 2021, forecasts Green Street Advisors. "We view this entire thing as a forced right-sizing of this sector," says Craig Johnson, president of consultant Customer Growth Partners. "Apparel and department stores have been way over capacity for years." While retailers have announced a handful of closures in the past few years, "that's a nip-and-tuck cosmetic surgery, but what they actually need is radical surgery."
It's already happening. Nordstrom Inc. says it will permanently close 16 full-line stores and all of its Jeffrey designer boutiques, together accounting for more than 10% of its locations. Macy's Inc. is closing a quarter of its stores over the next three years. And in May, department-store chain Stage Stores, clothier J. Crew Group, and luxury merchant Neiman Marcus filed for bankruptcy protection—with all expected to seek some store closures.
A Chapter 11 bankruptcy filing gives retailers a period of time to exit leases without penalty. J.C. Penney, the largest U.S. mall tenant in square footage, will reduce its store count to about 604. Downsized, it expects net sales of $7.5 billion, a drop from $9.2 billion in fiscal 2019. The remaining stores, it says, "represent the highest sales-generating, most profitable, and most productive stores in the network."
Post-pandemic, the ability to shrink will be key. At the largest U.S. department stores, which are often anchors of shopping centers, sales productivity—measured as annual sales derived from each unit of selling space—has fallen since 2015, according to Johnson. While J.C. Penney's store productivity in 2005 was $181 per square foot, that had dropped to $94 per square foot last year, the analyst says. Retailers are also loath to reopen some stores without getting new rent deals that reflect radically lower sales. The possibility of bankruptcy is one way to force the issue with property owners.
Shareholders, who've long judged retailers by their ability to expand their footprint as well as their sales, will have to embrace the notion of smaller chains, says Siegel, of BMO Capital Markets. "Investors demand growth, and companies try to acquiesce," he says. But after the Covid-19 shutdowns, "there's an understanding that we're starting from zero. That changes the dynamic of growth. There needs to be a general understanding that some of these companies simply got too large in the pursuit of growth and perhaps would be healthier if they were allowed to shrink."