Don't Sue Me Like That: Anatomy of a Copyright Troll
(Bloomberg Businessweek) -- Just as there are patent trolls who acquire intellectual property on the cheap and then attempt to extract payments from large companies, there are those who take advantage of laws designed to protect the works of artists and authors. Their targets, typically, are small publishers who might not appreciate their own vulnerability until they're hit with a complaint. Take Jim Kaplan, the publisher of Record Collector News. In 2020, Kaplan was sued by Indianapolis-based rock photographer Larry Philpot over a picture of Tom Petty that appeared on the publication's website. The image wasn't credited. Kaplan offered to right the lapse, but Philpot's lawyers were only interested in money. Kaplan settled the suit. He can't talk about the terms because of a confidentiality agreement, but it hurt badly enough that he moved to shut down the paper's website, switching to print-only. "There was a kind of beauty to the beating I took," he says.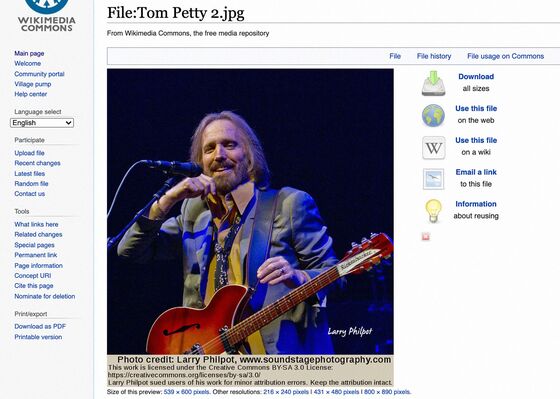 Philpot, who declined to comment, is little known among photojournalists, though he's notorious among free-speech advocates and lawyers who accuse him (and others like him) of pulling off what is essentially a racket. "It's totally legal," says Chip Stewart, a lawyer and professor at Texas Christian University who studies the topic. "It's just evil."
1. Take a photo of a recognizable celebrity.
2. Put it where people will find it. Philpot posts concert photos of musical artists—Petty, Willie Nelson, Kenny Chesney—to Wikimedia Commons, a site that describes itself as a place for "freely usable media files."
3. Devise some fine print. Wikimedia photos are distributed under Creative Commons licenses, which allow them to be used by bloggers and cash-strapped publishers at no cost. But artists can set their own terms for attribution, and Philpot's are complex. He also uses an old version of the license that doesn't give the publishers a chance to make things right by correcting mistakes.
4. Sue! If the attribution is missing or incorrect, Philpot fires off a lawsuit describing a brazen theft of his work and then often asks for $150,000 per image, the maximum penalty allowed by law.
5. Offer to settle. These suits are intimidating, but they're not meant to go to court. Philpot asks for—and receives—default judgments when targets don't respond. When they do, he'll offer to accept a much lower payment, sometimes a few thousand dollars, sometimes as much as $40,000.
6. If things get complicated, just sue somebody else. Copyright trolling is a volume game, so if the other side's lawyers fight back, you can always just drop the case and move on.