A $650,000 Metaphor for How We Feel Right Now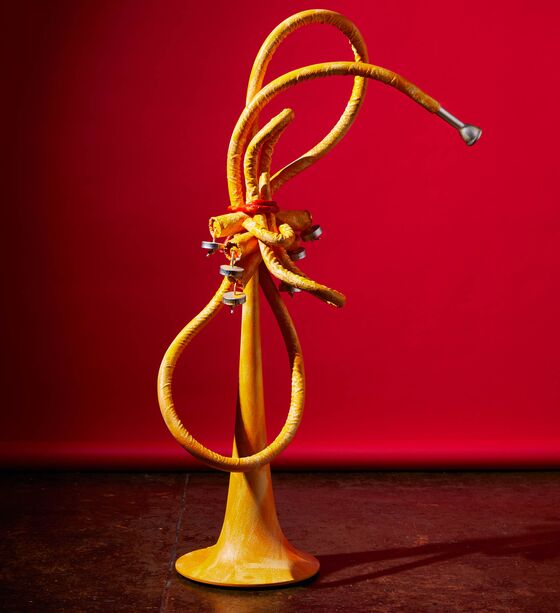 (Bloomberg Businessweek) -- Pop artist Claes Oldenburg has been distorting the dimensions of objects for more than half a century, nudging viewers to reexamine the totems of everyday life. His most recognizable works are large-scale sculptures: a 39-foot-tall overturned ice cream cone atop a shopping mall in Cologne, Germany, for instance, or a 45-foot steel clothespin in downtown Philadelphia. But Oldenburg, who collaborated for decades with his late wife, the artist Coosje van Bruggen, is also adept at playing with smaller shapes. The duo's 50-inch Tied Trumpet (2004) distills their sculpture practice at a more manageable scale.
• Roy Lichtenstein turned out hundreds of bright, home-appropriate sculptures, many in editions of six or fewer. Last year a 44-inch bronze sculpture of a head sold for $800,000 at Phillips in New York.
• Two of Andy Warhol's silkscreen-on-plywood Campbell's Tomato Juice Box sold for $300,000 each a few days apart last year. Four years before, a silk-screened Kellogg's Corn Flakes Box sold at Christie's New York for $905,000.
• For all of Keith Haring's fame, his sculpture has never cracked $2 million at auction. Most of his work in small editions sells in the mid-six figures: A 57.5-inch lacquered steel piece fetched $435,000 at Christie's New York in March.
Tied Trumpet, which is fashioned from steel, felt, canvas, rope, cord, and plastic tubing, was part of a series of musical instruments Oldenburg and Van Bruggen made for "The Music Room," a 2005 exhibition at PaceWildenstein Gallery in New York. Now 91, Oldenburg is one of the last living giants of American pop art; this work is a rare example that both serves as a recognizable part of his oeuvre and actually fits inside a home. $650,000; Pace Gallery, 212 421-3292