Germany Has Its Own Dr. Fauci—and Actually Follows His Advice
(Bloomberg Businessweek) -- As Germany cleared away spent fireworks and slept off its hangovers on New Year's Day, Christian Drosten got a sobering wake-up call: A member of his team—he heads the virology department at Berlin's Charité hospital—reported that a strange pneumonia was spreading in the Chinese city of Wuhan.
For Drosten, a leading developer of tests for emerging viruses, there was an element of déjà vu. As a doctoral student in Hamburg in 2003, he'd discovered that the outbreak of severe acute respiratory syndrome, or SARS, then terrifying Asia was caused by a coronavirus. Although it was unclear whether a coronavirus was responsible for the Wuhan outbreak, Drosten fully understood the danger. While the viruses are common pathogens known to cause colds, some discovered in recent decades are highly lethal.
He alerted his staff to get ready for the possibility of a deadly pandemic. When Chinese researchers confirmed that the culprit was indeed a coronavirus and on Jan. 10—a Friday—published its genome sequence, the Charité scientists sprang into action. Working through the weekend, they pulled together samples of the SARS virus and other coronaviruses, aiming to make a test that could detect the new threat. Late on Saturday a team member tweeted, "Lab days are happy days! #Wuhan #Coronavirus."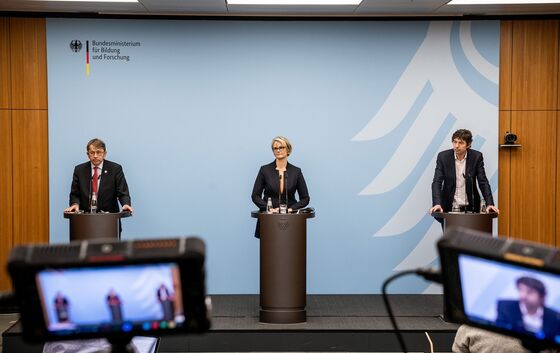 By Monday they had a test that could confirm whether someone had been infected by the novel coronavirus. Drosten shared the details with the World Health Organization, which published them on its website, and the test was soon deployed around the world. One place that declined to use Drosten's test was the U.S.; it came up with its own diagnostic tool, which turned out to be flawed and left the country blind for two months as the virus raged. Germany's test confirmed the country's first case on Jan. 27. There were 13 more in the coming days, at the time constituting the largest known cluster outside of China. Authorities sequestered Covid-19 patients, tracked down their recent contacts, and slowed infections.
"We knew the virus had arrived," says Tobias Kurth, an epidemiologist at Charité who works with Drosten. "The message was, 'OK, there's a virus. It spreads in certain ways. There are certain risks. But if we can identify them, we can isolate them, and then it can be stopped.' "
Ten months into the pandemic, some countries have practically eradicated the virus while others haven't come close. Comparisons are tricky, because luck has played a role, and some places enjoyed advantages such as geographical isolation; plentiful hospital beds, respirators, and protective gear; and trust among people, policymakers, and scientists.
Germany had most of these going for it, except for the geography part. Even so, it seems fair to say the country has done well with Drosten at the forefront of the fight, advocating a robust but clear-headed approach. Since developing the test, the 48-year-old scientist—tall and lean, with a mop of dark brown hair and a head that bends slightly forward, as if he's forever peering into a microscope—has led a research team at Charité that's explored how the virus spreads and affects people differently. He's shared thoughts with colleagues around the world, offered insights at press conferences alongside Germany's health minister, and advised Chancellor Angela Merkel—a role some have compared to that played by Dr. Anthony Fauci in the U.S.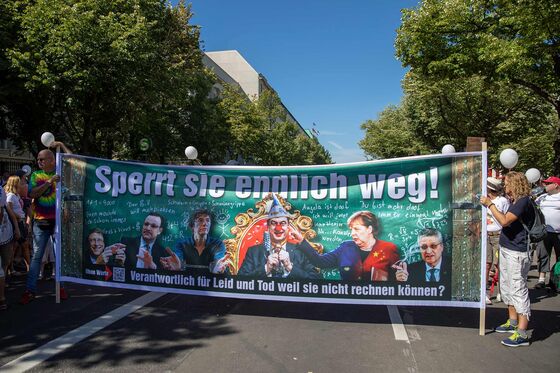 But Drosten is even more famous in Germany than Fauci is in America, thanks to a wildly successful podcast he introduced in February. Das Coronavirus-Update rocketed to the top of Germany's podcast rankings, reliably outperforming programs devoted to sex, crime, and even soccer. Its format is simple: As often as five times a week, he spends an hour answering questions about basic science, the latest Covid research, and how societies might navigate the pandemic. Since starting the show, he's cut back on contact with the press, reserving most of his comments for the podcast. He declined an interview for this story.
Drosten's rise has earned him millions of fans—and more than a few enemies. Detractors argue that he wields too much influence, making him a punching bag for what they consider government overreach. After he suggested it could be a while before people might again pack into soccer stadiums, he received death threats, prompting the police to monitor his email.
A key to Drosten's popularity has been his ability to parry attacks from critics. In May, Germany's largest-circulation newspaper, Bild, accused him of making a math mistake in a study that concluded children may be as infectious as adults and suggested that schools shouldn't rush to fully reopen. When a Bild reporter contacted him and demanded answers to a series of questions within an hour, Drosten declined to respond and instead posted the journalist's email on Twitter. The newspaper, he said, was planning a "tendentious" piece, and he had "better things to do."
That retort became a rallying cry for his swelling ranks of defenders. A German model proposed to him on Twitter, demanding a response within the hour or else she'd assume they're engaged. ZSK, a punk band in Berlin, released a song called I Have Better Things to Do. The accompanying music video features a cartoon Drosten angrily throwing away a cellphone with Bild on its screen and blasting viruses with laser beams shooting out of his eyeballs. "Drosten is straightforward, no nonsense," says Vincent Racaniello, a microbiology professor at Columbia University, who praises Germany for trusting its experts during the pandemic.
In April, Racaniello invited Drosten to his own podcast, This Week in Virology. The show, which premiered in 2008, has attracted plenty of new listeners this year, but its reach is nothing compared with Drosten's tens of millions of downloads—a source of bemusement for Racaniello, who can't imagine an American scientist gaining so much cultural clout.
"Tony Fauci is wonderful," he says. "But he's not a coronavirologist."
Drosten's path to coronavirology started on the farm in northwestern Germany where he grew up. He served as a paramedic, then studied chemical engineering and biology at university before switching to medicine. He worked for a spell in an intensive care unit, but the experience haunted him. When patients died, he couldn't stop thinking about them.
In 2000 he landed a position at the Bernhard Nocht Institute for Tropical Medicine in Hamburg, a state-funded biosafety lab, where he earned respect for his diagnostic chops that helped him detect Ebola, dengue, and other viruses—and for his ability to explain what it all means to nonscientists.
In March 2003 a couple from Singapore was pulled off a plane in Frankfurt and hospitalized with a mysterious respiratory ailment that resembled the one breaking out across Asia. While visiting Frankfurt a few days later, Drosten obtained a sample of the virus cells, drove five hours back to Hamburg, and over several long nights determined that the pathogen was a coronavirus. While researchers in the U.S. and Hong Kong made the discovery at about the same time, Drosten pushed ahead and developed a test for the virus—then offered free step-by-step instructions for making the test online.
This work, published in the New England Journal of Medicine, earned an award from the German government. But the test never got much use. SARS disappeared almost as fast as it came, ultimately infecting only about 8,000 people thanks to social distancing rules and because it was hard to transmit. The current outbreak has seen at least 33 million infections and more than 1 million deaths.
In the aftermath of SARS, scientists concluded that the virus had made a jump to humans from bats. Drosten knew of some caves about 40 miles north of Hamburg where bats congregate. One summer day he called Florian Gloza-Rausch, the head of a bat research center at the caves, who was about to go on vacation. "I said, 'Either come today or in two weeks,' " Gloza-Rausch recalls. "He said, 'I'll hop in my car.' " Before long, the pair discovered that bats in Germany carry coronaviruses, too, some of the first known to do so outside of China. They subsequently traveled to Bulgaria and Ghana in search of more virus-laden bats.
By then, Drosten was head of virology at the University of Bonn, where his team developed tests for the Zika flavivirus and the coronavirus behind Middle East respiratory syndrome, or MERS. When he got the Charité post in 2017, he said he wanted to use the Berlin facility's vast resources to dig deeper into the diversity and evolution of viruses and better understand how epidemics start. Public-health systems, he said, needed to brace for the next pandemic. When it came, the most important tool would be early detection.
Drosten's preparations, and his quick thinking in January, paid off. By the end of the month, his test had confirmed that the coronavirus was breaking out in Bavaria. Auto parts supplier Webasto SE had flown employees in from China for several days of training. During meetings at headquarters near Munich, one of those people felt a little feverish but assumed it was jet lag. After she flew home to Shanghai, she was hospitalized. Before long, nine Webasto workers in Germany tested positive, along with five family members.
That week, Drosten made one of his first big public appearances of the crisis, on the TV interview show Talk aus Berlin. With SARS, he said, the virus had to get down into the lungs before it could replicate enough to spread. By then most people felt so sick they couldn't go out—a key reason SARS was brought under control. On the other hand, the flu can replicate in the throat and infect others before a person feels any symptoms, making it far harder to stop.
Where in that spectrum, Drosten mused, would this new coronavirus fit? Would it pack such a powerful punch that infected people would simply stay home? Or would early symptoms be so mild—perhaps even nonexistent—that people would, say, go out and play soccer or basketball, or ski?
"And infect everyone else," the host said.
"Exactly," Drosten said. "That's what we're looking at to determine whether this will be easy to control, or hard, or even impossible."
It didn't take long for it to become clear that controlling the virus would fall somewhere between hard and impossible. After it silently spread for weeks in northern Italy, hospitals there were suddenly overwhelmed. Spain faced the horror next, then France. With deaths mounting, governments resorted to mandatory stay-at-home rules that would have been unthinkable a few weeks earlier. Germany's infections accelerated, too, set off by, among other things, vacationers returning from ski trips in the Alps.
As anxiety built, Norbert Grundei, a podcast producer for the Norddeutscher Rundfunk public broadcasting system, spotted Drosten on TV and typed a long, formal email with a proposal. "How would it be," he recalled writing, "if we spoke with the man who's the absolute expert on this topic in Germany, who advises the federal government and the foreign ministry? If everyone in Germany got the same level of information as the political decision-makers?"
Drosten's immediate response: "Let's start Monday."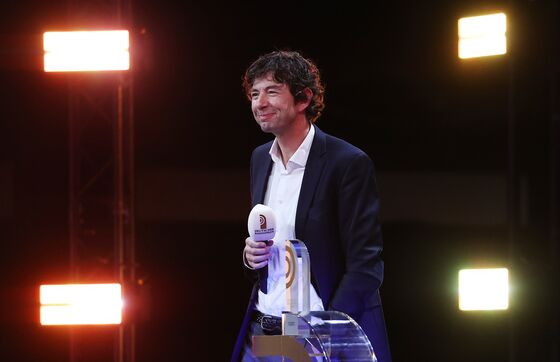 Das Coronavirus-Update premiered on Feb. 26, with Drosten, in Berlin, answering questions from a science editor in Hamburg. He hadn't been sleeping well of late, he allowed. He'd been fielding emails and phone calls from all over the globe, asking how to properly use his test. From that he surmised that the virus had spread a lot more widely than official statistics suggested and that labs in many places were ill-equipped to manage the crisis.
Germany, however, had a lot going for it. Over decades it had developed one of the world's best systems of labs and set up the greatest number of intensive care beds in Europe. And, because of its almost universal health coverage, people had little incentive to put off getting tested or seeking care. Nonetheless, Drosten cautioned that even though the virus likely posed little danger to most individuals, it represented a massive threat to Germany as a whole, potentially overwhelming hospitals and doctors.
Drosten is part of a group of scientists counseling Chancellor Merkel, who has a doctorate in quantum chemistry and is often praised for her composure and command of facts. By mid-March, Merkel was being accused of not reacting boldly enough. Case numbers were mushrooming in Germany, and health officials were struggling to keep track of infections. About a week after France and Spain instituted strict nationwide lockdowns, Merkel introduced a looser one in Germany—closing schools and most businesses, but never forcing people to stay inside their homes. They could still go out and exercise or hang out with family and, before long, friends.
Germany's performance hasn't been perfect. Early on there were shortages of masks and other protective gear, causing a spike in infections among doctors and nurses. And the country never brought infection levels as low as, say, Japan, New Zealand, or South Korea. Still, its fatality rate has stayed strikingly low—as of September, five times lower than those in the U.S., U.K., Italy, and Spain.
With life returning to something resembling normal in late May, Drosten took a victory lap in a cover-story interview with Der Spiegel magazine. Germany, he said, had reacted "quite efficiently," and his team's test had given politicians a month's head start in managing the crisis, saving perhaps 100,000 lives. By late June, as new infections fell to a few hundred a day (from a peak of 7,000 in March), Drosten said on Episode 50 of his podcast that Germans had earned the privilege of a relaxed start to summer—though trouble could return if people abused their freedom. With that, he put his show on summer break and went on vacation.
Millions of other Germans did the same. Cars flew down the autobahns, and people packed into trains, albeit mostly wearing masks. From North Sea beaches to Alpine lakes, hotels did a booming business. As restaurants opened up, their terraces filled with diners and drinkers.
Schools and day-care centers reopened, too, and by August, infections began rising—along with uncertainties. Politicians debated how best to increase testing, especially for people returning from "risk areas" with higher levels of the virus. Drosten, who'd been largely silent over the summer, resurfaced with an 1,800-word manifesto in the newspaper Die Zeit headlined "A Plan for the Fall," in which he warned of a new wave of illnesses. A few weeks later, he relaunched the podcast.
Big questions remain for Germany, he says. Will schools touch off a surge in cases? Will the winter bring trouble, as few Germans have developed immunity? And his thoughts on testing have evolved. If health officials get overwhelmed in the coming months, he argues, they should stop trying to capture every case of Covid. Most people only pass it on to one other person anyway, posing little systemic risk. But occasionally, someone spreads it more widely, creating a cluster of infections that really drives the pandemic. To avoid another lockdown, he says, Germany must focus on identifying and preventing those clusters.
The situation continues to deteriorate, with case numbers skyrocketing in France, Spain, and the U.K. On Sept. 23 in Washington, Fauci appeared exasperated at having to debate Senator Rand Paul of Kentucky over the merits of basics such as mask wearing and social distancing.
In Berlin, thousands took to the streets to protest measures intended to keep the virus in check. But Drosten has said such people represent only a sliver of public opinion in Germany and praises his countrymen for not politicizing the issue. As infections edge up, the country is still vulnerable, he says, but it's equipped to recognize trouble early and react swiftly. "It's possible that we can prevent a second wave," Drosten told public TV station ZDF. "But that will require intense focus from everyone. At the moment, that's the challenge."