Chinese E-Commerce Group Buying Increases Power of Local Leaders
(Bloomberg Businessweek) -- While managing her convenience store in the central Chinese city of Changsha, Chen Shishun always has an eye on her phone. In part, she's just talking on WeChat and sharing photos with her improbably large network of friends and neighbors. But Chen also monitors grocery apps for bulk deals on fruits and vegetables, then gathers orders from people she knows and has the food delivered to her store.
The role of neighborhood e-commerce middleman, or tuan zhang, has become an increasingly vital one in Chinese cities since the first Covid-19 lockdowns. Chen, the kind of local merchant who does things like help customers carry purchases home, took charge of placing online grocery orders for the neighborhood when it was locked down this February. Word of her services spread quickly, and she now has almost a thousand people seeking to take advantage of steep discounts and cheaper shipping fees she gets by placing big orders—on the busiest days, she and an assistant handle 800—and centralizing deliveries.
There are hundreds of thousands of such operations across China. People form community buying groups based on shared neighborhoods, districts, or even apartment blocks. While some version of this has existed since rural farmers banded together to buy seeds and fertilizer, it's been supercharged by smartphones and a growing e-commerce market.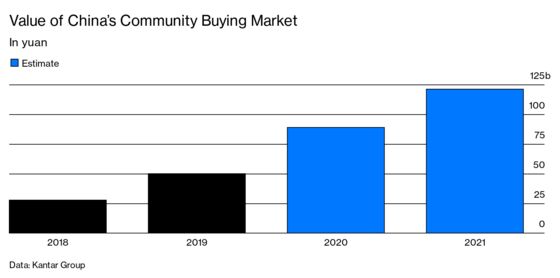 Revenue from community buying is expected to triple to 89 billion yuan ($13.6 billion) this year from 2018, global research firm Kantar Group Ltd. estimates. The business centers on online groceries, which got a boost in the pandemic that's expected to last. Groceries are set to become China's second-largest e-commerce sector by 2022, behind apparel and footwear, HSBC predicted.
This makes people like Chen surprisingly influential. "My group members just buy what I recommend," she says. "After all, I'm their next-door neighbor who knows them well, from what dishes they cook in the kitchen to what fruits they like."
She's also drawn the attention of deep-pocketed companies that view community buying as a vital growth market. For online grocery companies, local group leaders can be a way to gauge demand, promote product lines, and simplify shipping. The companies offer tuan zhang such as Chen a commission for each transaction they facilitate and rely on them to provide consumer service.
Meituan, the huge meal delivery service, wants to cover 1,000 cities and counties with its own community buying platform by yearend. E-commerce upstart Pinduoduo Inc. is devoting a chunk of the $6.1 billion it raised in a recent bond sale to strengthening its community buying network. Alibaba Group Holding Ltd., the e-commerce giant, has launched its own group buying services and co-invested $196 million in Beijing-based leader Nice Tuan.
SoftBank Group Corp.-backed Didi Chuxing Technology Co.'s nascent community buying unit has about 1,000 people working on the project and operates in 17 provinces. Didi has signed up a list of food producers to deliver the groceries to central warehouses, from which Didi sends the parcels via a network of small distribution centers. Its daily orders exceeded 10 million in November, up from 2.8 million in September, according to the company.
The Chinese community buying trend has echoes of Groupon, the Chicago-based daily deals company that was once one of the buzzier U.S. startups but is now seen more as a fad. China's startup landscape isn't immune to that dynamic. Investors have poured billions into crazes such as solo karaoke booths, which sprouted up overnight across malls in 2017, and massive bike-sharing networks, only to see them dissipate as quickly as they rose. Jason Yu, managing director of Kantar Worldpanel Greater China, sees signs of trouble. "There will be a bloodbath among community buying service providers, and a brutal consolidation is much anticipated," he says.
Community buying platforms require major upfront investment in logistics and supply chains. Meituan's operating losses from its new initiatives business hit 2 billion yuan in the September quarter, up from 1.2 billion for the same period a year ago, dragged largely by its expenditure on community buying. Chief Executive Officer Wang Xing warned analysts on a recent earnings call that the division's losses will last at least several more quarters.
There are also seeds of a backlash. The state-run People's Daily recently ran a commentary telling tech companies to focus on innovation instead of juicing their online grocery businesses. Some smaller domestic food producers have also reportedly barred distributors from selling to the platforms amid complaints about the heavy discounting. Meituan lost almost 7% of its market value in the two days following the People's Daily commentary.
Still, Chinese tech giants see group buying as a way to bring in shoppers in smaller cities and villages, which the industry hopes will be the new growth engine of e-commerce—and who they believe are more inclined toward social shopping experiences than people in larger urban centers.
Across town from Chen's operation, Yang Bohuai and his wife belong to another community buying group, from which they purchase items two or three times a week. It saves them money, and Yang says he'd rather have bananas delivered to the store downstairs from his apartment than to have to walk a kilometer to the closest fruit stand. He also says they're getting more than just a bargain. "My wife loves the social element of community buying," he says. "Whenever she discovers a good purchase, she can't wait to share it with her friends."
 
Read next: Viya, the World's Livestream Queen, Can Sell Anything