Tesla Takes Customers to Court to Silence Its Critics in China
(Bloomberg Businessweek) -- Consumer brands have long used everything from catchy advertising to product placement to burnish their image. But faced with a series of public-relations and branding crises in China, Tesla Inc. is resorting to an unconventional strategy: suing its critics.
In the past six months, Elon Musk's electric vehicle giant has filed defamation claims against at least two Chinese citizens who raised concerns about the safety and quality of its vehicles. Tesla alleges the individuals groundlessly damaged its reputation and is asking for steep compensation. Meanwhile, the company's in-house lawyers have taken to threatening social media personalities who publish similar views with legal action, demanding they retract the posts and apologize publicly.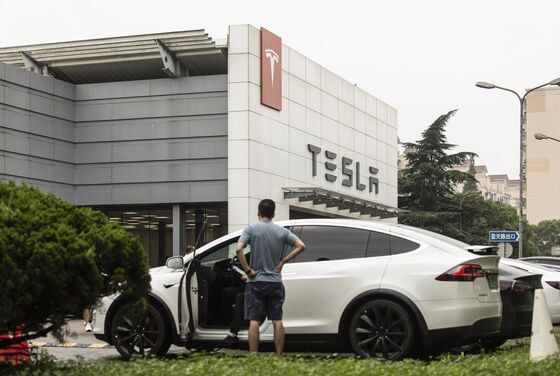 Tesla's legal maneuvers, detailed by people familiar with the situation, who asked not to be identified discussing internal decision-making, and in court documents reviewed by Bloomberg Businessweek, represent a marked escalation of its efforts to combat bad press in the world's largest automotive market. The company has been the subject of frequent complaints on Chinese social media since the start of 2021, with some customers claiming that faulty brakes had caused accidents. (Tesla denies those claims, insisting there's nothing wrong with the cars it sells in China or anywhere else.)
It's a sharp reversal for Tesla. The company appeared until recently to enjoy a uniquely favorable position in China, receiving unprecedented policy concessions and extensive government assistance in building its factory in Shanghai. The legal campaign is part of a wide-ranging effort by Tesla to restore this privileged status, which has included beefing up its PR department, promising to store data collected from Chinese vehicles within the country, and lobbying government officials to use their censorship powers to restrain online criticism.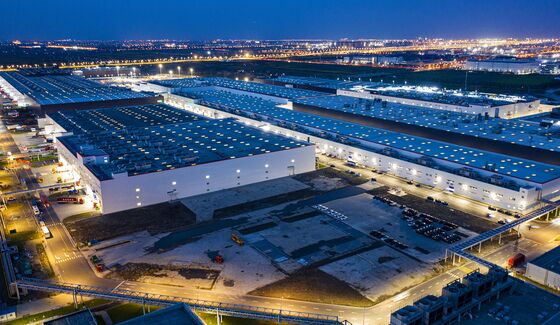 The aggressive posture is a gamble. Western brands are routinely pilloried in China for perceived slights against local customers, leading to vitriolic social media campaigns—often tolerated or tacitly approved by Beijing—that can lead to slashed sales, closed stores, and regulatory investigations. Most recently, outerwear retailer Canada Goose Holdings Inc. has faced a storm of online criticism for what state media described as a "discriminatory" refund policy, sending its shares plunging.
That so many negative comments about Tesla's cars have been allowed to circulate on China's tightly controlled internet is an indication that the company's political star has fallen. But Tesla appears to have decided that confronting its critics is worth the risk—and, perhaps, that it retains enough support from senior officials, whom Musk has often praised for their support of electric vehicles, to contain any fallout.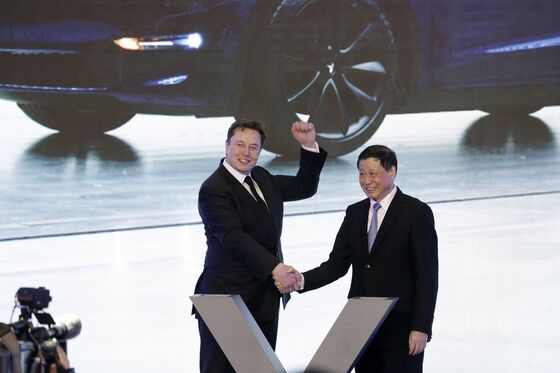 When consumers confront a company on social media, "the virality feels more extreme in China than in the West, particularly with foreign brands," says Mark Tanner, managing director of China Skinny, a marketing and branding consulting firm in Shanghai. While internet users "will usually support the little guy online," he says, Tesla "already took a hit from those they've taken to court, and although they could suffer in the short term, I expect they believe setting the record straight will have a net-positive impact."
One of the customers Tesla is suing is Han Chao, a Model S owner in Tianjin who's alleged since 2019 that the company committed fraud by selling him a used car that he later learned had undergone a major repair. After Han called Tesla a "hooligan company" on his Weibo account, accusing it of lying to a court, the carmaker filed a countersuit claiming Han had distributed "unverified, ungrounded, and defamatory remarks." It's seeking 5 million yuan ($785,000) in compensation and 50,000 yuan in "reasonable expenses."
Another defendant is Zhang Yazhou, who shot to prominence when she climbed atop a Model 3 sedan at the Shanghai Auto Show in April, shouting that a brake failure had almost killed her family. That incident touched off much of the online criticism that continues to dog Tesla, and the company, which denies Zhang's claim, is also suing her for 5 million yuan, according to images of a complaint she posted on Weibo.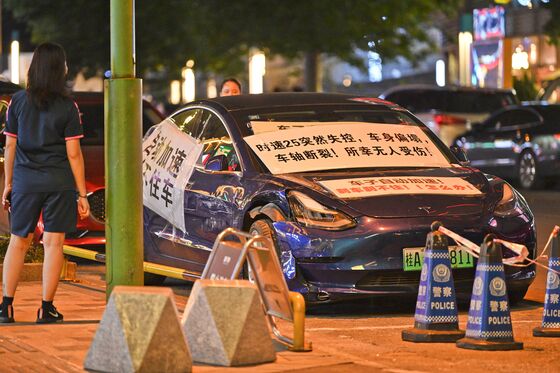 Tesla is also threatening critics who've gained less attention. According to screenshots seen by Bloomberg Businessweek, several social media personalities who've posted complaints about the company's cars on Weibo and Douyin, the Chinese version of TikTok, have received messages from verified accounts under the name "Tesla Legal." The messages demand the deletion of "fabricated content," warning of "further legal action" if the poster fails to comply. Some of the complaints have been received by bloggers who merely recirculated content posted by others.
While it's "really rare" for companies to sue customers in China, "Tesla is using litigation to dampen the confidence of individual consumers in safeguarding their rights and, therefore, to forestall actions from other customers," says Zhang Xiaoling, a partner at Haodong Law Firm in Beijing who specializes in consumer issues. With sophisticated data-analysis capabilities and deep pockets, carmakers make formidable courtroom opponents. "That brings more uncertainties and risks for consumers in the litigation," Zhang says.
A Tesla representative confirmed that the company is suing Han and Zhang Yazhou, but declined to comment on legal complaints they posted on social media, or on the threats made in response to other online postings. Han declined to comment, while Zhang didn't reply to requests for an interview.
The suits in China come as Tesla navigates an increasingly volatile legal environment in the U.S., the only market where it sells more cars. Reuters reported on Dec. 6 that the U.S. Securities and Exchange Commission had opened an investigation into the company over claims of defects in the home solar panels it sells, one of a series of probes by the market watchdog during Tesla's short corporate history. Meanwhile, the company faces a $162 million lawsuit from JPMorgan Chase & Co. over a contractual dispute involving the gyration in Tesla's share price after a controversial Musk tweet in 2018. It was also recently ordered by a San Francisco jury to pay $137 million to a former employee who alleged that the company tolerated racial discrimination. (Tesla has asked a judge to set aside the award, calling it "staggering.")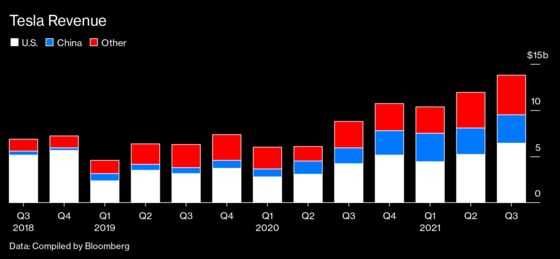 Tesla has succeeded in beating back some Chinese claims that its cars are unsafe. In September, according to a filing, a court in Wenzhou ordered Chen Junyi, a Model 3 owner, to apologize for online claims that braking malfunctions were responsible for a crash. (A group of independent engineers concluded that the accident was caused by driver error.) Chen, who was required to pay Tesla 50,000 yuan, says that the company is "muting all the dissenters" and that "you can hardly see any negative posts against Tesla online now."
Tesla's anxiety about safeguarding its brand among Chinese buyers comes at a time when the country's EV market is heating up dramatically, with respected domestic brands such as Nio Inc. and Xpeng Inc. vying for sales with a range of other up-and-comers, including Volkswagen AG's increasingly successful ID line. While Tesla is still the market leader, it can ill afford bad news.
"It's a fiercely competitive EV market in China," says Daniel Ives, a senior analyst at Wedbush Securities Inc. in New York. "Brand reputation is how Musk built Tesla into a trillion-dollar market cap and stalwart today, and it will defend itself with all legal means." —Charlie Zhu, Chunying Zhang, and Matthew Campbell
 
Read next: Elon Musk Loves Poking the Bear. Will the SEC Claw Him?