China Wants to Build a $306 Billion Used-Car Market From Scratch
(Bloomberg Businessweek) -- Although China has more than 270 million vehicles on its roads, only an estimated 15 million secondhand models were sold in 2019. That's in sharp contrast to places such as Australia, the U.K., and the U.S., where people buy more used cars than new ones. So policymakers, intent on stimulating domestic consumption, want to change that. China is aiming to double the size of its secondhand-car market to about 2 trillion yuan ($306 billion) by 2025. To get there, Beijing has slashed taxes on used-car dealers, in May reducing the levy to 0.5% from 3%—far less than the 17% tax on new vehicles. It's also making it easier for dealers to trade used cars among themselves by classifying a secondhand vehicle without a license plate as a commodity rather than a personal asset, which simplifies the transaction. "The used-car-trading business is about to enter a brand-new chapter," says Xiao Zhengsan, secretary general of the China Automobile Dealers Association (CADA). "We will see more positive policies in this area."
The reasons China doesn't have a sizable used-car market are twofold. First, China's overall car market is relatively young—the first foreign joint venture, between Volkswagen AG and SAIC Motor Corp., wasn't established until 1984, and growth in auto sales to individuals took off only in the early 2000s. Even now, car ownership lags other developing nations. About 173 of every 1,000 people in China have a car, vs. 433 in Malaysia and 373 in Russia. In the U.S. and Australia, McKinsey & Co. data show, it's 837 and 747, respectively. Many people in China are still on their first car.
The second reason is largely cultural. In China, buying a first car or first home was typically a big deal, a declaration of social status and a symbol that not only the person but also the whole family had arrived. In recent years that mindset has shifted. Younger consumers are becoming more sophisticated and less likely to embrace the concept of saving face by having nice possessions. Parents would rather get an older apartment near a good school than a brand-new one farther out. Similarly, forking over extra money for a new car when a perfectly good secondhand one is available is considered to make more economic sense.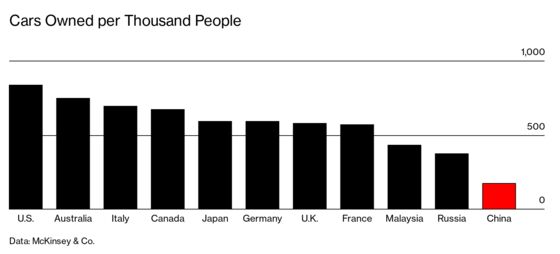 Those changing attitudes will ignite demand for used cars, according to CADA, which sees annual sales rising to 25 million units over the next five years. The shift can already been seen. Leonardo DiCaprio was featured in a 2018 ad for Uxin Ltd., a Nasdaq-listed used-car e-commerce site, and outdoor markets for secondhand cars have started to sprout up in major centers, including one in Beijing that resembles a sprawling parking lot.
Xiao predicts a robust used-car market will spur new-car sales, particularly electric vehicles, because a more efficient trade-in system will make it easier for consumers to upgrade. Almost one-third of people shopping for a car in China by 2030 will be single, according to a study released in August by a unit of Bitauto Holdings Ltd., a research firm founded by William Li, the chairman of electric carmaker Nio Inc. These younger, single buyers will place more importance on environmental features, it found, so they're more likely to want to trade in their existing fossil fuel vehicles.
For older cars that don't sell, China has started an export program, sending them primarily to surrounding "Belt and Road" nations such as Azerbaijan, Bangladesh, and Tajikistan, trading partners where the car market is less competitive and developed. About 3,000 used cars were exported in 2019, a figure the government wants to increase to about 500,000 by 2025. Still, that would be well behind Japan, another developed nation with a thriving secondhand auto export business. It shipped 1.2 million pre-owned cars overseas in 2019.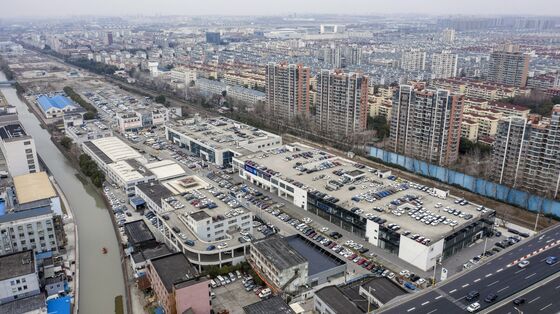 Efforts to spur used-car sales are expected to help the mom and pop businesses that dominate the nascent industry. More than 80% of secondhand-car dealers are small outfits with fewer than 30 vehicles in stock on average and just a handful of employees.
While Uxin doesn't fit that category, the business is benefiting as well. Chairman Dai Kun started Uxin in 2011 after founding one of China's first online used-car websites, CarResume.com, in 2005. To address the growing problem of how to accurately value used cars, Uxin in October started a proprietary rating system that gives vehicles on its website a "like new" score that gauges their condition and enables easier comparison with other automobiles. Beijing Jingzhengu Information Technology Co., founded by Bitauto and others in 2014, offers a similar service.
Using the services is straightforward. Sellers just plug in some basic information such as the car model, when it was purchased, kilometers on the vehicle, and in which city the license plate is registered. The next page shows the average offering prices made by dealers and individuals.
Uxin's online sales totaled 2,653 for the three months ended Sept. 30, vs. 1,702 in the June quarter. "Secondhand trading will definitely accelerate over the next five years, and the policy changes are enabling companies like ours to grow," Dai says.
Li Rui is one happy customer. He bought his first used car off Uxin's site in September—a 2-year-old black Magotan (known outside China as a Volkswagen Passat)—for 140,000 yuan. He was so impressed by the experience that he says he'll buy only secondhand cars from now on. "Life is short, and the amount of money I can spend is limited," says the 34-year-old, who lives in Taiyuan, the largest city in China's northern Shanxi province. He's now eyeing a secondhand BMW Mini for his wife. "Why not use this as a way to try out as many brands as I can?" —With Tian Ying