China's Tech Giants Are Primed for More Pain
(Bloomberg Businessweek) -- For a few shining moments, Tencent and the rest of China's national champions seemed on the verge of upstaging Silicon Valley. Then everything went to hell. Early salvos in a trade war with the U.S. and whispers about stretched valuations in smoky Shanghai parlors gave way to serious trauma for just about every major Chinese tech company. Now that the pace of mega-fundraisings has ebbed, and Beijing is going to hitherto-unseen extremes to censor the last bit of fun left in China's servers, the industry is primed for more pain.
Once the strongest of China's national champions, the social media giant has lost about 38 percent of its market value, some $220 billion, since peaking in January. Chinese regulators have choked off the country's pipeline of video games, a principal source of Tencent's revenue, amid concerns about game addiction. A stopgap approval process ended in late October without a new channel for game revenue licenses, leaving Tencent and other publishers in limbo.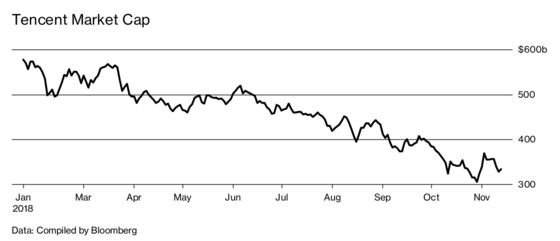 Perhaps no company better personifies the perceived trade threat than Huawei. Once a purveyor of unremarkable telecommunications equipment, it's overtaken Apple Inc. in smartphone shipments and is shooting for the lead in fifth-generation wireless networks while preparing to take on some of America's biggest chipmakers. President Trump's administration invoked its name in blocking a Qualcomm Inc.-Broadcom Inc. merger that would've been the largest deal ever, saying it would hand the lead in 5G to China. Huawei has been blocked from selling its gear in Australia, got frozen out of a Korean contract, and now faces U.S.-led competition even in Papua New Guinea.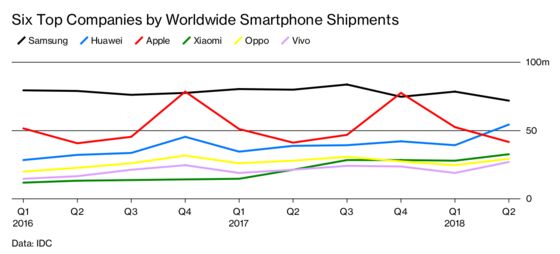 Alibaba Group Holding Ltd.
The other primary symbol of China's internet success has lost about 14 percent of its value in 2018, about $60 billion, and in early November downgraded its projections for the rest of its fiscal year ending next March, as the effects of the trade war with the U.S. have sapped spending money from China's middle class. "You can blame Donald Trump," says Mitchell Green, a founding partner of Alibaba investor Lead Edge Capital Management LLC.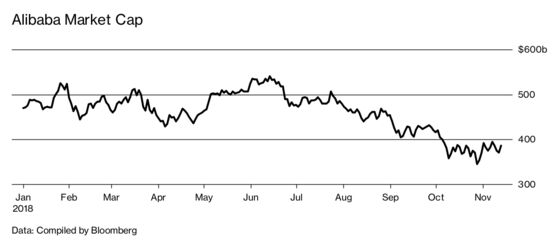 The smartphone giant, once thought to be worth $100 billion, went public at about half that in July as tensions between Washington and Beijing rose. Since then, rocky recent performance in its home market has raised questions about Xiaomi's expansion in India, which has more promising competitors than it did even a year ago. And the company's share price has slid about 22 percent from its initial public offering value.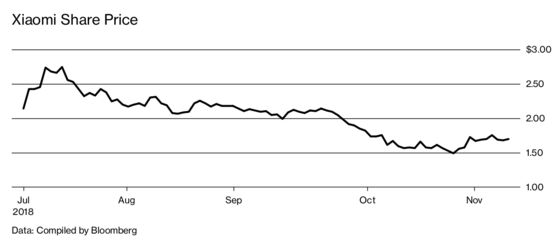 The maker of networking equipment and downmarket smartphones said in October that it expected to post a 2018 loss of about $1 billion after the U.S. Department of Commerce briefly banned its purchase of parts from American suppliers last spring. (ZTE sold equipment to Iran and North Korea in violation of U.S. sanctions, then violated the terms of a settlement and lied about it.) As a condition of lifting the ban, ZTE dismissed much of its top leadership, and it remains to be seen whether the replacements are up to the challenge of rebuilding. The company's market value is a little less than half what it was at the beginning of 2018.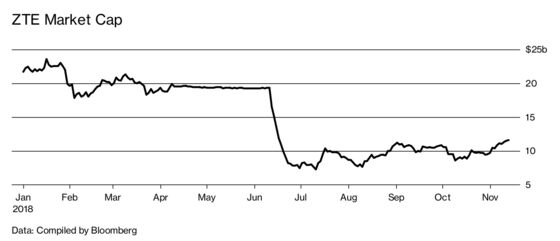 To contact the editor responsible for this story: Jeff Muskus at jmuskus@bloomberg.net