China's Soaring Factory Costs Send Inflation Signal to the World
(Bloomberg Businessweek) -- Bryant Chan's factory in Heyuan, in China's Guangdong province, turns out Nerf guns, LeapPad toy tablets, and other playthings for major U.S. brands, as well as electronics, such as a gadget that can capture data on golf swings. The president of Hong Kong-based Wynnewood Corp., Chan has seen prices for paint, screws, springs, solvent, metal, batteries, and packaging rise as much as 15% this year. Plastic resin has climbed up to 40%. "To put it very simply, everything has gone up in price," he says. "This increase has been much steeper and across a broader range of categories than we have typically experienced."
To illustrate, Chan breaks down the contents of the company's trail camera, a device used by hunters and wildlife photographers. The electronics, which make up 40% of its production costs, are now about 10% more expensive. Packaging, which represents one-tenth of costs, has seen a 10% increase. And while plastic accounts for only 2% of the production costs, the surge in resin has had a noticeable impact. When the higher input prices are added up, the camera is now 6% more expensive to make.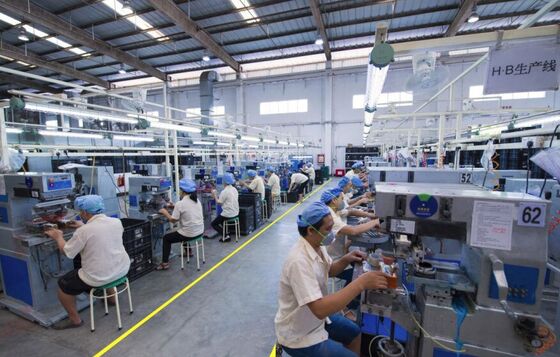 China's factories have spent months absorbing shocks, including soaring prices for raw materials, a scramble for semiconductors, and even the blockage of the Suez Canal. Now manufacturers are starting to pass on their rising input costs to overseas customers, adding to global inflation pressures.
China's producer price index (PPI) climbed by the most since 2017 in April, with everything from big-ticket items like oil and metal to components such as screws and cardboard all shooting up. On the other side of the Pacific, a U.S. gauge of prices for imported goods from China rose 1.8% in March from a year ago, the biggest gain in almost nine years.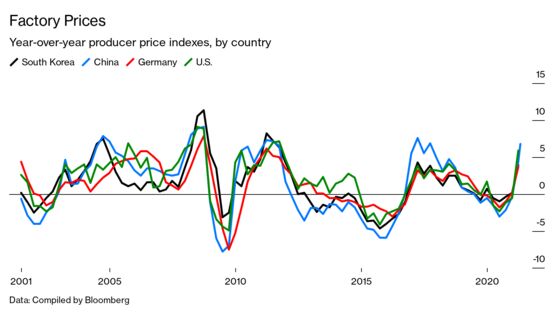 The big unknowns are how durable these higher costs will prove to be and how much of China's price pressures will eventually flow to the world's consumers. If supply chain disruptions caused by the Covid-19 pandemic do smooth out—and once we get past the data distortion caused by last year's pandemic-depressed prices—the inflation might dissipate.
A sharp divergence in input and output prices for China's producers indicates costs aren't being passed all the way through just yet. Raw material prices rose 15.2% in April from a year ago, the latest PPI report shows, which was more than the 5.4% increase for manufactured goods. The official manufacturing purchasing managers index for April also showed input prices running far hotter than output prices.
Manufacturers are looking for workarounds and cost savings to avoid raising prices, according to Christopher Tse, chief executive officer of Musical Electronics Ltd., a Hong Kong-based company that makes Bluetooth speakers and high-power home stereo systems for the U.S. market, among other products. "In the end, if we have no choice, we have no choice," he says. "But we will try everything to save costs instead of passing too much to our customers."
Higher prices would reverberate all the way to U.S. store shelves. Research by Standard Chartered Plc shows the correlation between China's PPI and U.S. consumer prices has been as high as 0.61 in recent years. (Statistics 101 refresher: The maximum possible correlation is 1.) That relationship appears to be holding true again, though exchange-rate movements and other variables may influence the pass-through.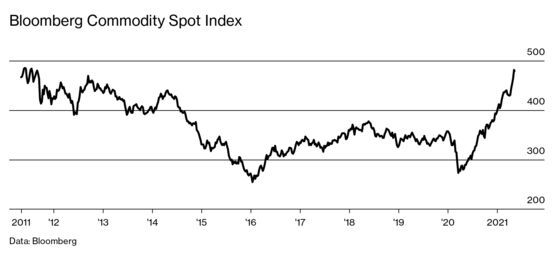 Other manufacturing giants, including the U.S., Germany, and South Korea, also are experiencing higher costs. The Bloomberg Commodity Spot Index, which tracks global prices for 23 raw materials, rose this month to its highest point since 2011; it's climbed more than 70% since reaching a four-year low in March of last year.
In an indication of just how strong demand is for China's goods right now, the nation's exports climbed 32.3% in dollar terms in April from a year earlier. On a two-year average growth basis, which strips out the base effect distortion, export growth was 16.8%, much stronger than pre-pandemic levels. Which is why economists say the combination of soaring prices and bumper demand augurs a period of higher inflation.
Wilson Lam, whose factories in Shenzhen make packaging for global cosmetic and perfume brands and metal caps and other accessories for whiskey and cognac bottles, thinks it's inevitable that some of the cost increases will need to be shared with his clients in Europe. "I don't think we can absorb all of these cost increases," says Lam, director at Chi Kwong (Luen Kwong) Metal Products & Electroplate Factory Ltd. "It's just a matter of time before we pass them on to our customers."
 
Read more: TSMC Is Stuck in the Middle of a Global Panic Over Chip Supply