Evergrande Debt Crisis Is Financial Stress Test No One Wanted
(Bloomberg Businessweek) -- Sunny Peninsula, a seaside development in the southern Chinese city of Guangzhou, was supposed to house 5,000 families in dozens of towers spread across an area the size of 30 soccer fields. Many of the buyers were white-collar workers benefiting from the fastest urbanization in human history.
But the project now looks more like the set of a disaster movie. Half-finished apartment blocks stand empty and abandoned. Untouched for months in the humid summer weather, piles of rebar and steel beams are accumulating coatings of rust.
China Evergrande Group, until recently the world's largest property developer, owns dozens of stalled sites like Sunny Peninsula across China. Buckling under more than $300 billion in liabilities, the company is close to collapse, leaving 1.5 million buyers waiting for finished homes.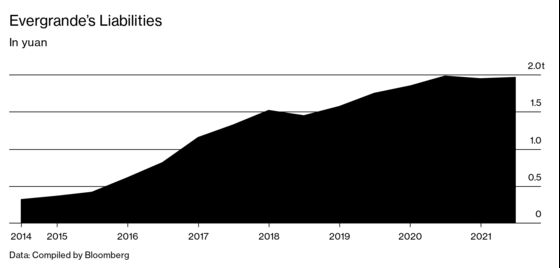 The global financial markets are bracing for potential aftershocks. Evergrande is China's largest issuer of high-yield dollar-denominated bonds, and bills are coming due to an array of banks and suppliers. Given its footprint in the housing market, there's also a risk of a disorderly collapse triggering a broader decline in property prices—bad news in an economy where 27% of loans are for real estate. The stress isn't only being felt in bankers' offices: Earlier this month homebuyers surrounded a government office in Guangzhou to demand construction be restarted on their apartments, and unconfirmed videos circulating on social media depict similar protests in other cities. Furious retail investors who helped fund Evergrande's expansion have turned up at the company's Shenzhen headquarters to complain about delayed repayments on wealth management products it sold.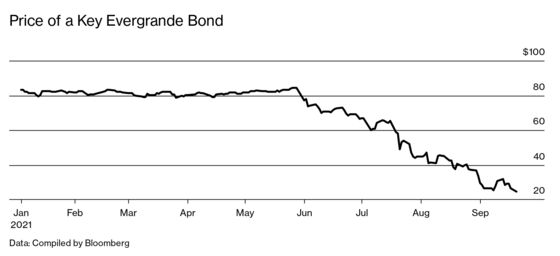 Evergrande's troubles are partly a familiar tale of an overextended, systemically important company taxing its creditors' patience. That alone would make it a test for Chinese authorities. But its situation also reflects deliberate policy choices made by the ruling Communist Party under President Xi Jinping. Like the tech giants Alibaba Group Holding Ltd. and Tencent Holdings Ltd., which were the targets of sudden regulatory crackdowns that wiped out tens of billions of dollars in market value this summer, Evergrande found itself in the way of the party's priorities. For several years, officials have been taking steps to cool real estate prices, which they see as a potential source of risk, and signaling that they expect both house price growth and new construction to remain roughly flat. "In the central government, the view has shifted over how much China's economy can depend on the housing market," says Zhu Ning, a former adviser to China's central bank.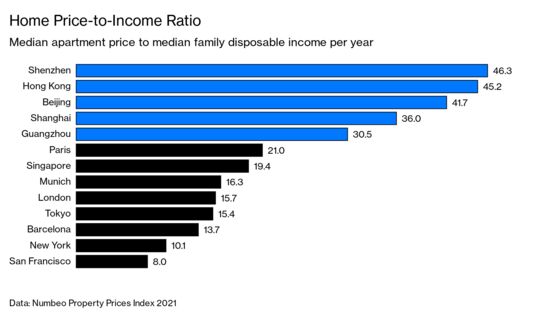 Instead, Beijing wants to steer China's economic resources toward areas it views as more central to national security—above all, high-tech manufacturing that can help it reduce its reliance on the U.S. and its allies. The party is also emphasizing financial and social stability over sheer growth. Leaders speak of the goals of "moderate prosperity" and "common prosperity," and households accumulating more debt to buy multiple or more luxurious homes doesn't necessarily fit with that vision. Nor does the wealth inequality that property booms can create. Xi's pledges to cut pollution and carbon emissions also require curbing construction.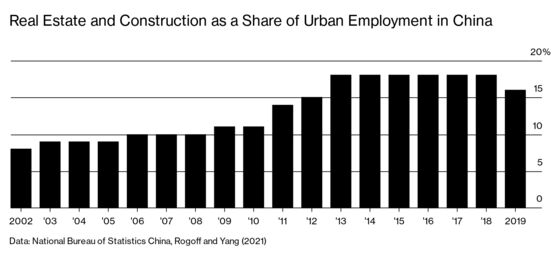 China may be willing to let Evergrande fail if it thinks it can engineer a soft landing for the real estate sector. The $56 trillion domestic financial system is dominated by state-owned lenders, which give the government extensive power both to squeeze borrowers and to manage the impact of defaults. But the stakes are enormous. When industries such as construction and property services are included, real estate accounts for at least 15% of the nation's gross domestic product, and more than 70% of urban China's wealth is stored in housing. Countries such as Australia, Brazil, and Zambia depend on China's relentless demand for steel, copper, and other construction materials. And U.S. and European companies increasingly look to its consumer market for growth.
 
In 1998, when China created a nationwide housing market after tightly restricting private sales for decades, only a third of its people lived in towns and cities. Now almost two-thirds do, increasing the urban population by 480 million. The homes they've moved into are modestly sized by developed-world standards, averaging less than 40 square meters (431 square feet) per person. But about 90% of urban residents own those homes, worth more than $50 trillion in total, according to Goldman Sachs.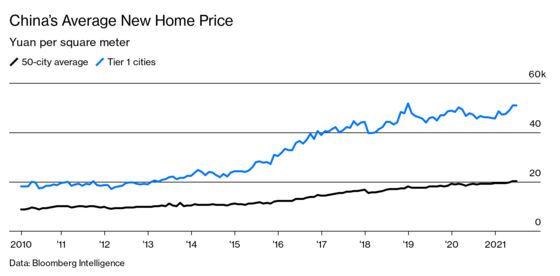 This is the wave Evergrande rode. Its founder and chairman, Hui Ka Yan, was born into grinding poverty in the central province of Henan in 1958. "In school, all I ate was sweet potato and steamed bread," he said in a rare speech in 2018. "I really hoped I could leave the village." He found his ticket out by becoming one of a tiny number of rural students to pass the university entrance exam, going on to study metallurgy.
In 1992, Hui came to Shenzhen, then a small town on the border with Hong Kong. After working as an importer-exporter, he dove into the property market, founding Evergrande in 1997. By 2016 it was China's biggest property developer by sales. "Everything for me and Evergrande is given by the party, the state, and society," he said in his 2018 speech.
Even making allowances for flattery, Hui wasn't wrong: The forces that allowed Evergrande to grow so rapidly emanated, in large part, from Beijing. When the 2008-09 global financial crisis cut demand for Chinese exports, the central government responded with a massive stimulus package that made borrowing easy. Land prices soared, in both coastal megacities and previously sleepy regional centers, and developing housing became a near-certain bet. The key to success was scale, achieved by borrowing with land as collateral. The bigger a developer became, the more it could borrow, and at lower interest rates, a cycle that could continue as long as property prices kept rising.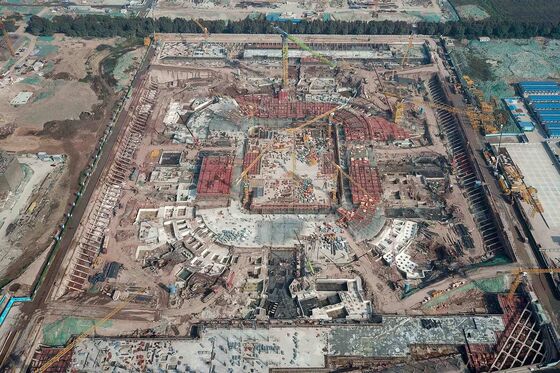 Supercharged by real estate profits, Evergrande expanded its reach into China's burgeoning consumer economy. Some ventures, such as theme parks, had at least a faint connection to property development; others, including mineral water and a quixotic attempt to build a world-class soccer club in Guangzhou, had none at all.
It didn't take long for analysts, particularly outside the country, to predict that Chinese developers in general, and Evergrande in particular, were building up far too much debt. As early as 2012, some argued that Hui's company would soon buckle under the weight of its leverage.
But the day of reckoning never seemed to arrive. The increasing sophistication and profitability of Chinese companies meant more of their workers could afford new homes. Evergrande even weathered a steep drop in home sales in 2015, when a glut of unwanted apartments drove average prices down by as much as 6% year-on-year. Hui became China's second-richest man, behind only Alibaba's Jack Ma.
This resilience was partly a function of government policy, including a renewal of stimulus measures that helped prices recover. But policymakers in Beijing were haunted by the fragilities the 2015 slump exposed. At the end of 2016, the ruling party's Politburo unveiled a new slogan: "Houses are for living in, not for speculation." One policymaker complained the following year that the economy was being "kidnapped" by the housing sector.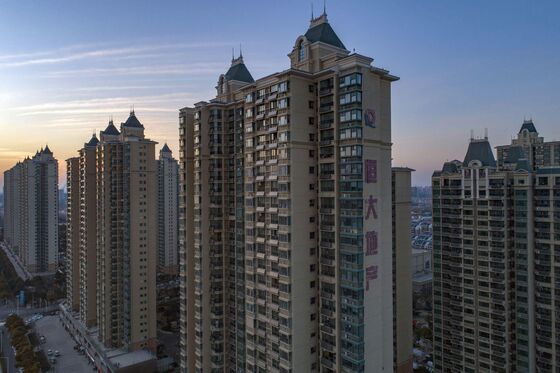 Beijing began instituting a series of curbs on what's known as shadow financing—lending by entities other than banks or through practices such as selling wealth management products. Among other things, it prevented companies from raising money by offering guaranteed returns to investors. There were also efforts by provincial and city governments to damp real estate speculation. On Hainan, an island in the South China Sea touted by developers as China's answer to Hawaii, nonlocals were effectively blocked from buying homes before spending two years in the province, and all buyers were barred from reselling a residence within five years of purchasing it.
Suddenly, Evergrande's sprawling property empire seemed out of step with the times, and not only because of its high debt load. The government wanted affordable housing for young people; at the time, Evergrande's marquee project was Ocean Flower Island, an extravagant plan to build a Dubai-style artificial archipelago on the Hainan coast, with one of its 58 hotels designed to look like a European castle and another offering "7-star" luxury.
Hui began a campaign to change Evergrande's image. The company plowed billions of yuan into building houses in poorer rural areas, and in 2019 announced that it intended to become the world's largest manufacturer of electric vehicles. Sunny Peninsula was a product of Hui's shift. Rather than luxury condominiums for investors, it promised relatively affordable apartments for manufacturing workers.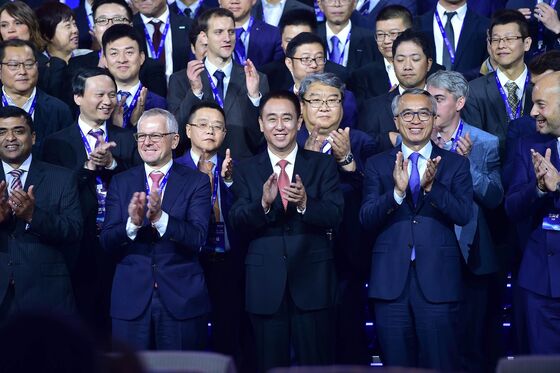 The acute phase of Evergrande's crisis began in 2020. It could have been a relatively good year for the company. Thanks to China's successful containment of the coronavirus, the economy contracted for only a single quarter, while looser monetary policy boosted the housing market. But for reasons that aren't entirely clear, Evergrande began struggling to cover its debts. It appealed to local government officials for help in averting a cash crunch; as investors lost confidence, its biggest bank creditor started to slow its lending. It didn't help that Hui's new ventures, like the EV operation, were sucking up much of its cash. Eventually strategic investors, some of whom were also suppliers, agreed to waive $13 billion the company owed them as part of a debt-for-equity swap. It ended 2020 with its profits down by half.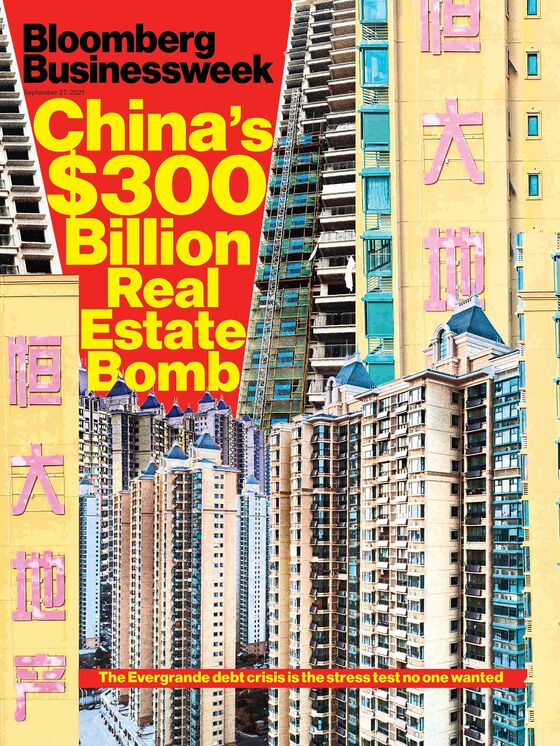 Then authorities, convinced by the pandemic that risk prevention was more important than ever, ordered Evergrande and other top property developers to cut their debt. Guo Shuqing, China's top central bank official, in November called real estate "the biggest gray rhino" for China's financial stability—referring to a large yet overlooked threat. Relations with the U.S. also plunged to a new low. Fearful of being cut off from supplies of products such as microchips, the government declared improved scientific research and greater technological self-sufficiency its top economic goals. Housing construction would be no help there.
In March, Beijing signaled it might revive efforts to introduce a national property-tax system, which would reduce local administrations' reliance on land sales for income. The central and local governments also released some 400 separate regulations on homebuying, including rules preventing people from divorcing just to get around "one house per family" limits, and directed banks to slash mortgage lending and channel money to manufacturers instead. Outstanding mortgages as a share of GDP dropped for the first time in a decade.
The results have been dramatic in the booming coastal cities that previously powered China's property market. A broker in Shenzhen, who asked to be identified only by his surname, Li, says that inquiries from prospective buyers are down a third from a year ago. "The transaction volume looks pretty ugly, and the only homes sold were either due to the sellers urgently needing cash or worries that prices will drop further," he says.
The sales decline hit Evergrande harder than any other large developer, and it's spent much of this year seeking to raise cash by any means possible, including trying to sell its headquarters building in Hong Kong. To avoid admitting to buyers that the company couldn't deliver their apartments, Hui said he'd issued a "military order" for projects to be completed as planned. His efforts fell short. This month Chinese authorities told major lenders to Evergrande not to expect interest payments due on some bank loans.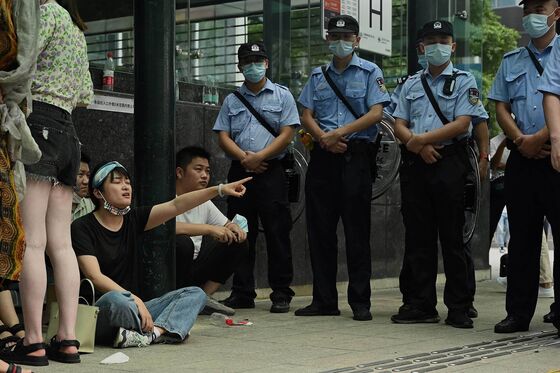 In past Chinese housing slumps, this might be the moment when Beijing would step in to put a floor under the market, encouraging banks to lend to push up prices and boost revenue for property developers. But for now, policymakers seem willing to inflict economic pain to alter expectations that real estate prices will always rise. Many homeowners have gotten used to policymakers protecting their investments. "If prices fall, that means the economy is in a downturn, and that'll put huge pressure on the local government," says Jenny Wu, a financial worker in Shenzhen who bought an apartment last year. "So it's impossible that home prices would drop in Tier 1 cities." ("Tier 1" is shorthand for the megacities of Beijing, Guangzhou, Shanghai, and Shenzhen.)
Evergrande could avoid bankruptcy. Most analysts expect a restructuring in which some banks roll over financing, while other creditors receive assets such as properties and land rather than cash as repayment, and bondholders get some but not all of their investment back. The company's humbling may nonetheless mark a turning point in China's economy. Developers will still be needed: The government plans for 10 million people to move to urban areas every year through 2025. But the companies are likely to be smaller, and they won't benefit as much from runaway price rises.
Those who put their savings into Evergrande projects such as Sunny Peninsula are hoping their own slice of moderate prosperity has a place in Beijing's vision of a tamed property market. Last month a group of angry buyers gathered at the site. "We don't care about price cuts," said one, who asked to be identified by his surname, Cheng. "Our one and only demand is that Evergrande can deliver the project." —Emma Dong, Amanda Wang, Tom Hancock, and Jun Luo
 
Read next: China's Ghost Cities Are Finally Stirring to Life After Years of Empty Streets