China's Christmas Village Isn't Worried About Trump's Trade War
(Bloomberg Businessweek) -- The charmless trading city of Yiwu in southern China doesn't have elves or snow, but it's as close to Santa's workshop as you can get outside the North Pole. The streets of its commercial district are crowded with shops peddling all things Christmas: minitrees, plastic reindeer, glittery wreaths, and flashing lights of every color—lots and lots of lights. The stores are stuffed wall-to-wall with Yuletide swag, and goods routinely spill out onto the sidewalk—all the better to catch the attention of visiting buyers from the U.S. and other Western nations.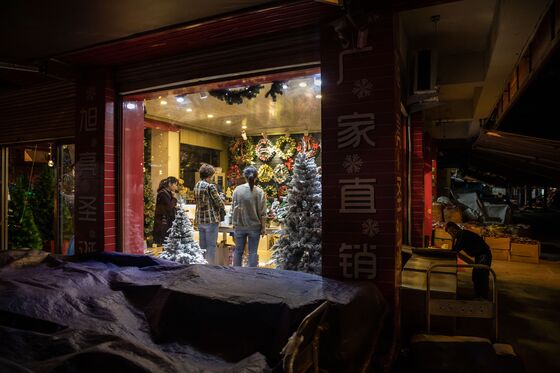 President Trump's trade war was supposed to be the Grinch to steal the Christmas cheer from this holiday-exporting hub about 175 miles southwest of Shanghai. But, so far at least, it looks as if the enduring power of globalization—and entrenched supply chains—is winning out. Says Hong Feihong, owner of Ziru Christmas Crafts: "Orders from the U.S. for this year's Christmas were pretty good. I don't really care what Trump is doing. It doesn't affect us."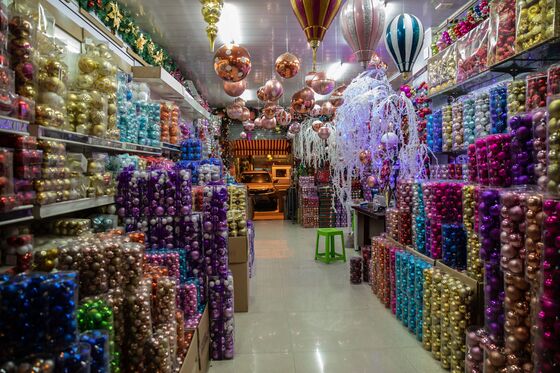 Whether twinkling lights, life-size sleighs, or aprons illustrated with Mrs. Claus's silhouette, holly-jolly tchotchkes made for export are a $5.6 billion industry in China. No other nation has the supply chain and manufacturing infrastructure to create Christmas in such quantities. And no group in the country is as adept at churning out holiday goods as the warren of small manufacturers scattered around the Yiwu area, which accounts for 70 percent of those exports, according to Chen Jinlin, secretary-general of the Yiwu Christmas Products Industry Association.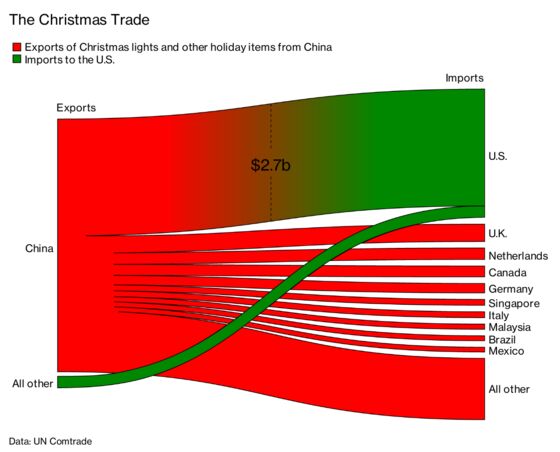 That concentration of talent and resources is a big reason retailers around the world are sticking with suppliers in Yiwu, despite the 10 percent tariff the U.S. placed on China-made Christmas lights and wrapping paper this summer. Even with a looming increase in those levies, to 25 percent on Jan. 1, retailers haven't shifted their purchasing to other countries. "No player in that ecosystem wants to be the first to move," says Michael McCool, a Hong Kong-based managing director at consulting firm AlixPartners LLP. "Since nobody wants to be the first to move, nobody moves."
Because the U.S. buys about 90 percent of its Christmas lights from China, they're one of the most-affected items on the Trump administration's 5,745-product tariff list. Last year the U.S. imported $419 million of lights and $2.3 billion of other "Christmas festivity articles" from the country, according to the United Nations Comtrade Database.
Wang Chaoyi, owner of Taizhou Huanyu Lighting, says he isn't overly worried about the tariffs. That's because, rather than selling them as strands, he increasingly incorporates the lights into larger Christmas products. So his best prices—5.90 yuan for a 9.3-meter strand, or less than $1 for about 30 feet—are reserved for neighboring businesses that make lighted trees, wreaths, and the like. Those higher-priced holiday items, often destined for big-box stores in the U.S., are better able to absorb the tariff on lights.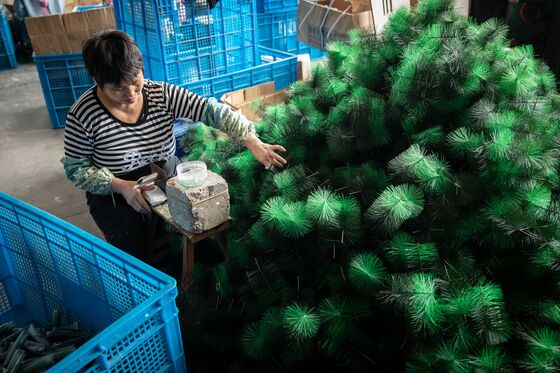 Wang predicts that Americans will simply pay more for their lights, because retailers don't have any cheaper options. "They can't get this stuff anywhere else," he says, referring not only to his multicolored strands of lights but also to his supply chain. "The advantage is that we can sell our goods together, which helps maintain the price, since buyers can't pick and choose."
Supporting a small business such as Taizhou Huanyu, with about 20 workers and annual revenue of less than 10 million yuan ($1.44 million), is another set of small businesses: a supplier of bulbs, another of filaments, and yet another of the plastic resin coating the wires. When Wang develops a new color combination or design, each supplier adjusts and sends new material, making their locations—within an hour of his factory—crucial. "This can be a very ad hoc process, which is why it needs to be done face-to-face and relies on everyone being close together," McCool says. "It's difficult to achieve the same outcome if you're doing that out of Vietnam."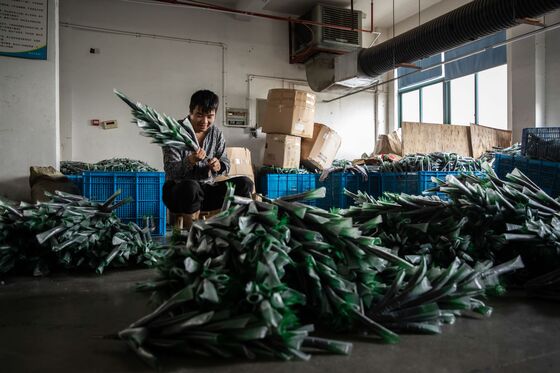 Just ask toymakers, who in recent years tested moving some production to lower-cost factories in India and Indonesia. Most ended up returning manufacturing to China, where the raw materials, labor, transportation, expertise, and political stability were already in place.
During debate in the U.S. over tariffs earlier this year, retailers—including Walmart, Dollar Tree, and Ace Hardware—wrote to the Trump administration and requested that Christmas lights be among the products taken off the list. "To the best of our knowledge, these items are not economically and commercially available outside of China," Ace Hardware Corp. wrote in a Sept. 5 letter to the U.S. trade representative.
Christmas lights may or may not come up next week if Trump and China's President Xi Jinping agree to talk when both travel to Buenos Aires for the Nov. 30-Dec. 1 G20 conference. Their trade war threatens global manufacturing with radical recalibrations. But while revamping a supply chain is feasible, but it takes time and a lot of money, says Hun Quach, vice president of international trade for the Retail Industry Leaders Association, a group of major U.S. merchants that includes Best Buy, Home Depot, Lowe's, Target, and Walmart. China has mastered low-tech, low-skilled work that nevertheless requires an interlocking system of suppliers and assemblers; that's why a large swath of basic manufacturing on the mainland isn't going anywhere anytime soon, even as President Xi champions a shift toward higher-value automation and technology industries.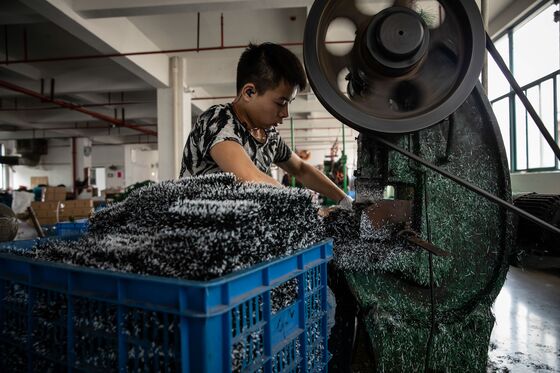 The worldwide celebration of Christmas also gives Yiwu's merchants a negotiating edge over their customers—and some cushion from the tariffs. "If they don't like my price, I can always sell to buyers from another country," says Ji Jingsen, whose Bosen Gongyi Co. Ltd. has been making artificial trees for 18 years. "I'm more worried about producing enough trees to meet demand rather than not being able to sell them."
Retailers' practice of offering new product designs annually also plays to Yiwu's advantage. This year's best-sellers are products in the millennial-friendly colors of pale pink and mint, says Ziru Christmas Crafts' Hong, and such changes require coordination among a tightly knit supply chain. Each pink minitree with snowflakes and acorns requires three suppliers to adjust to her vision, she says. "It's not as easy as it looks to make a little tree like this. Every part is from a different factory."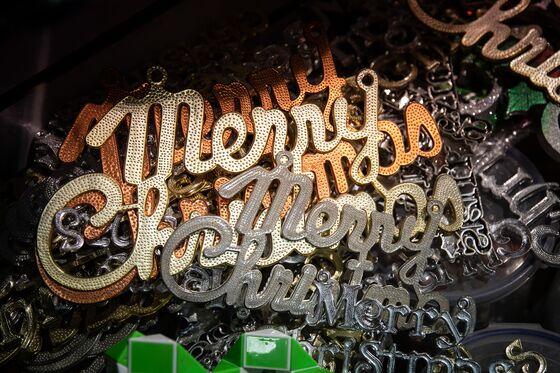 If anything challenges the supremacy of Yiwu's factories, it may be the local market. Most Chinese don't celebrate Christmas, which means there's limited domestic demand for the town's holiday baubles. And Xi said last year that the Chinese should "have greater confidence in our own culture."
So Yiwu's workshops are trying to stay one step ahead. Wang, experimenting with some lighting designs he says can help diversify his revenue stream, has displayed some early prototypes: orange pumpkins with devil faces for Halloween and little red lanterns for Chinese New Year. But for now, Christmas remains king in Yiwu.—with Matthew Townsend
To contact the editor responsible for this story: James Ellis at jellis27@bloomberg.net, Michael Tighe
With assistance from Editorial Board