Bright Horizons Is Betting Kids Will Return to the Office, Even If Parents Stay Home
(Bloomberg Businessweek) -- Even with catered lunches and two on-site gyms, Bryce Hunt has no interest in working full-time from software maker Podium Corp's office in Lehi, Utah. But five days a week, the enterprise customer-success director—or her husband, an engineer for a medical device company—still makes the 30-minute round-trip commute to Podium's headquarters. Why? To drop their 2-year-old daughter at the company's subsidized day care center before returning home to work remotely.
This kind of reverse commute wasn't exactly the setup the $3 billion tech company had in mind in 2019, when it partnered with Bright Horizons Family Solutions Inc., the world's largest provider of on-site day care. But these days, companies will do whatever it takes to hold on to employees. "It is a crisis here," says Katie Morrow, Podium's senior director of people operations, referring to the battered state of day care. "There's a shortage of high-quality access to child care in our country, and we have the ability to help remove that barrier for our team."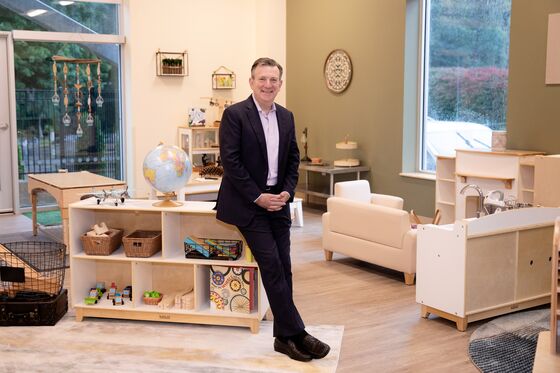 Welcome to the new world of managing working parents. Office workers with young children are no longer hiding child-care perils from their bosses, and companies desperate to keep workers and lure them back into the building are looking for any carrot to dangle. "It used to be an on-site day care center was about recruiting and retention," says Stephen Kramer, Bright Horizon's chief executive officer. "Now it's also being seen as a reason employees are coming back to the office."
Bright Horizons' pitch comes at a moment that has sent both working parents and an already precarious child-care system into free fall. While the industry received some $52.5 billion in aid last year, roughly one-third of child-care businesses have closed during the pandemic, and more than half of the survivors report they're losing money. President Joe Biden is pushing to pass the Build Back Better Act, which would include free preschool and child-care cost reductions, but its effectiveness will largely depend on adoption by individual states.
In the meantime, companies powered by Bright Horizons are helping the most privileged class of workers fill the void. The Massachusetts-based company provides on-site day care or backup emergency care for more than 1,000 companies from Silicon Valley to Wall Street, including Bank of America, Toyota, Home Depot, Goldman Sachs & Co., Genentech, and Bloomberg LP, Bloomberg Businessweek's owner.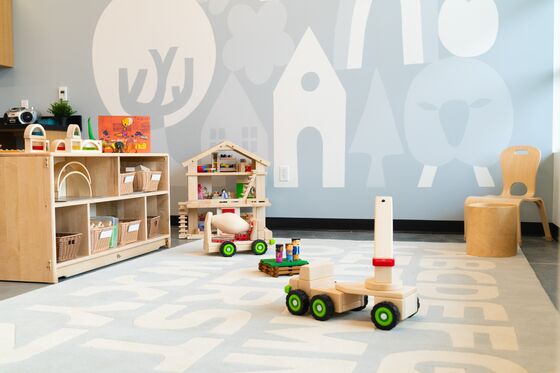 Initially funded 35 years ago by Bain & Co., Bright Horizons now has more than 1,000 on-site centers in the U.S, Canada, the U.K., the Netherlands, and India, helping clients soften the blow to their workforces of exorbitant day care costs. The company says that in 2020, the rough estimate of average tuition at Bright Horizon centers ranged from $1,645 per month for preschoolers to $2,075 per month for infants. Companies typically subsidize one-fourth to half of that cost for employees, and employees pay the rest, analysts estimate.
When the Covid-19 pandemic struck, Bright Horizons had to navigate the dual uncertainties facing both Corporate America and owners of day care centers. In March 2020, the company temporarily closed 850 locations—a mix of on-site company centers, subsidized centers shared by multiple companies, and community centers open both to companies and to the general public (at full price)—while keeping 250 centers open for the children of essential workers. As the pandemic wore on, Bright Horizons pivoted to offer such services as virtual tutoring and backup care. Some 94% of its locations are now open; 121 closed permanently, and 54 are still temporarily closed.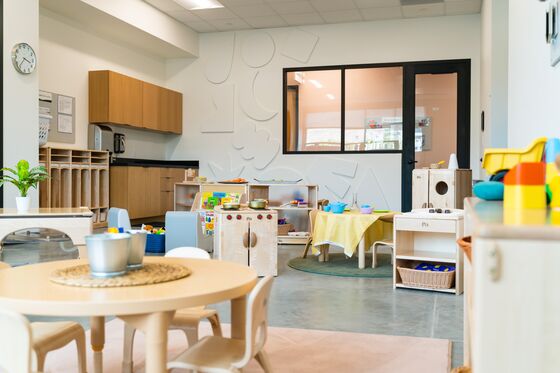 The pandemic also brought in 150 new corporate clients for emergency backup care, a high-end perk few families have. An on-site center opened in January at Horizon Therapeutics in Deerfield, Ill., and has been a key part of the company's return to the office, said Irina Konstantinovsky, the company's chief human resources officer. "It was the right thing to do by our employees who were parents and truly struggling," says Konstantinovsky, noting that the biopharmaceutical company subsidizes 50% of the cost.
With only 17% of workers wanting to return to the office full-time, according to a Freedom Forum pulse survey released in October, Bright Horizons is also positioning itself as the flexible solution for the hybrid class that's alternating between in-person and virtual work. Since it has centers on both corporate campuses and in neighborhoods, the company can offer workers child-care services wherever they are. Salt Lake City-based biotech startup Recursion Pharmaceuticals opened a Bright Horizons site in July. "If we can create options for employees and future employees that might not otherwise be able to join our company because of child-care issues, it expands the talent pool," says Heather Kirkby, the company's chief people officer.
Bright Horizons is also pushing to hook parents well beyond their kid's day care years. Over the past 20 months, the company—which also offers elder-care—acquired two long-time partners: in-home nanny and tutoring service Sittercity and Steve & Kate's Camp, which has 30 locations around the country.
The company faces some of the same labor challenges other day care providers confront. The average child-care worker makes a meager $11 to $12 an hour, which contributes to high turnover in the field. Bright Horizons says it pays higher wages to its 27,000 global workers, but it won't specify figures, emphasizing that it's the only company in the industry paying for staff to get degrees in early childhood education.
For now, the child care on offer is keeping employees such Podium's Hunt committed to a future there. The 29-year-old was paying a nanny before Podium opened the day care center, saving her hundreds of dollars a month and getting her about three additional hours of daily care. Hunt is now pregnant with a second child. "I'm going to have a spot for my new infant," she says. "If I were looking for a day care around me of the same caliber, I'd have to get on an 18-month waitlist."