Central America Feels the Pain of U.S. Layoffs and Lost Money Transfers
(Bloomberg Businessweek) -- It was mid-March and New York City was going into lockdown, shuttering businesses and schools. Gleiry Fernández, who left her native Guatemala two years ago to find work in the largest city in the U.S., was starting to worry.
Then the phone store where she worked as a customer service representative closed and laid her off. A few days later, she fell ill. A test confirmed she had the novel coronavirus. Sick and unsure when she would be able to work again, she cut back the biweekly money transfers she's been sending to her mother and son in Guatemala.
"My mother counted on that money, and now I'm not able to support her," says Fernández, who has fully recovered. "It's frustrating. You have goals, and you want to save as much as you can, because with the immigration situation you never know when they are going to say 'bye-bye,' and then you're left with nothing." In an April 22 tweet, President Trump said he would be signing an executive order suspending immigration into the U.S.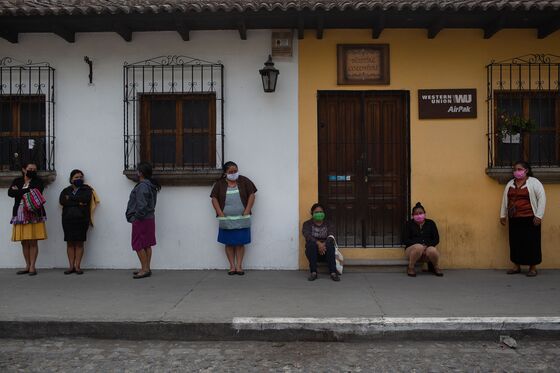 Fernández, 44, is one of almost 2 million Guatemalans living and working in the U.S., most of whom send money home, contributing to a steady rise in remittances in recent years. Transfers climbed to a record $10.5 billion last year, according to Guatemala's central bank, equal to roughly 13% of the nation's gross domestic product.
Remittance flows to low- and middle-income countries rose to an all-time high of $529 billion in 2018, according to figures compiled by the World Bank, and were on track last year to become the largest source of external financing for these nations, exceeding foreign direct investment and international development assistance. Now the transfers are under threat as restrictions to contain the Covid-19 pandemic push the world economy into its worst recession since the Great Depression. In a worst-case scenario, Citibank sees remittance flows plunging as much as $100 billion this year.
Low wages, poverty, and gang violence have forced millions of Central Americans to migrate to the U.S. The money they send back home helps shore up fragile economies. Now that bulwark is eroding. Remittances sent to Guatemala fell 9.7% in March, according to data compiled by Bloomberg, the biggest monthly drop in inflows to the country since 2010, as migrants such as Fernández join the rapidly expanding ranks of the unemployed. In El Salvador, remittances, which account for roughly 21% of GDP, dropped 10.7% last month.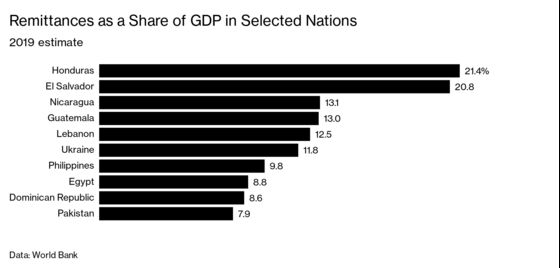 Nathalie Marshik, emerging market analyst for Stifel Financial Corp., says remittances to Central America are likely to fall much more than 10% this year, surpassing the declines seen during the 2008 financial crisis. Remittances "boost household consumption, hence local economic growth," Marshik wrote in an April 3 note to clients. "This will be all the more painful as the usual economic valve of immigration will not be available." The squeeze won't be felt just at the household level: A reduced influx of greenbacks could lead to depreciations of local currencies such as Guatemala's quetzal, according to Fitch Ratings.
Juan, a 22-year-old undocumented Guatemalan living in New York City, lost his job as a janitor in March and has since stopped sending the usual $500 a month to his family in the Guatemalan highlands. Most of that, he says, went to paying the coyote who smuggled him into the U.S. a year ago. He hasn't been able to speak with his mom because neither of them has the money to add minutes to her prepaid mobile phone line. "Things are bad here," says Juan, who lives with his brother-in-law in a small apartment. "We owe rent, we owe the phone, we still have debts. We don't know what we are going to do."
The International Monetary Fund has approved $389 million in emergency financing for El Salvador and $143 million for Honduras to support government efforts at fighting the virus and blunting the economic pain. The fund's most recent set of economic forecasts see the economies of Central America shrinking a cumulative 3% this year.
A group of migrants has submitted a legislative proposal to the Guatemalan congress for a program that would provide low-interest loans of as much as $500 per month to those who have seen remittance flows slow or stop. One of the drafters is Guillermo Castillo, 43, who was forced to halt transfers of as much as $800 a month to his father and girlfriend in Guatemala after he was laid off from his job at a Victoria's Secret warehouse in Ohio last month. "We are facing big challenges that require comprehensive solutions for Guatemalan migrants," Castillo says. "For my father, the money helped him take care of my mom. I don't know how or when I will work again, but what I do know is that life won't be the same as before."