These Carbon Fiber Snowshoes Can Elevate Bulky Winter Footwear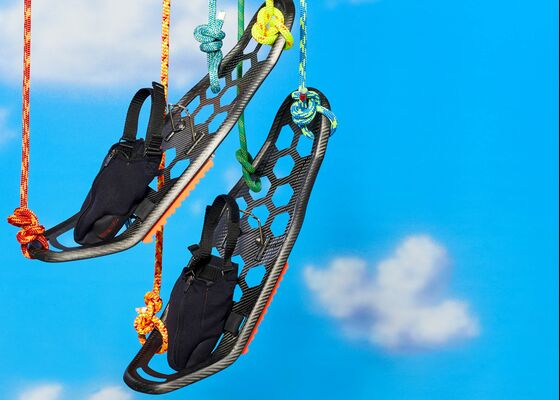 (Bloomberg Businessweek) -- For millennia, snowshoes have been adapted to fit the terrain and the people who use them. Consider these $350 Carbon Air Frames, from Komperdell Sportartikel GmbH, the peak option for our time. Carbon fiber construction—first used in the Austria-based company's ski poles—replaces aluminum to streamline winter's bulkiest footwear to 639 grams, or 1.4 pounds. That makes them the lightest pair on the market. The frame and the decking, usually separate, are here combined to form a cohesive one-piece unit that's 25 inches long and rated to support 220 pounds.
• Crescent Moon Snowshoes Inc. makes its 3.5-pound Evas ($159) out of foam for a flexible experience that's almost as comfortable as wearing sneakers.
• A favorite among outdoors enthusiasts, MSR's $220 Lightning Trails feature nylon decking with an aluminum frame. The shoes, which weigh a little more than 3 pounds each, also come in a version specifically designed for women.
• If you want to trade weight for durability, the Fimbulvetr Tankr X snowshoes ($319) are extra-long at 38 inches and made of a stiff compound material with stainless-steel crampons for a total weight of 7 pounds.
A full 50% lighter than average snowshoes, the Air Frames are next-level powder gear. Their step‑in bindings are designed for all types of footwear, and a "live-action hinge" will put a literal spring in your step. A two-point toe crampon and side rail teeth are also integrated, but they're not meant for walking on hard, rocky terrain. Think of them more as the ultimate in snow-trekking pleasure—they're suited for most skill levels, terrain, and conditions. Mundane winter tasks aren't immune from their charms, either: Strap them on for an adventurous walk with the dog, or, if you drive a lot on snowy roads, store them in the trunk of your car next to your flare and your spare. $350
To contact the editor responsible for this story: James Gaddy at jgaddy@bloomberg.net