A Dubious Demonstration Spurs Debate Over Canada's China Policy
(Bloomberg Businessweek) -- Something didn't add up about the oddball group of youngsters gathered at a Vancouver courthouse calling for the release of Meng Wanzhou, Huawei Technologies Co.'s chief financial officer, at her hearings to fight extradition to the U.S. They refused to identify themselves. Their placards were identical, down to the handwriting and grammatical errors.
It turns out they weren't sure what they were doing there, either. Some had been told they were taking part in a music video, others that they would be extras in a movie—all lured with offers of as much as C$150 ($113) for 15 minutes' work. It's unclear who was behind the payments. Huawei said it had no involvement. The Chinese Embassy in Ottawa didn't respond to a request seeking comment.
The incident has revived persistent concerns about Beijing's long reach into Canadian affairs, as Prime Minister Justin Trudeau faces growing pressure to take a harder line against China. "If China is interfering, we should fearlessly call them on that," says David Mulroney, a former Canadian ambassador to China and a senior fellow at the University of Toronto's Munk School of Global Affairs.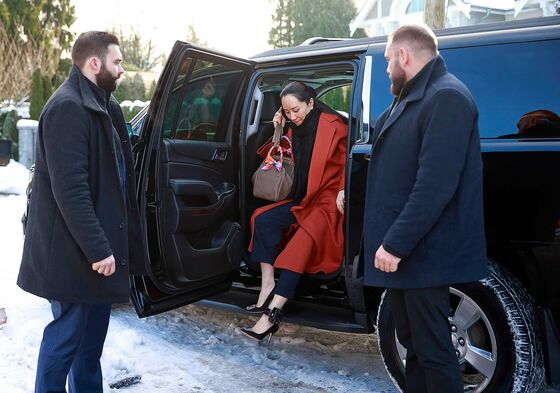 The plight of Meng, the eldest daughter of Huawei's billionaire founder Ren Zhengfei, has become a national cause for Beijing. Following her December 2018 arrest at Vancouver's airport on U.S. fraud accusations, China jailed two Canadians, Michael Spavor and Michael Kovrig; halted about C$5 billion in Canadian agricultural imports; and put two other Canadian citizens on death row.
Canada has been reluctant to confront signs of meddling. A decade ago, Richard Fadden, Canada's then spy chief, triggered a storm of controversy after saying that some elected officials in British Columbia—the province that's home to the highest proportion of ethnic Chinese in Canada—were believed to be under the sway of a foreign government. A parliamentary committee demanded his resignation. Those comments now appear prescient: In the most recent local elections, three Vancouver-area municipalities investigated allegations of vote-buying after a pro-Beijing group offered a C$20 "transportation allowance" over WeChat to encourage voting for ethnic Chinese candidates.
As Canada-China relations have deteriorated in the past year, Beijing supporters have escalated their harassment of Tibet and Uighur activists in Canada. Beijing has denied allegations of interference and has called Meng's arrest politically motivated, accusing Canada of "arbitrary detention." It rejects any suggestion that the detention of Spavor and Kovrig was retaliation.
Successive Canadian governments have focused on engaging China through trade, assuming—like much of the West—that the country would liberalize. China is Canada's second-biggest trading partner, with two-way trade totaling C$71.2 billion in 2019.
Meng's case is forcing a reassessment of that approach. "Canada's relations with China fundamentally changed" with her arrest, Dominic Barton, Trudeau's recently appointed ambassador to China, told a parliamentary committee on Feb. 6. "The chill is real."
Trudeau faces calls for a tougher stance. Legislators in December voted to create a special committee to reexamine Canada's fraught relations with China, a measure Trudeau's Liberals had opposed for fear of escalating matters. There's also a growing chorus for Canada to follow the lead of Australia in introducing anti-foreign-interference laws. "The real danger is that the more we appease China, the more emboldened they become," Conservative Senator Leo Housakos said as he put forward a motion in December calling on Trudeau's Liberal government to start sanctioning Chinese officials for human-rights abuses. "It is time for a change in tone and approach."
To contact the editor responsible for this story: Eric Gelman at egelman3@bloomberg.net