Can Philanthropists Move as Fast as Climate Change?
(Bloomberg Businessweek) -- Nili Gilbert is the investment committee chair of the $65 million David Rockefeller Fund, which supports nonprofit groups working in the environment, criminal justice, and the arts. (Rockefeller, who died in 2017, was a chief executive officer of Chase Manhattan Bank and grandson of Standard Oil co-founder John D. Rockefeller Sr.) Gilbert focuses on the fund's relationship with its investment consultants, manager selection, and overall asset allocation. Gilbert is also co-founder and portfolio manager at Matarin Capital Management, a fundamental and quantitative investment strategist with $1.3 billion under management, serving large institutional investors.
Gilbert says she first became fascinated with finance as a child living in Switzerland, where her mother was teaching business at an American college. She liked collecting the "pretty pieces of currencies" from around Europe in the days before the euro. Her mother suggested that instead of just prizing the notes for their good looks, she should start to keep track of how they change in value.

Karen Toulon: What excites you about your work at the charitable fund?

Nili Gilbert: One way is the way we think about mission-related investments. The funds are almost completely fossil-free. But we do not only negative screening against investing in fossils and natural gas but also positive investments to support alternative energy sources. We've just completely divested from private prisons in equities, and we are going down the road of looking at what that means in our fixed-income portfolios.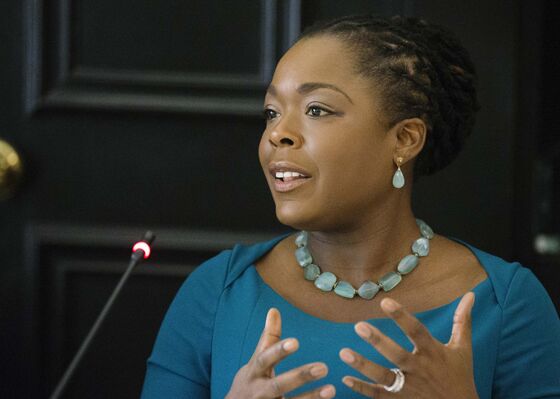 The other is the way in which we think about the opportunity to use the brand, the name of David Rockefeller, to help to set a standard that could inspire other like-minded investors.

What's an example of that?

Usually, if you put $5 million into a foundation, it invests it and pays out 5 percent over time. But moved by the emergency of climate disruption, Clay Rockefeller and Rebecca Lambert [David Rockefeller's grandchildren] funded the Richard Rockefeller Climate Change Initiatives, with the challenge that the fund spend down the entire principal and income on a gift of $5 million within five years. The urgency of the grantmaking matches the urgency of the problem.
We had to time our investments to be able to match the time horizon of the gift. This reflects a different kind of thinking about matching capital with intention.

David Rockefeller talked about success requiring not only financial resources and opportunity but also good ideas. How else is his vision shaking things up?

The fund created a fellowship to hire formerly incarcerated Americans at the fund. This is to model hiring practices we'd like to see nationwide. We also have an initiative where formerly incarcerated leaders are included as decision-makers in how grants are allocated.

This interview has been edited for space.
To contact the editor responsible for this story: Pat Regnier at pregnier3@bloomberg.net