The Dutchman UBS Is Counting On to Disrupt Wealth Management
(Bloomberg Businessweek) -- The headquarters of UBS Group AG sits on Zurich's toniest shopping street, flanked by the likes of Chanel, Louis Vuitton, and Prada. The century-old stone colossus is fronted with pillars that evoke the Parthenon, the floors inside are marble, the walls are oak, and executives can use a special side entrance and elevator to whisk them to their offices. Everything about the place projects an image of quiet wealth, the gravity of serious people with serious money, and above all discretion in their efforts to preserve fortunes for generations.
The bank's incoming boss in January inaugurated a new headquarters of his old employer, ING Groep NV, that's almost entirely transparent—a metaphor for what that company insists is an open and informal culture. The building sits in a gritty corner of Amsterdam near shops such as H&M and Kentucky Fried Chicken, floor-to-ceiling windows offer views deep inside, and board members must climb a public staircase to reach their meeting room, which is visible to any visitor.
The building was the brainchild of Ralph Hamers, a 54-year-old Dutchman who ran ING for seven years until June 30. When UBS in February announced it had selected Hamers as its chief executive officer, the choice surprised the finance world. His expertise, mass-market banking for the Digital Age, has little to do with UBS's specialty: wealth management for the world's richest families, people accustomed to personalized service with scant interest in banking via apps.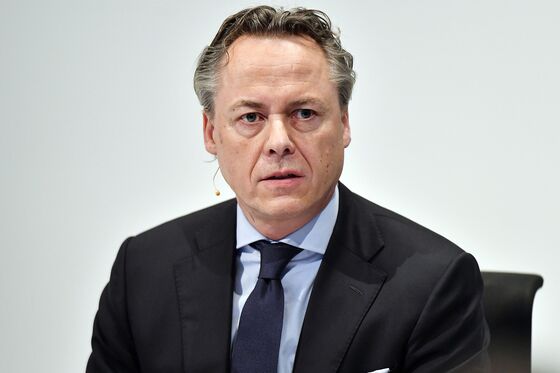 Hamers is credited with leading ING's digital transformation, adding millions of clients across Europe using their phones to tap into mortgages, insurance, and savings accounts, with no paper forms or office visits. More than a third of ING's customers interact with the bank exclusively via mobile devices, and the bank has 13.4 million clients paying for more than one service, a 70% increase from when Hamers took over as CEO in 2013. On his watch, profit jumped by almost half, to €4.8 billion ($5.4 billion) in 2019. "We saw customers moving online and the rise of the mobile phone," Hamers said in a video posted by ING upon his departure. "The story was all built around: OK, guys, if these are the trends, we've got to become the bank of the future."
Hamers, who will take over UBS in November, joins as the Swiss giant struggles with rising payroll and costs, friction among executives, grumbling among staff about the bank's direction and disjointed digital initiatives, and of course the unknown fallout from the coronavirus outbreak. Like the rest of the industry, UBS has tried to cut expenses and boost revenue as passive investing eats into once-lucrative managing fees and negative interest rates upend the traditional model of deposits and lending.
Since the financial crisis, UBS has scaled back its investment bank, which had lost ground to American giants, and focused instead on serving millionaires and billionaires worldwide. The wealth arm at UBS now manages $2.3 trillion, but it's still trying to figure out how to make the costly, high-touch business more efficient—and is betting that Hamers's tech-savvy approach can help get it there. "Ralph was one of the first executives at a big bank who saw the importance of IT," says Ali Niknam, founder of online bank Bunq.
Hamers spent nearly three decades at ING, almost his entire career, and met his current wife there when she was a secretary (not for him). He prefers khakis, sneakers, and open-collar shirts to pinstripes, and as CEO he continued to manage a handful of relationships with medium-size companies. "The culture of the bank became more informal under his leadership," says Maurits Duynstee, a former top ING executive who's now a partner at corporate finance firm Axeco. "People underestimate how much this fresh approach delivered for the bank."
Hamers likened ING to a tech startup and took teams of executives on repeated field trips to Silicon Valley. He sought to nurture a creative culture, with yoga classes, relaxation sessions, and wellness programs in the office, and he wanted the new headquarters to be a physical manifestation of that style. "We intentionally didn't build a marble castle like other banks," says Coen van Oostrom, CEO at EDGE, the developer of the building.
Yet in the Netherlands, Hamers is best known for the size of his paycheck and for a €775 million fine the bank paid to settle a money laundering case. In March 2018, the supervisory board proposed boosting his salary by about half, to €3 million a year—still relatively modest by global banking standards—but withdrew the offer following public outcry and sharp words from the Dutch prime minister. Six months later the public prosecutor imposed the fine, saying the bank had put "profits before compliance," at least in part because top management set the wrong tone.
Insiders say those twin setbacks soured Hamers on the Netherlands, where he faced public hostility to banks and bankers and felt he couldn't get the salary he deserved. Pay won't likely be an issue at UBS, as his new paycheck could make the raise he sought at ING look like peanuts. While the Swiss bank hasn't disclosed Hamers's compensation, outgoing CEO Sergio Ermotti is one of Europe's highest-paid bankers, earning more than $12 million last year.
When Hamers gets to Zurich, he'll need to deliver cost-cutting that goes beyond layoffs, automation, and combining offices, and he'll have to oversee the appeal next year of a €4.5 billion fine imposed by French prosecutors for allegedly assisting clients evade taxes.
On the plus side, Hamers will benefit from tech changes that helped UBS weather the coronavirus pandemic, as clients and workers alike have deemed the company's work-from-home program a success. In the past two years, UBS has closed more than 70% of its external servicing centers, struck a partnership with Microsoft Corp. to move some services onto cloud platforms, and brought outsourced technology roles in-house.
Yet while UBS insists it has gotten more efficient, analysts at Barclays have calculated that the Swiss bank's $6 billion in cost reductions from 2011 to 2017 were offset by growing expenses elsewhere. And insiders say half of UBS's $3.5 billion annual tech budget goes to maintaining aging systems and complying with regulations in various jurisdictions. They grouse that by bringing jobs in-house, UBS expanded the tech team to about 20,000 people worldwide, roughly double the number who work as advisers to rich clients and generate the bulk of the bank's revenue. It's the tech workers, though, who will likely implement the digital initiatives Hamers loves.
In the wealth division, UBS is concentrating its efforts on top clients while those on the lower rungs—a few million dollars in assets—are increasingly relegated to call centers and robo-advisers. There's debate within UBS about the wisdom of these moves. Opponents say that while digital services may be appropriate at a place such as ING, even the less-than-hyperrich have little appetite for apps and passwords, and they expect to be able to dial their personal banker at any hour. In Asia, though, where clients are often first-generation millionaires, UBS has successfully introduced services via WeChat.
What's clear is that apps Hamers might introduce at UBS will be more complex than those he's accustomed to. The typical UBS client banks in various countries and currencies, owns multiple businesses and properties, and needs to be vigilant about tax and currency laws. The key to wealth management is personalization, and figuring out how to deliver that at scale is critical, says Anna Zakrzewski, a partner at Boston Consulting Group. "An app is useless if you don't create the user experience, if you are not able to really react to clients' preferences," she says.
The investment bank, where staffers are already on edge awaiting Hamers, poses the thorniest problem. Hamers has said investment banking makes little sense for European lenders because of their relatively small home market, and the unit has been most deeply affected by past cost-cutting. While UBS argues that some parts of investment banking are crucial for a sophisticated wealth manager, it has shrunk the unit by two-thirds since 2011, when Ermotti began focusing on rich clients.
At ING, Hamers kept some traditional investment banking for corporate clients in the Netherlands, but he sold or merged much of the rest of the business. If he does something similar at UBS and further tailors the division to the needs of the wealthy, it would be straight from his playbook: Sacrifice existing operations for new ideas that show a greater potential for profit. "I am a believer in disrupting yourself before somebody else does it," Hamers said when he started as CEO at ING in 2013. "I will not shy away from a bit of cannibalization if I feel it will make us grow."