If California Can't Make High Speed Rail Work, Can Anyone?
(Bloomberg Businessweek) -- For more than a decade, California has been trying to develop a 520-mile network of trains speeding as fast as 220 mph, much as they do in parts of Europe and Asia. Investing in high-speed rail in the U.S. is also a key plank of congressional Democrats' " Green New Deal" to mitigate climate change. But California's bullet train project is in trouble, plagued by cost overruns, political controversy, poor decision-making, and now questions about the scope of the project and a fight over funding with President Trump. Its fate shows just how challenging the goal remains of replacing emissions-spewing vehicles on congested highways with fast, clean travel by rail.
Democrats led by Representative Alexandria Ocasio-Cortez of New York and Senator Ed Markey of Massachusetts offered a nonbinding resolution on Feb. 7 to create the Green New Deal, which includes investing in high-speed rail to help reduce greenhouse gases.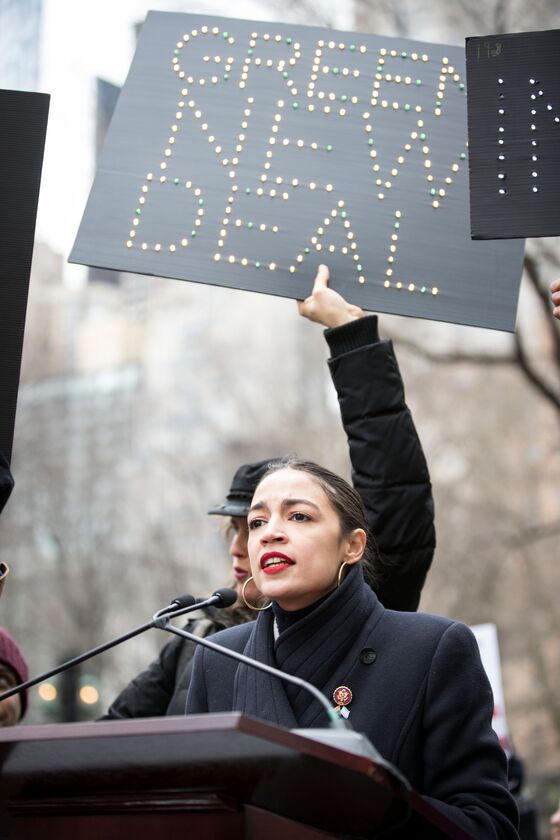 Five days later, California Governor Gavin Newsom said he was scaling back plans for a high-speed rail system between Los Angeles and San Francisco because it "would cost too much and take too long." Instead, he's focusing on finishing 170 miles of track already under construction in the interior Central Valley.
Newsom's comments prompted Trump to call the project a "failed Fast Train" and "a 'green' disaster" on Twitter. The U.S. Department of Transportation then moved to cancel more than $900 million in federal grants earmarked for the bullet train and is exploring legal options to recover $2.5 billion already allocated.
While Newsom and high-speed rail proponents say the project is simply being refocused, some advocates fear it will doom the state's bullet train and hurt broader efforts to build high-speed rail networks in the U.S. "It could be the death knell" for the California project, says Ray LaHood, a former Republican congressman from Illinois and U.S. transportation secretary under President Obama. "As long as Republicans are in control of the Senate and you have a Republican in the White House, I see no hope for rail funding."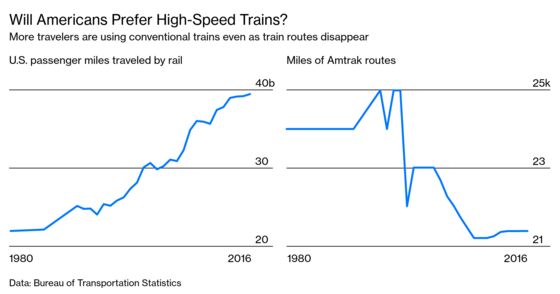 Obama pushed high-speed rail and included $8 billion for it in the federal stimulus package Congress passed in 2009 to help pull the economy out of the recession. California got $2.6 billion of that, plus an additional $929 million in fiscal 2010 for its bullet train. Voters approved $10 billion of bonds in 2008, with an expected completion cost of about $40 billion. A state auditor's report in November said the California High-Speed Rail Authority has secured $12.7 billion of the cost, now estimated at $77.3 billion. The report concluded that "flawed decision-making" and other problems with construction of the Central Valley portion so far "have contributed to billions of dollars in cost overruns for completing the system."
Newsom has said he's not killing the project, but rather focusing on completing the Central Valley segment as efforts to plan and secure funding for the rest of the system continue. He's vowed to fight Trump to keep the federal money already approved. While shrinking the system is a setback, finishing the Central Valley portion could prove the project can work, says Karen Philbrick, executive director of San Jose State University's Mineta Transportation Institute, founded by former U.S. Transportation Secretary and onetime California Representative Norman Mineta. "We think that once people see how the train runs, how efficient, safe, and affordable it is, that excitement will, in fact, increase," Philbrick says.
Many of the problems with the California project are unique and don't necessarily apply to others, says Jeff Davis, a senior fellow at the Eno Center for Transportation, a Washington think tank. He's identified seven "worst practices" for it, including committing federal dollars for a construction project that's not ready. High-speed rail advocates also say that scaling the project back won't affect bullet train ventures elsewhere in the U.S. The investor-owned Texas Central Partners, which plans a 240-mile link between Houston and Dallas, has even outlined differences between its proposal and the California system.
Planning for similar rail networks continues. As part of a spending bill to avoid another partial federal government shutdown in February, Congress approved $10 million toward a high-speed, magnetic levitation train between Washington, D.C., and Baltimore that could later reach New York City. While the Green New Deal faces strong political opposition, it can also make bullet trains part of a central debate in Washington rather than one on the fringes, says Andy Kunz, president and chief executive officer of the U.S. High Speed Rail Association, an advocacy group. "I think it elevates high-speed rail to something more important," he says.
Still, the main challenge in the U.S. is a lack of money and political support, especially among Republicans, LaHood says. As long as people who control the federal purse have no vision for bullet trains, "obviously there's not going to be any money." In California, Republicans including U.S. House Minority Leader Kevin McCarthy are applauding Trump's effort to reclaim federal money from what they call a failed project, or "train to nowhere." California and other states must find their own money or private funds; otherwise, a permanent, multiyear federal funding program is needed, Davis says. "If the whole Green New Deal thing comes about, maybe that can happen," he said in a Feb. 14 webinar. "But I wouldn't hold my breath waiting on it."
To contact the editor responsible for this story: Dimitra Kessenides at dkessenides1@bloomberg.net