'Buy Now, Pay Later' Installment Plans Are Having a Moment Again
(Bloomberg Businessweek) -- You're shopping online, about to hit the checkout button, when something catches your eye. It's an intriguing offer. Instead of buying your item the old-fashioned way with your credit or debit card, you can pay for it in an even more old-fashioned way, familiar to anyone who shopped at department stores before plastic became ubiquitous: on an installment plan.
"Buy now, pay later" programs are growing fast, both on e-commerce sites and at physical retail checkout counters in the U.S. Stores generally offer the programs through third-party financial technology companies including Affirm, Afterpay, and Klarna. Unlike credit cards, on which a borrower paying a minimum could carry a balance indefinitely, these loans are designed to be paid off in a set number of payments—often four. And they're linked to a specific purchase rather than being a general line of credit.
In general, these programs make the lion's share of their money on fees from retailers, rather than from interest paid by consumers. Stores are willing to pay because the programs make it easier for customers to say yes to items with price tags that might otherwise make them queasy. "We are in the business of turning browsers into buyers, which is fundamentally a merchant service," Affirm Holdings Inc. Chief Executive Officer Max Levchin told Bloomberg TV in July. His company gets a bit under half its revenue from merchant network fees, with a smaller chunk coming from interest income.
Americans spent an estimated $20 billion to $25 billion using deferred payments in 2020, according to a March report by analytics firm CB Insights. Worldwide, that same report projects that transactions through such plans could grow 10 to 15 times by 2025, topping $1 trillion. According to Bloomberg Intelligence, buy now, pay later's penetration in the U.S. may be 3% of e-commerce, but there's room to grow—it's about 10% in Australia.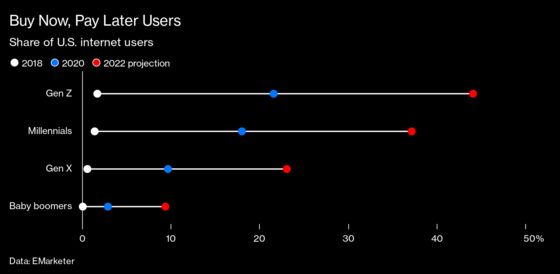 Silicon Valley giants are trying to muscle in on the business pioneered by the fintechs. PayPal Holdings Inc. rolled out its own buy now, pay later feature, Pay in 4, last year. Now Apple Inc. is looking to offer its own spin, with plans to build the functionality into its Apple Pay platform, Bloomberg News reported. Banking giant Goldman Sachs Group Inc. will be the behind-the-scenes lender for the new Apple Pay product. "Apple and PayPal getting into this is an indicator that this kind of flexibility—this kind of 'fintech-ification' of our everyday commerce experiences—isn't going to go away anytime soon," says Lily Varon, a senior analyst at Forrester Research Inc. "This isn't a blip."
The pandemic lockdown fueled an e-commerce spending spree that seems to have accelerated the adoption of buy now, pay later. But the programs may also appeal to younger consumers who are wary of credit cards. Although buying on installment is very much a form of borrowing, it's set up to feel easier to swallow. Many plans charge no interest. Afterpay Ltd. has no credit check, while some other programs do only "soft" checks that don't affect a consumer's credit score. Having a set period to pay back may also feel more manageable. The big opportunity for growth in the business is "either people that don't really have credit or people that don't really like using credit cards," says Dan Dolev, an analyst with Mizuho Securities USA.
Installment companies say they're more transparent and simpler than credit cards, and take steps to protect vulnerable borrowers. Afterpay, for example, cuts off further purchases as soon as a payment is missed. "Creating opportunities for consumers to buy that make them feel safe and smart and responsible is a good thing," Affirm's Levchin told Bloomberg TV. Taken as a whole, though, the explosion of new programs means consumers have a lot more ways to put off payments and get into debt—and a lot more complexity to navigate.
Each program has its own set of rules on fees, rates, and credit reporting. Afterpay charges late fees of up to $8. Affirm has no late fees, but unlike Afterpay it may charge interest on some purchases, depending on the retailer. Afterpay's installment plans are designed to be paid off in four chunks over six weeks, while Affirm offers different schedules that may stretch out as long as 60 months. It's expected that Apple Pay will offer both a short-term pay-in-four plan and longer-term options. "It's not clear to me that consumers can easily delineate between the different products that are out there," says Chuck Bell, programs director in Consumer Reports' advocacy division. "There will likely be more oversight at some point, because I think the problems are not going to go away."
In July, the U.S. Consumer Financial Protection Bureau, the watchdog overseeing consumer lending practices, published a blog post about buy now, pay later programs. While it didn't criticize the practice, it advised consumers to look out for late fees and noted that since some programs are linked to a consumer's debit card, there's a risk of automatic installment payments triggering bank overdraft fees if the money's not there.
Installment pay companies have come in for more scrutiny in other countries where they've gained a foothold. Sweden recently passed a law requiring that non-debt payment options, when there are any, be presented first online. The U.K.'s financial regulator published a report that said the industry "poses potential harms to consumers and needs to be brought within regulation." One risk it highlighted: Consumers could have multiple outstanding transactions across several platforms, adding up to high levels of indebtedness.
Forrester's Varon says consolidation in the industry is inevitable, given the sheer number of players worldwide and the hunger for expansion. Affirm earlier this year completed the acquisition of Canada's PayBright. And Apple and PayPal have paved the way for more traditional financial firms to enter the fray. "They'll probably see more banks moving into the buy now, pay later space," says Anisha Kothapa, a senior analyst at CB Insights. She points to Goldman Sachs's MarcusPay offering and installment options being developed by Visa Inc.
As companies in the sector get more experience with their customers, they'll develop an ability to better underwrite credit risk, says Zachary Aron, principal in the payments and banking consulting practice at Deloitte. That will enable them to offer more tailored loans. "Those are ways we really think financial institutions can be on the side of the customer," Aron says. "Being able to use that information as education, coaching, guidance, support." Not to mention making it even easier to click "buy."