Rise of Tech Spurs Business Schools to Focus on Entrepreneurship
(Bloomberg Businessweek) -- Armin Rachwalik founded his first company in 2017 through an accelerator program, seeing an opportunity to provide management and communications software as a service to landlords. The startup, called Mieterland, had a dedicated user base of about 50 clients, but Rachwalik ultimately shuttered the business when the accelerator program ended, unable to find investors to help it grow. He says he wants to take another stab at entrepreneurship someday, but with more skills at his disposal. So the 26-year-old signed up to HEC Paris's 16-month MBA program to fill the gaps. "There's a specialization here on innovation and entrepreneurship, and a lot of electives like entrepreneurial finance," Rachwalik says.
As the tech sector grows, schools are retooling their MBA programs to cater not only to graduates seeking jobs at Big Four accounting firms but also to students looking to work in Big Tech and would-be founders wanting to round out their skills and expand their networks. The shift—which has been going on for years—requires business schools to balance traditional courses such as accounting, finance, and economics with ones on entrepreneurship, innovation, and artificial intelligence. Even large consulting firms are looking for graduates with tech skills—EY, dissatisfied with the abilities of its new hires from B-school, started its own MBA last year.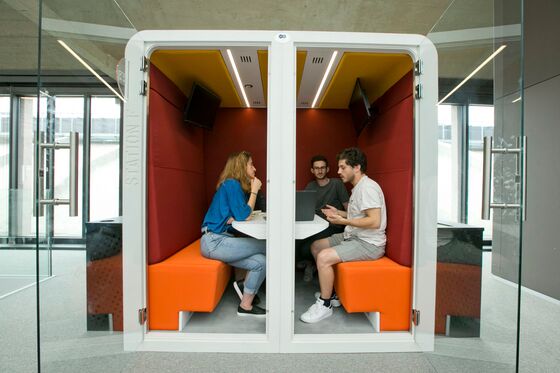 HEC Paris lets students spend half of their program working on an entrepreneurial idea, in addition to studying core business school courses, says Andrea Masini, associate dean in charge of the school's MBA program. "We see more and more students joining the MBA with the idea of becoming an entrepreneur," Masini says. "I'm very convinced that even if you want to be an entrepreneur, you cannot ignore the fundamentals."
Although consulting is still the preferred career path for MBA candidates worldwide—with 49% wanting to join a major accounting firm—a career in tech has become the second-most sought-after, with 39% preferring that route, says Rahul Choudaha, director of industry insights and research communications at the Graduate Management Admission Council (GMAC), which administers the GMAT admissions test. "This is a big indicator that interest in the technology sector is pretty dominant, even among a very business-oriented career track."
A survey this year by GMAC showed 96% of recruiters into the tech sector planned to hire MBAs in 2021, up from 80% in 2019. Although many graduates will want to work at large businesses, many are also interested in starting their own, according to GMAC's research: More than half of respondents to another survey this year by the organization said they think learning about entrepreneurship is a must-have component of an MBA program.
Students interested in entrepreneurship generally fall into three groups, says Maryellen Reilly, deputy vice dean of the MBA program at the Wharton School of the University of Pennsylvania. One-third come with an idea for a business and are seeking the resources of the school to help launch and scale it. A second group consists of would-be entrepreneurs who use the MBA program to find a like-minded co-founder—a dating service of sorts for business. The third, smaller proportion, plan to start a business eventually but want to read up on core business competencies through the MBA before taking the plunge. Graduates in this last group often take the interim step of joining a large tech firm or a late-stage startup upon graduation, Reilly says.
More members of Wharton's class of 2021 have ended up in jobs in the tech sector than during any previous year, at 14%, according to recently published statistics from the school, while 1 in 40 members of the graduating class have decided to start their own business or return to self-employment. Recognizing the changing demographics and demands of its students, Wharton in late 2020 completed a seven-story building called Tangen Hall, which acts as a startup accelerator and hub, bridging the gap between the B-school and other departments at Penn. "This generation wants to make their mark," Reilly says. "They want to get their hands dirty and want to be able to point and say: 'I had that impact.'"
Some schools are making entrepreneurship a core focus of programs. The F.W. Olin Graduate School of Business at Babson College scored highest in a Bloomberg Businessweek 2021-22 Best B-Schools survey of U.S. MBA students for putting entrepreneurship central to its training. Babson students are second only to those from Stanford Graduate School of Business for recommending their program to friends interested in running a business, according to the survey. Olin was founded by an entrepreneur, Roger Babson, in 1919, and so entrepreneurship has always been in the school's DNA, says Sebastian Fixson, associate dean of academic programs and innovation. Three years ago, Olin cut back its core modules from about half the MBA program to one-third, giving students more flexibility to choose entrepreneurial electives.
Imperial College Business School in London recently overhauled its MBA program to focus on tech, introducing electives that are shared with students in other departments at the university. In an artificial intelligence entrepreneurship course, MBA students work in teams with computing students to create business opportunities powered by AI. The Imperial Innovation Challenge has students visit university laboratories, learn about the technology, and develop business ideas from what they see. Imperial's tech track also tours the MBA students around London's startup tech sector to learn from their experiences. Tech has become the third-biggest sector pulling from Imperial's pool of MBA graduates, after consulting and finance, says Markus Perkmann, MBA academic director at the school. Many Imperial graduates join the likes of Amazon.com Inc. and Alphabet Inc.'s Google, Perkmann says. "We do see a shift in the labor market, with a lot more going into the tech sector."
Mohamed Alibashe, a medical doctor by training, joined Imperial's MBA class of 2020 because of those cross-departmental connections, as well as the opportunity to learn core business competencies. "I didn't have any background in accounting or entrepreneurial finance," he says. Alibashe met the two co-founders of his business during the program. In March 2020 they launched HealthMe Ltd., which analyzes medical records using natural language processing. "You don't do the MBA just for the skills you learn," he says. "You do it for the network." —With Alexander McIntyre
 
Read next: In-House B-Schools Give Firms MBAs With the Skills They Want