For the Ultra-Rich, Peace of Mind Is a $263,800 Safe
(Bloomberg Businessweek) -- Every August, like clockwork, millions of vacationers continue the long-held practice of taking off from work. They secure their windows, lock their doors, and maybe postpone newspaper delivery so there's no pile at the door.
But for members of the 0.01 Percent, this also means properly stashing watches, jewels, paintings, and other rare goods by punching in the keypad codes to their safes from Buben & Zorweg.
Even in the relatively rarefied world of home security, Buben & Zorweg stands alone: Its safes are VdS-certified (the highest mark of quality available), come lined in velour and nappa leather, and are available in an infinite spectrum of colors. Its target customer has roughly $4 million in disposable income, according to the company, which hand-­assembles each of its strongboxes at a factory an hour's drive from Stuttgart in Olbronn-Dürrn, Germany.
Eberhard Hagmann, head of design, joined Buben & Zorweg 15 years ago after a career at German watchmaker Junghans GmbH. Watches and safes aren't that different, he says. Hagmann helped the company incorporate showier details into its collection. His X-007 safe rises dramatically out of a camouflaged shell at the touch of a button; he conceived of another to identically match the interior design of a client's Aston Martin One-77. One of the locking systems for his safes was originally ­masterminded for Swiss bank vaults.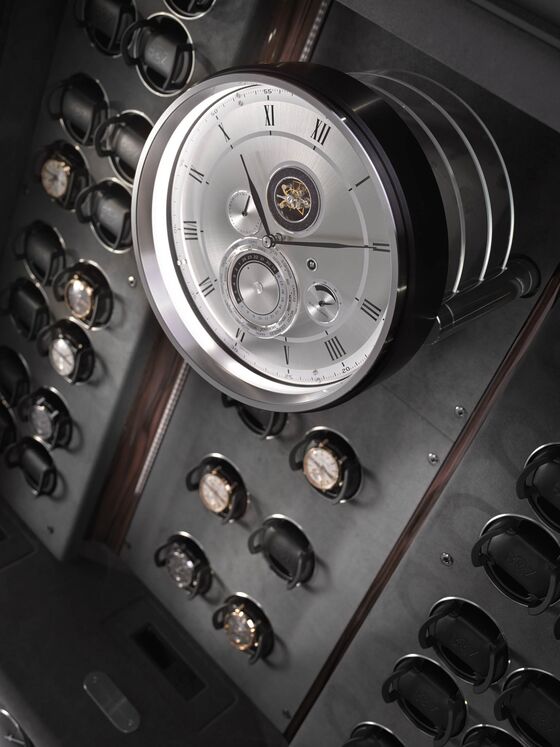 Over the years, Hagmann has seen tastes change among security-minded cognoscenti. "More and more, they want a good design, so when you see this object, you don't know if it's a safe or not," he says. "It's furniture." Sometimes clients have special requests because they like a certain kind of wood or leather. They'll often show up with pictures from their house or apartment, and he'll design something that fits in. Other options include chrome, crocodile-grained leathers, carbon fiber details, or high-gloss lacquer.
The Solitaire Vision (more below, from $263,800), one of the company's most high-end base models, takes this hiding-in-plain-sight trend a step further. Its doors are made of bulletproof, two-way mirrored glass more than a half-inch thick. Push a button on a remote control, and—voilà—the mirrored effect dissolves to reveal what's inside.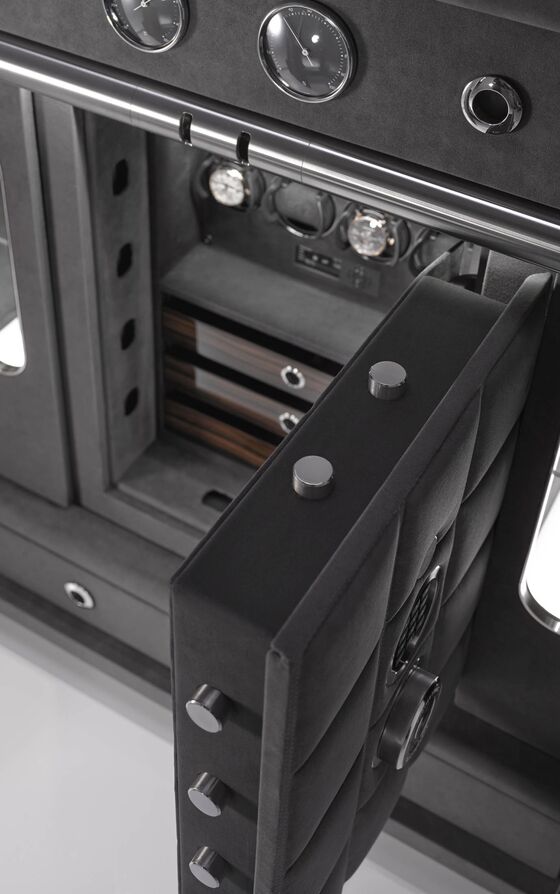 A mechanical key opens the doors for quick entry to 38 watch winders, arranged vertically. Below, a dial lock with keypad entry guards a separate smaller section roughly 2 feet tall and 20 inches deep—enough for eight more watch winders and three drawers.
Compartments on either side can be configured to hold wine or liquor bottles as well as a makeshift bar or humidor. And an integrated audio system connects to your phone via Bluetooth, in case you want to use it as a very expensive entertainment hub. Because what fun is having rare timepieces if you can't show them off?
Customization options are endless, Hagmann says. He once designed a safe for an American client to hold one of Jimi Hendrix's Gibson guitars. "They asked for it to be temperature-­controlled," he says. Others send drawings of guns, such as a vintage Winchester rifle, and he'll make a safe specific to those dimensions.
For these types of clients, a quarter of a million dollars isn't too much to pay for peace of mind. One customer, Hagmann says, bought a safe for a single antique rarity. Its value? $40 million.
The Solitaire Vision, Annotated
The housing is handmade from high-gloss Makassar wood.
There's room for 38 watch winders, plus an additional eight in the safe below.
Two-way mirrored glass doors are more than a half-inch thick and bulletproof.
A worldtimer clock comes with your choice of a rotating or nonrotating flying tourbillon on the minute hand.
The Solitaire Vision includes an integrated thermometer and a hygrometer.
The interior is lined with -velour and Italian nappa leather.
A redundant locking system includes a seven-digit keypad and an emergency key.
To contact the editor responsible for this story: Chris Rovzar at crovzar@bloomberg.net, Justin Ocean