Biden's Internet Plan Pits Cities Against Dominant Carriers
(Bloomberg Businessweek) -- After years of unhappy reliance on Comcast Corp. and other carriers, Pleasant Grove, on Utah's Wasatch Front, is turning to a new broadband option: a municipally owned company called Utopia Fiber. The choice follows a pandemic year that showed just how much households need fast, reliable internet connections for jobs, schooling, and medical care.
To reach homes that lack good service, or have none at all, President Joe Biden has proposed funding networks such as Utopia Fiber that are run by cities and nonprofits. That's not sitting well with Comcast, AT&T, Verizon Communications, and other dominant carriers, which don't like the prospect of facing subsidized competitors.
Pleasant Grove shows why established carriers might be vulnerable. With 38,000 residents, it's nestled between the Wasatch Range and the Great Salt Lake Basin, just south of Salt Lake City. When it asked residents about their broadband, almost two-thirds of respondents said they wouldn't recommend their cable service. Almost 90% wanted the city to pursue broadband alternatives.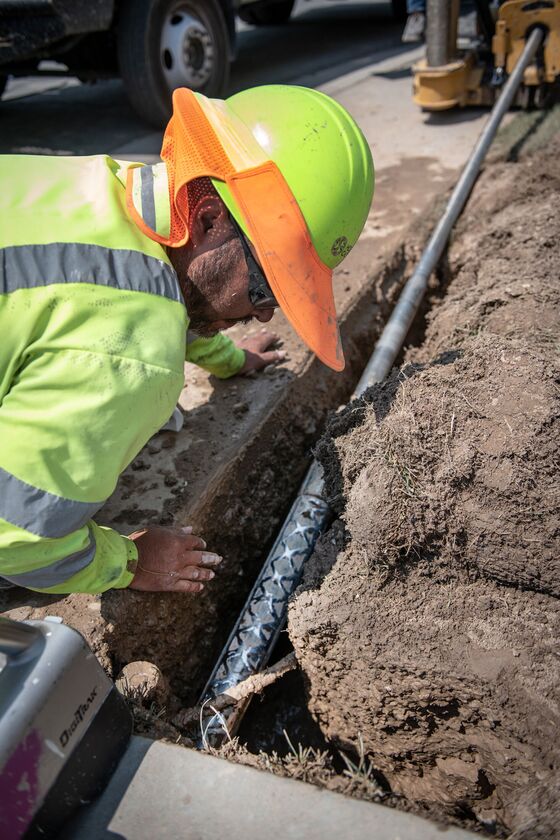 "We could sit and wait for the private sector to do this—we just didn't really know when that would be," says City Administrator Scott Darrington. Residents have complained of slow broadband, and Utopia's fiber network holds out the promise of fast speeds that don't lag as more households log on, Darrington says. It will also reach areas not served by current providers.
Utopia, owned by 11 Utah cities, builds the network and charges consumers $30 a month. To complete the package, they choose from a dozen other companies that offer internet and video service and charge about $35 monthly. That brings the tab near Comcast's advertised rate of $70. Comcast has invested "to keep communities like Pleasant Grove City reliably connected with the fastest broadband speeds available," says Sena Fitzmaurice, a spokeswoman for the company. She says it offers fast service across the city.
Still, when the city council voted unanimously to approve Utopia's $18 million build-out in April, the mood was a mix of giddy and vengeful. "I'll be your first customer that signs up and says goodbye to Comcast," said one council member moments before the body voted. "I'm right behind ya," another added.
The events in Pleasant Grove jibe with the rhetoric coming out of the White House. Biden says he wants to reduce prices and ensure that every household in the U.S. gets broadband, including the 35% of rural dwellers the administration says don't have access to fast service. To connect them as well as others languishing with slow service in more built-up places, the president wants to give funding priority to networks from local governments, nonprofits, and cooperatives.
Established carriers are pushing back against the proposal; they have long criticized municipal broadband as a potential waste of taxpayer funds, while backing state-level limits on it. Almost 20 states have laws that restrict community broadband, according to a tally by the BroadbandNow research group. The carriers say the administration and its Democratic allies are calling for blazing upload speeds that have little practical use for consumers, who already get fast downloads for videos and other common web uses.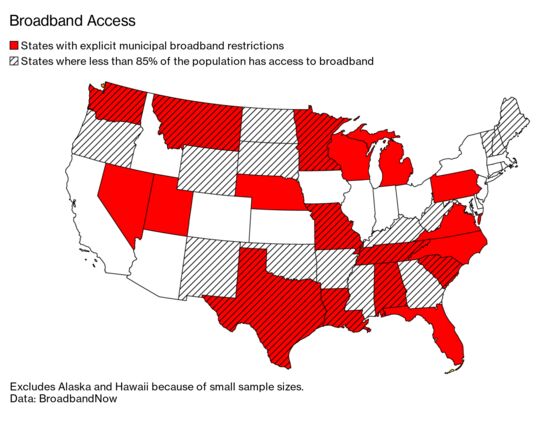 Assertions that Americans pay too much rest on faulty comparisons, according to NCTA-The Internet & Television Association, a trade group. Government-owned networks "can be part of the solution in certain communities," says Brian Dietz, a spokesman for NCTA, which represents the largest U.S. cable providers, Comcast and Charter Communications Inc. "There have been more failures than successes."
That's not the case, advocates for municipal networks say. "These models have the best chance of finishing the job of connecting America," says Christopher Mitchell, director of the Community Broadband Networks program at the Institute for Local Self-Reliance. Local governments offer about 600 networks that serve about 3 million people, he says.
There's "definitely a spike in interest" from cities in making their own broadband investments, says Angelina Panettieri, a legislative director for the National League of Cities.
Rules issued on May 10 by the Department of the Treasury seem to funnel the broadband portion of a $350 billion Covid-19 relief bill to rural areas. That's "a little bit dispiriting" because it jeopardizes federal funding for new networks in cities and suburbs, says Kim McKinley, Utopia's chief marketing officer. The administration wants to help areas that are suffering the greatest lack now, regardless of location, says a Treasury official who wasn't authorized to speak publicly. Republicans want to bar spending on municipal networks and have criticized Biden's broadband plan as too expensive. In response the administration scaled back its plan to $65 billion, from $100 billion.
In the meantime, some cities that had been discussing broadband projects suddenly developed cold feet, McKinley says. She says Treasury's rules may show the administration is shying away from challenging the largest broadband companies: "When was competition ever a bad thing?"