It's Me, Jack. My United Kingdom Is Fraying
(Bloomberg Businessweek) -- The British and I have always had a complex relationship. Over the centuries, I've stood for empire-building and division, flown through war and peace, represented football hooliganism and royal pageantry, and adorned iconic designs as well as millions—maybe billions—of knickknacks and souvenirs.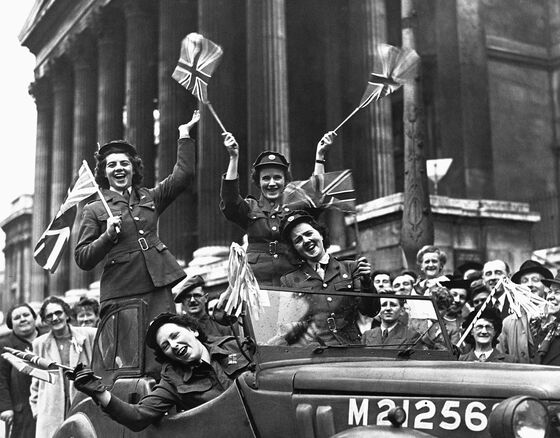 I was born in 1606, shortly after the merging of the crowns of England and Scotland, coming of age after the Acts of Union that formed Great Britain in 1707 and later added Ireland in 1801. By the 19th century I was everywhere our navy could sail, the potent symbol of the British Empire, combining the crosses of three patron saints: St. George of England, St. Andrew of Scotland, and St. Patrick of Ireland.
My colors are as visible as ever now. The U.K. recently ordered that I should be flown from government buildings every day. Yet the ambiguities of the red, white, and blue are also more evident as the U.K. struggles to define its identity after Brexit.
Traditionally a banner of strength, I'm being reasserted as a symbol of unity at home and mercantile adventure abroad. Prime Minister Boris Johnson talks of a confident "Global Britain" outside the European Union. Yet the forces unleashed by Brexit are intensifying the friction within the U.K. itself.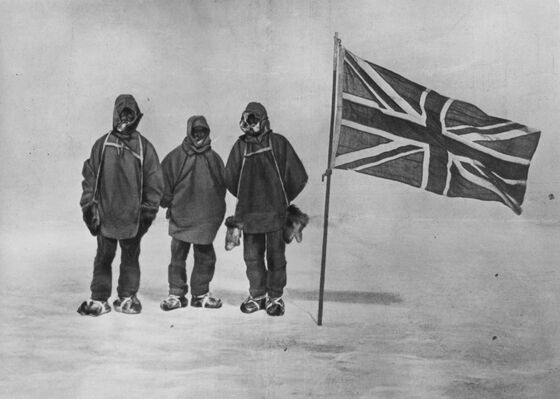 An election in Scotland on May 6 has effectively become a referendum on whether the nation has the right— or need—for another vote on independence. The pro-independence camp, led by the Scottish National Party, looks to be headed for an emphatic victory.
And Brexit has inflamed Northern Ireland's simmering tensions after turning a previously seamless sea border with Britain into an active fault line. After 100 years of partition, polls show a majority of Northern Irish favor having a vote on reunification with the south. There's also rising support for autonomy in Wales, which has been united with England since being conquered in the 13th century and isn't represented on the flag. The way things are moving, I—the Union Jack, or Union Flag to purists—may come to embody what was, not what is.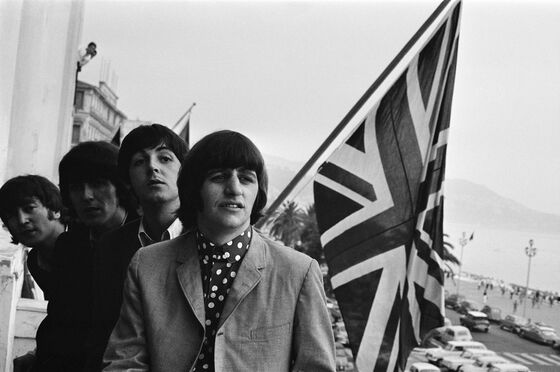 But the U.K.'s unraveling, as well as my own, has been a political dynamic since well before Brexit became a word, and any suggestion of my demise would be premature. Nick Groom, an English academic and author of The Union Jack: The Story of the British Flag, says my components reflect compromise and concession as much as empire or power. "There's a temptation to simply use it in the context of the most immediate U.K. politics," he says. "And that overlooks the ambiguities, the rich history, and a way of reforging bonds."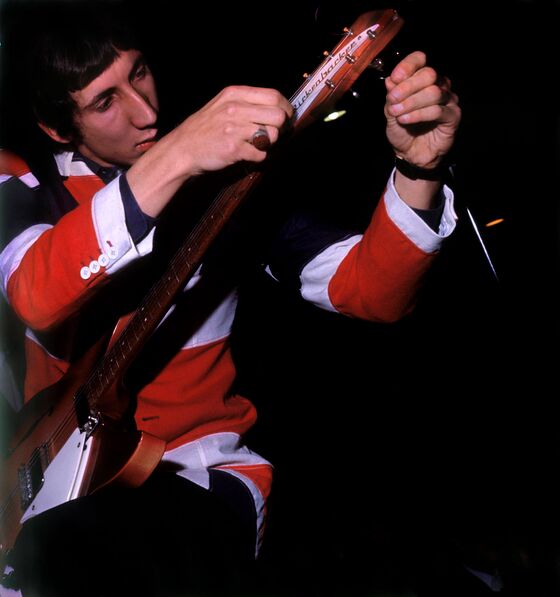 When England beat West Germany to win the soccer World Cup in 1966, fans in London's Wembley Stadium waved me—not just the red-and-white English cross of St. George, as they do now. Guitarist Pete Townshend of the Who had me made into a jacket back then, and I watched the last vestiges of empire crumble while London swung its way through a postwar cultural revolution. A more volatile period followed, punctuated by the Clash and Freddie Mercury, but polluted by National Front skinheads who inspired "liberal and left-wing antipathy" toward me, Groom says.
By the late 1990s, I'd adapted. The Labour Party had swept to power under Tony Blair, who became the youngest prime minister in 185 years. I turned into Cool Britannia, Britpop, and Britart. My ambiguities never went away, though. In 2007, Blair's Labour successor, Gordon Brown—a Scot—moved to scrap the traditional practice of flying me only on 18 specific days of the year, mainly to mark national or royal occasions. "It is critical that this symbol is not hijacked by those who seek to work against values of tolerance and respect," the government said. Notably, though, Scotland was exempted, while Northern Ireland had its own rules, to avoid sectarian conflict.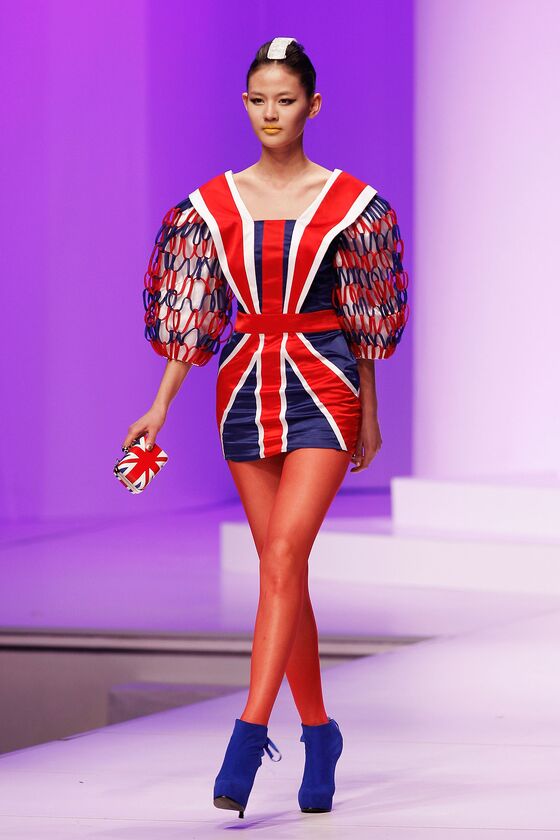 Brexit was a sign of insularity to many of its opponents, a pandering to jingoism, an English rather than a British revolt. They rallied behind the EU's blue with gold stars. To supporters, it was a moment of reclaiming sovereignty, a withdrawal from an uneasy 47-year relationship with the Continent, and a time to champion the Union Jack again.
When the U.K. left the EU on Jan. 31, 2020, the Union Jack flown in Brussels was solemnly taken down, folded, and removed from the bloc's headquarters. (It's now stored in the city's House of European History, part of an exhibition opening on May 9.)
In Britain, though, my visibility has only increased since Brexit. Ministers in London are conspicuously flanked by two of me at televised coronavirus briefings. In March, when the U.K.'s culture secretary, Oliver Dowden, announced the guidelines to insert me more into public life, the aim was to promote "a proud reminder of our history and the ties that bind us." It was also perhaps an acknowledgment that those ties are fraying.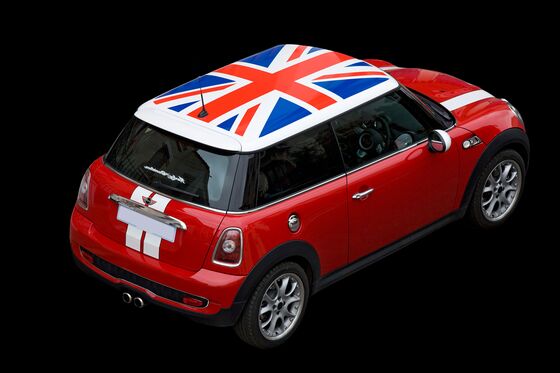 "What Britain has lost is a sort of taken-for-grantedness about the flag, and Brexit has accelerated that," says Duncan Morrow, professor of politics at Ulster University in Belfast who led a community relations council in Northern Ireland and advised the Scottish government on tackling prejudice. "It's become an issue of party or side rather than a transcendent symbol."
Scottish leader Nicola Sturgeon says her nation has the right to another independence referendum after being taken out of the EU against its will. The U.K. government refuses to grant one, with Johnson and his Conservative Party saying the focus should be on rebuilding after the pandemic rather than what they call a divisive referendum. Should Sturgeon's SNP, which has run the semiautonomous administration in Edinburgh since 2007, prevail in the election by the margin predicted, prepare for the standoff with London to escalate. A recent scandal over Johnson's conduct in office will no doubt factor into how the Scottish vote.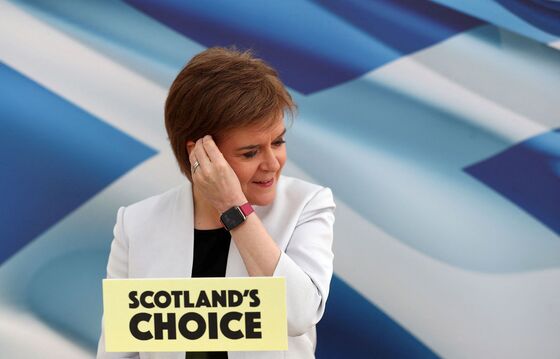 In Scotland, for supporters of independence, the blue-and-white Scottish Saltire displaying the cross of St. Andrew represents the future. Scottish government guidelines dictate that it takes precedence over me. Outside the Scottish Parliament in Edinburgh, I fly alongside the Saltire and the EU flag—much to the annoyance of the pro-Brexit faction of British media.
In Northern Ireland, the division is more acute. Union Jacks and the Irish tricolors are tribal expressions to differentiate between unionists and nationalists. The emotions are more akin to those around the Confederate flag in the U.S. My presence—or lack thereof—has been known to trigger riots. The province's one-foot-in, one-foot-out arrangement with the EU after Brexit has exposed that lingering toxicity. In recent weeks, youths in Belfast torched vehicles and clashed with police in "loyalist" areas where I'm still painted on streets. Protesters say the Brexit deal, which established a customs border between Northern Ireland and the rest of the U.K., jeopardizes its place in the union. The leader of the government in Belfast, the unionist Arlene Foster, on April 28 announced she will step down at the end of May, blaming the Brexit deal for destabilizing the region.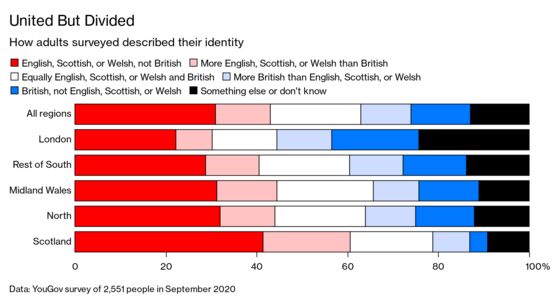 Whether the U.K. exists as we know it in, say, a decade may now be moot. In a YouGov survey last year, 31% of respondents identified as English, Scottish, or Welsh rather than British, while a far smaller proportion—13%—identified as British before anything else.
How quickly things can change. It was only a decade ago, in 2012, that we celebrated the queen's diamond jubilee year. London hosted the Olympics with an opening ceremony extolling Britishness, not tub-thumping nationalism but the exportable kind: James Bond, Mr. Bean, Paul McCartney, the Industrial Revolution, and World Wide Web inventor Tim Berners-Lee.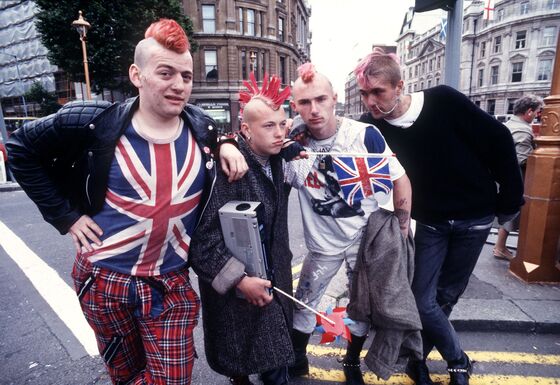 In his novel Middle England, author Jonathan Coe had one character reflect on how the country felt "at ease with itself" at that moment. But the book was set in the years running up to and immediately after the 2016 Brexit referendum, when the seeds of division were being sown. Such a display of Britain as this positive, unifying force might be harder to imagine now, says Morrow at Ulster University. "Looking back now," he says, "it looks like the end of an era."
But when one era ends, another begins. I would not have lasted this long if my unwavering stripes couldn't accommodate contradictions, ambiguities, and changing ideas of what defines the union. That's what makes me what I am, and ultimately what I will always represent. — Rodney Jefferson