Britain's Next Conservative Leader May Be the Least Tory Ever
(Bloomberg Businessweek) -- A year ago, British Prime Minister Theresa May gambled her Conservative majority in a snap election that she expected to yield a strong mandate to negotiate the U.K.'s departure from the European Union. It turned out to be a losing bet as the Tories lost ground almost everywhere—except Scotland, a place few expected to contribute any votes at all. The Conservatives had their best showing there in more than three decades, winning 13 of 59 seats in the country, up from just one in the previous election.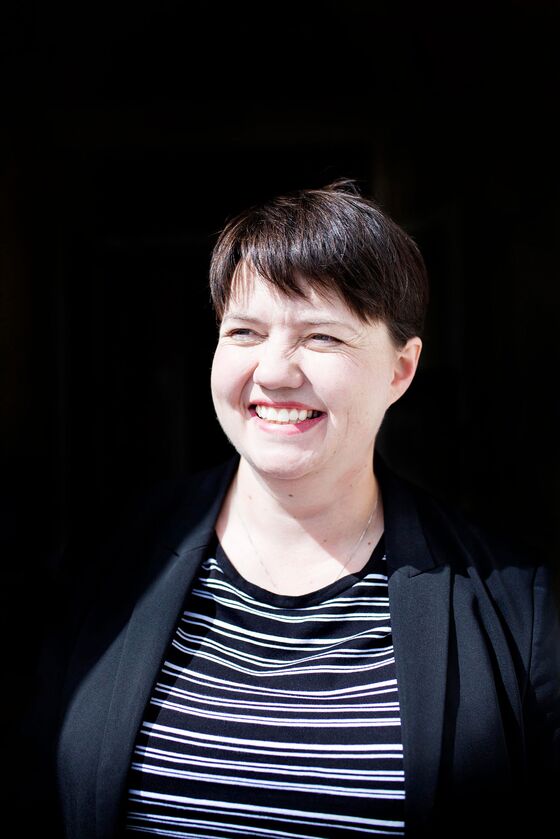 Key to those victories was Ruth Davidson, a woman who wasn't even a candidate and isn't a member of the British Parliament. Davidson, the leader of the Scottish Conservative Party, had ignored instructions from London to fight a campaign based on May and Brexit, focusing instead on opposition to any repeat of the 2014 referendum on Scottish independence. The prime minister's caution and inability to connect with voters has led even her own staff to call her "the Maybot." Davidson, with her warmth and instinctive comic timing, is known to Scots simply as Ruth. "She was a breath of fresh air," says Sadiq Khan, the Labour mayor of London, who campaigned against Brexit with her two years ago. "No hint of arrogance."
Davidson's success has spurred many Tories in England to look longingly north of the border, wondering if she might be their next prime minister. She's far from the mold of typical contenders, with no posh schools in her background and a fondness for off-color jokes, and she's pregnant and unmarried. Sure, she's engaged, but her fiancée is a woman—just five years after a majority of Conservative members of Parliament voted unsuccessfully against gay marriage. "She's the most un-Tory leader the Tories have had," says Alex Cole-Hamilton, a Liberal Democrat in the Scottish Parliament who represents the district adjacent to Davidson's in Edinburgh. But he cautions not to underestimate her "ruthlessness," pointing out that Davidson has said his party can't be trusted on the issue of an independent Scotland despite a joint campaign opposing independence. "They shafted us," he says. Davidson's response: "In which way? By being good?" she says, throwing her head back with a hearty laugh.
Her rise is emblematic of the Tories' desperate search for a leader as May falters and the party struggles to rediscover what it stands for. With the clock ticking down to March 29, 2019, when Britain is scheduled to leave the EU with or without an agreement on the particulars, May is seeking to navigate a course between those who want the country to secure maximum distance from the EU and those who think this is sheer madness. The conflict came to a head on the weekend of July 7-8, when Foreign Secretary Boris Johnson and Brexit Secretary David Davis quit in protest of May's policy of seeking to maintain close ties to the EU. Businesses are warning that they'll have to plan for the worst, moving jobs into the EU as May wrestles with EU negotiators over key issues such as tariffs, customs procedures, and what a future border between Northern Ireland and the Republic of Ireland might look like.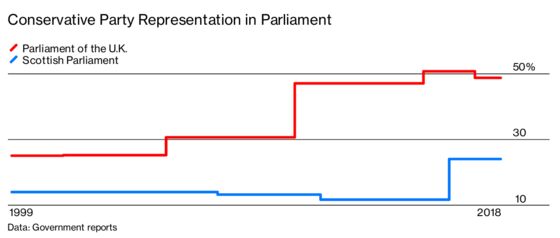 Davidson comes across as authentic and relatable in a party long dominated by bankers and industrialists. But she dismisses the notion that she might take May's job. "Everybody looks for something new and fresh and different, I guess, and this season I appear to be it," she says in her small office in the Scottish Parliament in Edinburgh, where she leads the opposition to the ruling Scottish National Party. "I'm stuck into the job that I'm doing, and I want to stay stuck into it."
Those who've worked with her list the obstacles: She opposed Brexit when most Tories supported it; she would have to be a member of the U.K. Parliament; she says she's committed to her current job until Scottish Parliament elections in 2021. But few rule out the idea completely. She could take a safe Tory seat from a retiring MP, or she could simply run in the next general election. Still, Davidson's biggest fans tend to be people who have seen her only at a distance, making her a proxy in a fight over the Conservative Party's future, says Philip Cowley, professor of politics at Queen Mary University of London. "People project a lot of things onto her without knowing that much about her," he says. "She's a liberal socially, but on things like welfare she's pretty right-wing."
After spells as a TV journalist and in the Army Reserve, Davidson joined the Scottish Conservative Party in 2008. Three years later, at the age of 32, she was its leader. The party was still suffering from the legacy of Margaret Thatcher, whose deindustrialization hammered Scotland's coalfields and shipyards. The job, Davidson was told, was "to resuscitate a corpse." She set about it with vigor, getting out and meeting voters to reinforce her Everywoman image. She allowed herself to be photographed straddling the barrel of a tank and riding a bull. She posed for a newspaper flicking a V-sign—the British equivalent of giving someone the finger. And everyone who knows her mentions her language. "Army talk," says David Mundell, May's secretary of state for Scotland. "Ruth would speak to you and to me and to somebody in the pub in exactly the same way."
For all her frankness, she's careful when discussing May. The prime minister's job "is incredibly hard," Davidson says. "There are challenges facing the country that have never been faced by any country in peacetime before." Yet she already has more influence than her predecessors. Having helped May retain power, Davidson has a voice across the U.K., traveling to London to address issues that go far beyond her normal brief. Britain's political landscape has seen a series of astonishing reversals and sudden shifts in recent years, and Davidson's greatest strength has been spotting openings and seizing the initiative. "The independence referendum in Scotland opened the same door for everyone," she says. "I just chose to walk our party through it."
To contact the editor responsible for this story: David Rocks at drocks1@bloomberg.net