Britain's Debate Over Outsourcing Services Heats Up
(Bloomberg Businessweek) -- Last New Year's Eve, the U.K.'s Cabinet Office got an urgent request from Carillion Plc. The provider of critical services to the government needed an injection of as much as £350 million ($458 million) to avoid going under. Prime Minister Theresa May faced a lose-lose decision: Giving Carillion money would reward a company that had repeatedly misrepresented the dire state of its finances. But if she let it go down, hospital sheets might not be laundered, school kids could go hungry, and army barracks might not be swept.
May soon decided that with the disastrous optics of a bailout, there would be no cash for Carillion, and the company filed for liquidation on Jan. 15. The government had to scramble to find service personnel, almost 3,000 people lost their jobs, and 30,000 Carillion suppliers and subcontractors were left with £2 billion in unpaid bills.
Carillion's demise highlights the risks in the U.K.'s offloading of key services to the likes of Serco Group, Capita, and G4S. They're among a half-dozen or so giant outsourcing shops that operate prisons, run London's Royal Parks, house asylum-seekers, and handle military firefighting. In all, the U.K.'s total outsourcing bill tops £200 billion a year, more than the government pays state employees.
For decades, farming out government services enjoyed support across the political spectrum. But because of Carillion and a host of other scandals, Labour Party leader Jeremy Corbyn has pledged to break with his predecessors and dismantle "the outsourcing racket" if he wins the next general election. He has made attacks on private-sector providers a signature issue, saying the costs of bailouts outstrip any financial benefits.
Even the ruling Conservatives are pushing outsourcers to clean up their act, lest voters demand that services go back into public hands. "It's not enough just to win the contract and turn the wheels round," says Francis Maude, a former Conservative minister in charge of public procurement. May's government must "make it work better, and then sell the story to the public."
Over the past five years, government austerity measures and a litany of scandals have driven down shares in four of the largest companies—Serco, Mitie Group, Capita, and Interserve—by more than half. U.K. prosecutors are probing accounting practices at Serco and G4S, an investigation triggered by reports that they had billed the government for supervising prisoners who were already dead. In May auditors said Capita had incorrectly dropped dozens of at-risk women from a cervical cancer screening program. In August the government seized control of Her Majesty's Prison Birmingham, run by G4S, after a third of inmates tested positive for drugs.
The outsourcing trend goes back to Prime Minister Margaret Thatcher, who was determined to break unions' hold on key services. She soon privatized state monopolies in telecommunications, ports, and energy grids, and she embraced the more subtle practice of outsourcing services that remained nominally public. Eager providers such as Capita and Mitie quickly sprang up, and successive governments cut taxes while maintaining public services. That history has ensured continuing support from the Conservatives in spite of the recent failures, and employees of outsourcing companies are working with the government on a package of reforms to be announced this fall. Labour leaders "want our railways and utilities to be owned entirely by the government," May told delegates at the Conservative Party Conference on Oct. 3. "But when you nationalize something, people pay for it twice: once when they use the service, and again every month through their taxes."
The U.K. was also a pioneer in the practice of paying companies a fixed fee to build and manage a public project. The model soon spread to places such as Australia, Spain, and Italy, where it has come under sharp criticism after the August collapse of a privately maintained bridge in Genoa. Those deals proliferated under Labour Prime Minister Tony Blair, and Labour governments initiated 609 of them from 1997 to 2010, including building the Berlin embassy and revamping London's oldest hospital.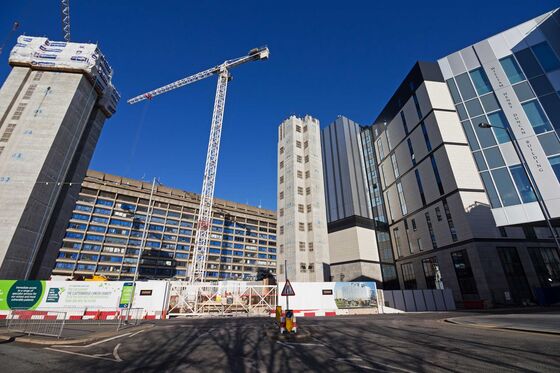 As a monopoly buyer, the government has significant leeway to set the price of contracts. But if it squeezes outsourcers too hard, they may walk away—or, worse, make proposals they can't really execute, hoping politicians will bail them out later. A few weeks before the 2012 Olympics, G4S sparked national outrage when it admitted it couldn't deliver promised security guards, forcing the government to deploy 3,500 soldiers to check tickets and scan bags. It sent the bill to G4S. In recent years the government has gotten "even keener bids from participants under pressure to stay in the game," says Paul Butcher, a procurement lawyer at Herbert Smith Freehills in London.
That's what brought down Carillion. For more than a decade it was a regular partner on key government projects, including the construction and management of the headquarters of the intelligence agency GCHQ, a giant glass doughnut from which spies eavesdrop on global internet traffic. At the time of its collapse, Carillion had a £235 million contract to rebuild a sprawling 1970s hospital in Liverpool, where its engineers had discovered asbestos and cracked support beams. Fixing the problems would surely push the deal into the red, but Carillion executives were still projecting a profit on the project. "The miracle is that the company survived as long as it did," says Rachel Reeves, a Labour lawmaker who co-chaired an investigation of Carillion. "There was pure delusion on the part of the executives. They thought they were too big to fail."
Even the most enthusiastic supporters of outsourcing concede something has to change. When Jon Lewis was appointed chief executive officer of Capita last year, he says, he was dismayed at the company's weak financial controls. One of his first steps was to "ask everyone to bring out their dead" by coming clean about troubled projects. Disposing of the corpses was expensive: Capita in May sold £681 million of shares at a steep discount to plug a £513 million loss for 2017. Nonetheless, Lewis insists the sector can survive and even prosper with better governance and a more realistic attitude toward risk. Working in his favor: After three decades of handing services over to the private sector, there's simply no easy way for the U.K. to change course. Without companies like his, he says, "this country could not operate."
To contact the editor responsible for this story: David Rocks at drocks1@bloomberg.net, Cristina LindbladMatthew Campbell