Covid Brought Booze to Your Door—and Made Delivery Worth Billions
(Bloomberg Businessweek) -- The lockdowns early last year were like a cruel reversal of "a guy walks into a bar" jokes for the alcohol industry. Instead of fun scenarios where anything could happen, people were stuck at home, bars were closed, and in the U.S. most consumers had no idea how to buy booze online. Financial results for alcohol companies were constrained, and their supply chains had to be redirected away from bars, sporting events, and concerts to whatever homebound consumers they could reach. There was even a shortage of the aluminum cans needed for some beers as they scrambled to adjust.
Then, something funny did happen: Alcohol producers, held back from the e-commerce revolution in the U.S. by laws that date to the 1930s, suddenly saw online sales skyrocket. Beverage makers started to open up to technology platforms rolled out by startups such as Thirstie Inc. and Speakeasy Co., and consumers began to catch on that they could get alcohol without venturing out of lockdown. On Feb. 2 one of those upstarts, Drizly Inc., agreed to sell itself to Uber Technologies Inc.—the ride-hailing company that's ventured into food delivery— for $1.1 billion.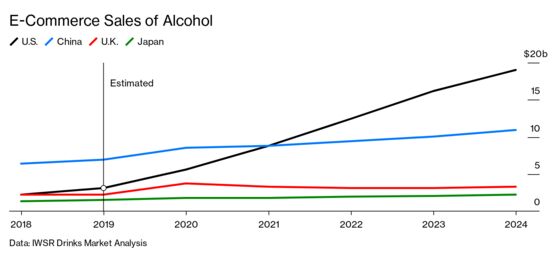 After years of lagging behind other countries in adopting online liquor sales, the U.S. is now expected to overtake China as the largest alcohol e-commerce market in the world by the end of 2021, according to analyst IWSR. Boston-based Drizly predicts that the online share of the $120 billion U.S. market for alcohol will climb to 20% within five years, from about 5% today. "There's nothing holding this category back now," Drizly Chief Executive Officer Cory Rellas says. "We know what the interaction of technology and regulation looks like for this industry. Figuring that out was the hardest part."
For new or little-known liquor brands, online sales provide an opportunity to get in front of consumers in a year when corporate events and bars can't be marketing vehicles. And for familiar players such as Molson Coors Beverage Co., it's a chance to get products to consumers at a time when many are still skittish about even going to grocery stores.
"I think our business has moved several years into the future because of a few months last year," says Sara Goucher, who runs Molson Coors's e-commerce operation in North America. The company's 2020 online sales had grown 230% by November over the same 11-month period in the previous year, and by Thanksgiving about 50% of U.S. consumers were aware they could buy beer online. While that figure may seem low, only 20% of consumers were aware of digital brew sales before the pandemic, she says.
Molson Coors plans to triple or even quadruple spending on its e-commerce initiatives in 2021, anticipating that consumer behavior has been permanently reshaped by the pandemic. "People had the necessity of ordering alcohol online, and now they're starting to wake up to how convenient it is," Goucher says.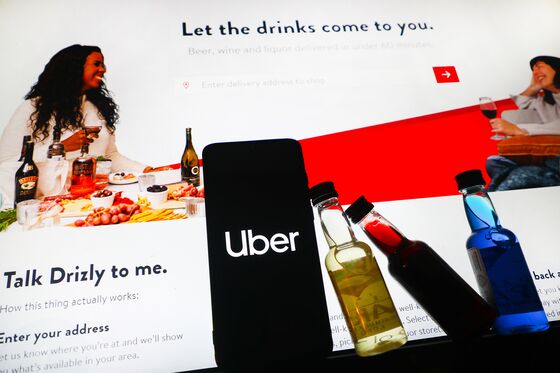 Alcohol may be a more natural fit for online sales than many consumer products. The weight of bottles, cans, and cartons means that some people would rather not carry them home themselves. And the large variety of products and packaging types—more than 1 million—means an online store can offer the kind of inventory a typical retailer can't. "It's like books with Amazon; you can build a store that can only exist on the internet," Drizly CEO Rellas says.
Yet for years, the ability to buy alcohol online in the U.S. has been constrained. In 1933, when Prohibition was repealed, the 21st Amendment broke up the power of bootleggers by dictating that no one party would control producers, distributors, and retailers of alcohol. To complicate matters further, each state adopted its own version of the so-called three-tier system. To this day—with minor exceptions such as small breweries, distillers, and vineyards—alcohol producers can't connect directly with U.S. consumers but must send their products through separately owned distributors and retailers. That's caused the industry to miss out on the entire direct-to-consumer revolution that's changed the way many brands connect to their customers.
"For the most part there's no such thing as DTC alcohol," says Franklin Isacson, founding partner of Coefficient Capital, a consumer-goods-focused venture capital firm. "Warby Parker can cut out the middleman and the distributor and give you a better price. But if you go to smirnoff.com, the sale still goes to a distributor, who takes it to a liquor store, who delivers it to you."
Isacson says some startups are trying to use this complex setup to their advantage, including San Francisco-based Haus, one of the fund's investments, which can sell aperitifs in such flavors as lemon and elderflower directly to consumers because it's wine-based and less than 24% alcohol, meaning it isn't bound by the three-tier system.
Lower costs aren't the only advantage. The direct-to-consumer model has helped create a generation of startups that no longer need to elbow a giant boozemaker out of the way to get on retail shelves. And e-commerce technology gives brands an almost real-time view of who's buying what and where—something that would have helped them avoid hiccups like last year's beer can shortage.
Still, brands such as Haus that can get around the three-tier system are the exception. So digital middlemen have cropped up to try to deliver those kinds of advantages without destroying the three-tier status quo. Aside from Drizly, Speakeasy, and Thirstie, there's also Bevshop, Cask & Barrel Club, and Passion Spirits.
These companies have to jump through intricate legal hoops to comply with the three-tier regulations. With Drizly (referred to as "Uber for booze," even before Uber bought it), consumers download its app and add products to a shopping cart, and Drizly appears to deliver them. But Drizly never touches the alcohol, because the drivers are mostly employed by the liquor stores. About 20% of Drizly's deliveries are by third-party couriers, and Uber will now be one of them, Rellas says. Drizly operates in 32 states with legalized alcohol e-commerce and doesn't deliver across state lines.
Thirstie, which works with major brands including Bacardi, Jagermeister, Macallan, and those owned by drinks giant Constellation Brands Inc., is known as the "Shopify for booze," as it uses a model that allows a consumer to look up his favorite brands and creates the illusion that he's buying from their websites. Instead, the customer is moved to a technology platform powered by Thirstie that orders the bottle from the supplier, which sends it to a distributor, which then sends it to a licensed retailer who makes the delivery to the consumer.
"The brand partners we have don't want to be just another bottle on the shelf," says Devaraj Southworth, CEO of Thirstie. "They're not going to be in a situation where they're alongside a competitors' brand."
Speakeasy has a slightly different model, which moves the consumer from a brand's website onto a shopping cart that it maintains on a supplier's network, then triggers a retailer to ship to the customer. The startup tries to add efficiency by operating out of warehouses where distributors and retailers can rent space together, bringing the tiers together while not doing away with them.