How Contemporary Art Became a Fiat Currency for the World's Richest
(Bloomberg Businessweek) -- In the mid 1980s, Jean-Michel Basquiat was ­earning $1.4 ­million a year making art. Dealers in the U.S. and Europe were wiring the onetime graffiti artist $40,000 in lump sums. But "the more money Basquiat made, the more para­noid and deeply involved with drugs he became," writes Michael Shnayerson in his new book, Boom: Mad Money, Mega Dealers, and the Rise of Contemporary Art. Basquiat died of a heroin overdose in 1988, at the age of 27. Then his prices really took off— his auction record, set in 2017, is $110.5 million for a 1982 painting of a skull.
In this highly readable chronicle, Shnayerson argues that contemporary art, once a thing artists made and dealers tried (unsuccessfully) to sell, has become a form of fiat ­currency for the very rich. He traces that shift to a man named Leo Castelli, who made his money by marrying into it. Castelli began his career in the late 1950s selling art out of his father-in-law's Upper East Side town house.
Soon he was representing the giants of American modernism: Johns, Lichtenstein, Rauschenberg, Serra, Stella, Twombly, and others whom Castelli kept loyal with stipends that started in the low thousands of dollars and grew to more than $50,000 a month. At the time Castelli was making those payments, it was virtually unheard of, Shnayerson writes; today it's become standard practice.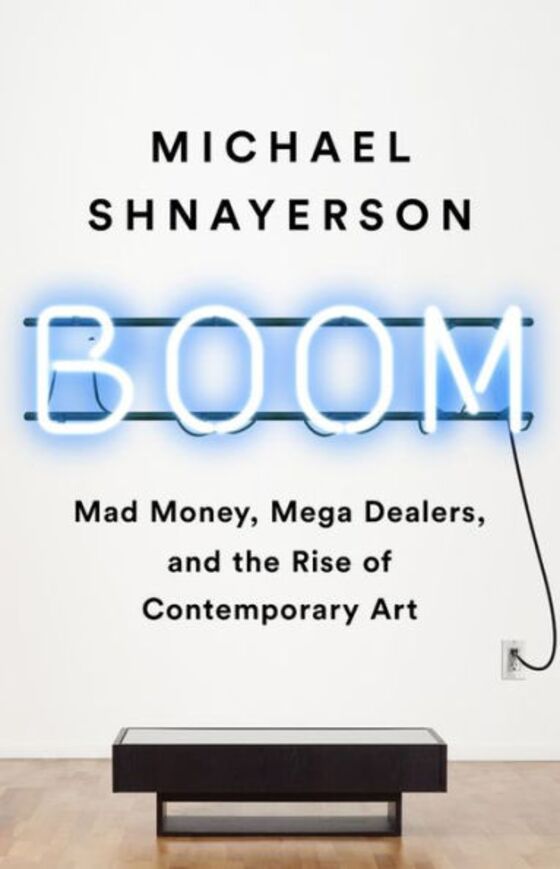 In Boom, Castelli is positioned as the nucleus of the art world's subsequent big bang. He mentored powerful ­dealers Mary Boone and Marian Goodman—Shnayerson, a Vanity Fair contributing editor, goes out of his way to acknowledge the artists and dealers who became fixtures in New York's constellation of stars past and present—but the real supernova in this book is gallerist Larry Gagosian, who entered Castelli's life as a tenacious, no-holds-barred salesman just as the older dealer was losing his touch. "What he needed was a young, strong, powerful enforcer," Shnayerson writes. He describes Gagosian as a bright, vicious social climber: "Castelli knew he would find no better protector than Gagosian, and he was willing to be extraordinarily generous to enlist his support."
That generosity entailed giving him access to the gallery's inventory, over time, and introducing him to major clients, including the billionaire S.I. Newhouse. Gagosian, in turn, used Castelli's imprimatur to pioneer what Shnayerson describes as a new market dynamic: "The higher the prices, the more his wealthy clients vied to pay, hoping that the more they paid, the more valuable their new works would become."
Gagosian worked the so-called secondary market, where art that's already been sold changes hands privately or at auction. He began to make serious money. In 1988, the same year Basquiat died, Gagosian bought a town house on East 69th Street for $4 million and, soon after, an 11,000-square-foot beach house in Amagansett, N.Y., for an estimated $8 million.
As more and more works sold for millions, top dealers and artists became as rich as their clients. In 1990 the Upper East Side dealer Bill Acquavella partnered with Sotheby's auction house to buy about $150 million of art from the estate of the dealer Pierre Matisse, son of Henri. "Within 18 months, [Acquavella] had sold $300 million of art," Shnayerson writes.
Even Lucian Freud, an artist not often associated with high living, had his own version of lavish expenditure. Shortly after joining Acquavella's gallery, Freud informed his new dealer that he had $4.6 million in gambling debts. Virtually every page of the book is filled with such tidbits, which Shnayerson has culled from articles, books, and interviews. (Full disclosure: I, too, am briefly quoted.)
More-recent transactions are given an ominous slant. In 2016 the megagallery Hauser & Wirth donated $3.6 million to a pet charity of the artist Mark Bradford. That same year, Shnayerson notes, it poached Bradford from his London gallery. The young Colombian artist Oscar Murillo was "awarded" a five-week summer residency at Don and Mera Rubell's ­family foundation, but the price of that residency was everything Murillo made while he was there.
Other anecdotes speak for themselves, such as when the artist Takashi Murakami severed ties with his pregnant dealer Marianne Boesky, telling her, "You're lactating—you can't be my business partner." He later joined Gagosian's gallery.
There aren't a lot of heroes in Boom, and yet it's Gagosian, whose brand is "now as important as the artists," who comes out best. "If he was blunt, even brutal," Shnayerson writes, "at least he didn't try to be anything he wasn't."
To contact the editor responsible for this story: Chris Rovzar at crovzar@bloomberg.net, James Gaddy