Steve Schwarzman on Entrepreneurship, China, and the New Wall Street
(Bloomberg Businessweek) -- "There is no net," says Blackstone CEO Stephen Schwarzman. He spoke with Carol Massar and Jason Kelly about his new book on his career.

● Co-founded the giant private equity firm with Pete Peterson in 1985
● Worked at Lehman Brothers in the 1970s and '80s
● A prominent Trump adviser, he's also cultivated ties in China
● His new book is What It Takes: Lessons in the Pursuit of Excellence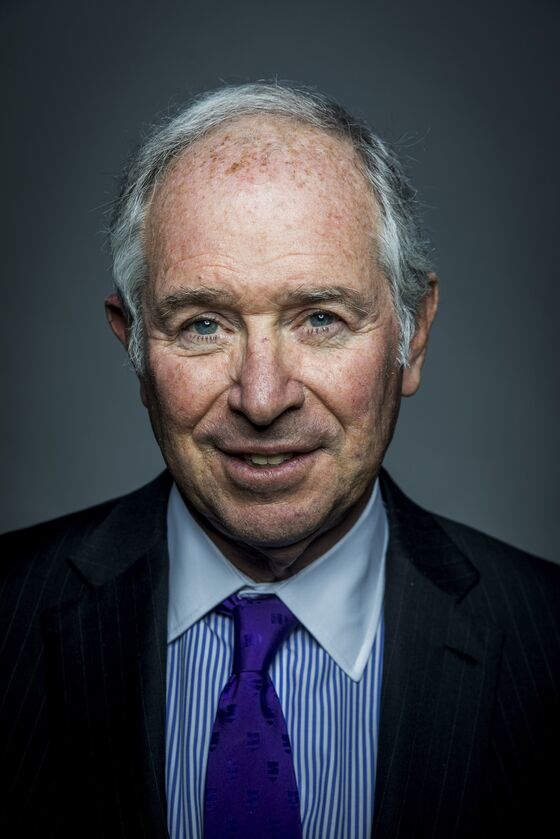 How has Wall Street changed over the course of your career?
It's a Wall Street that can mobilize much more capital. It's a world that has printed so much money that it's easy to aggregate a lot of money to do a lot of things.
What did you take from your experience at Lehman Brothers?
My first day somebody said, "You're very lucky to work here, because nobody here will ever stab you in the back. They'll just walk right up to you and stab you in the front." On the other hand, it was a fascinating place. The people who worked there were ex-CIA agents, somebody from the entertainment business, somebody from the oil patch. Everybody had different points of view.
What was it like when you and Pete Peterson first struck out on your own?
You find that the world is not always waiting for you. In fact, sometimes the world doesn't even respond to you. When we started we sent out 500 letters, expecting people we used to do business with to call. And the phone never rang.
You say you can't learn to be an entrepreneur. Why?
Because it involves seeing a lot of things simultaneously and having the ability to say, OK, this is gonna work. There is no fallback. Entrepreneurs don't think they are at risk: When I do anything, I like to be completely convinced it's going to work. But hardly anyone competes with us when we start. Because people are comfortable doing what they do. It's part of the human condition.
How do you see things working out between the U.S. and China?
I think China recognizes that there's a structural issue. It's not one U.S. president. So getting something to lower the temperature and help growth globally is in everybody's interest.

Interviews are edited for clarity and length. Listen to Bloomberg Businessweek With Carol Massar and Jason Kelly, weekdays from 2 p.m. to 5 p.m. ET on Bloomberg Radio.
To contact the editor responsible for this story: Pat Regnier at pregnier3@bloomberg.net