To Live and Scoot in L.A.
(Bloomberg Businessweek) -- "The future is here," tweeted Los Angeles City Council member Joe Buscaino on Sept. 4, with a picture of himself donning a helmet and posing with an electric scooter. The council had just approved a set of regulations for the use of dockless bikes and e-scooters across the city after a summer of controversy. While U.S. cities scramble to regulate the spate of new scooter startups, Los Angeles is tentatively embracing them.
Critics of the short-range vehicles (often called "micromobility services" or "shared mobility devices" by policymakers) question their safety and consider them a nuisance. The actress Busy Philipps posted on Twitter, "I can't stand these scooters everywhere and I also think they're a safety hazard. Also. I just think they're dumb." James Patton, a pedicab driver who works on the bike path in Santa Monica, is opposed to the scooters. He confessed to burying many of them in the sand.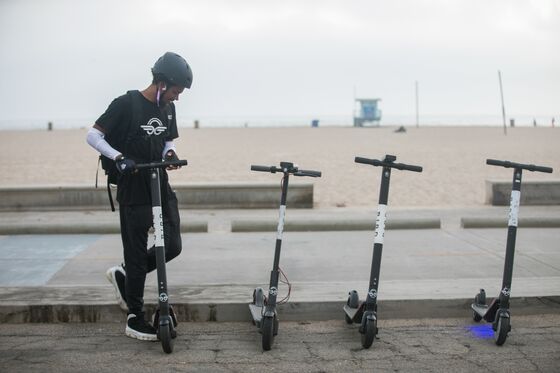 But supporters maintain they can revolutionize short-distance transit, especially in traffic-plagued Southern California.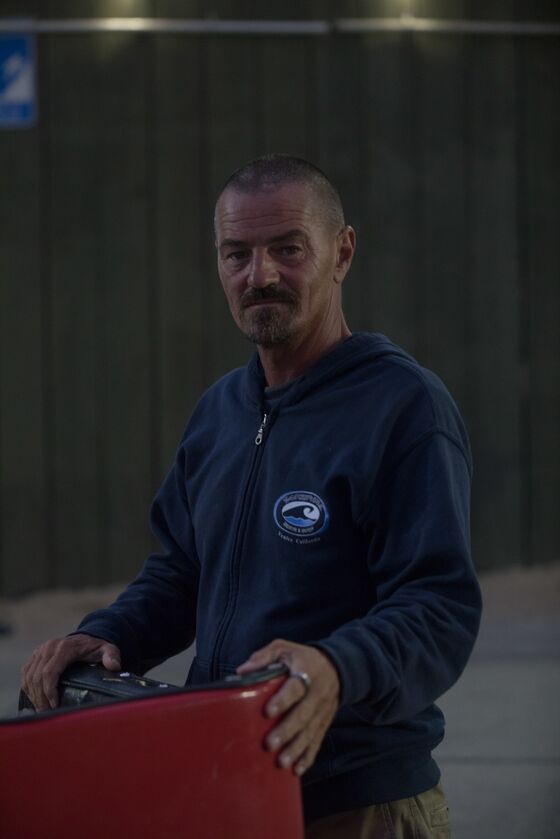 Some consider e-scooters mere novelty, but the money being poured into scooter startups would indicate investors feel otherwise. Bird Rides Inc., the Santa Monica, Calif., startup now valued at $2 billion, dominates the market in Los Angeles after launching just one year ago. The company estimates it now has 15,000 scooters on the road across the area. Earlier in the summer, a transportation committee in Los Angeles approved an incentive program: So long as companies expanded into underserved and lower-income areas, they would be allowed to increase their fleets. 
But one year after their introduction to the area, electric scooters are largely limited to the wealthier Westside: Santa Monica, Venice, Hollywood, Mid-City, and Century City. You can ride a scooter through West Hollywood, but you can't park one there, and Beverly Hills is in the midst of a six-month ban while they figure out how to regulate them.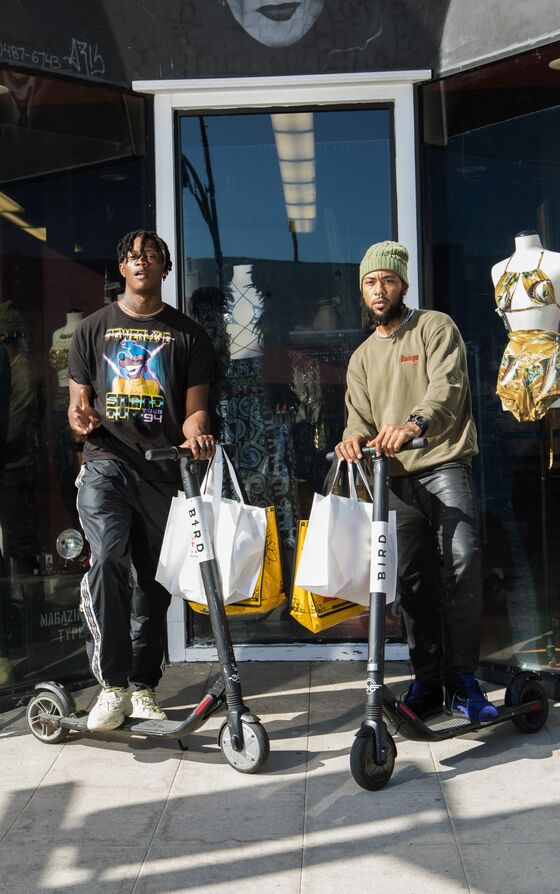 Electric scooters remain most popular at the Santa Monica Pier, where tourists rent them to cruise along the beach. But they've also cropped up along the shopping district of Melrose Avenue and outside the Century City high-rises that house banks, wealth management firms, and talent agencies ICM Partners LLC and Creative Artists Agency LLC.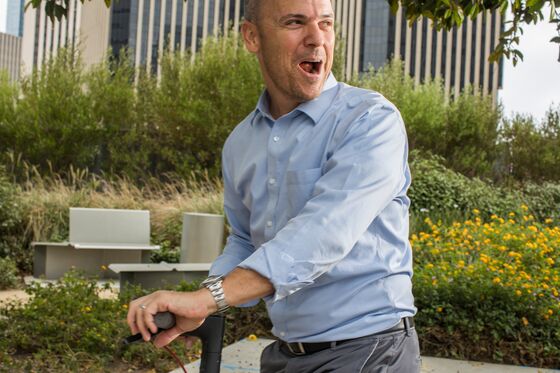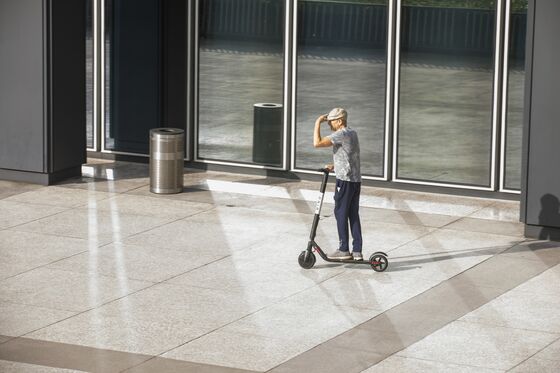 To rent a scooter, you need a valid driver's license, smartphone, and credit card (after a base fee of $1, Bird charges 15¢ per minute). In consenting to the user agreement, a rider (who must be 18 years or older) agrees to obey the traffic and helmet laws in her area. In Bird's hometown of Santa Monica, the laws (helmet required, sidewalks prohibited) are heavily enforced and violators are ticketed. But across the rest of Los Angeles, the majority of riders flout these rules, zooming down sidewalks and across plazas with their skulls unprotected.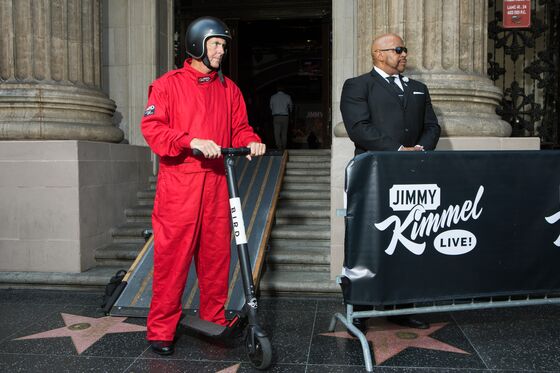 The well-behaved Bird rider also agrees to park the scooter appropriately—in a visible, lawful parking spot, standing upright, with the kickstand deployed. Throughout the day, as the batteries run out and the vehicles are abandoned, enterprising individuals who've signed up with Bird's charging program can collect up to 20 scooters to take home, charge, and redistribute on the streets for around $5 per scooter.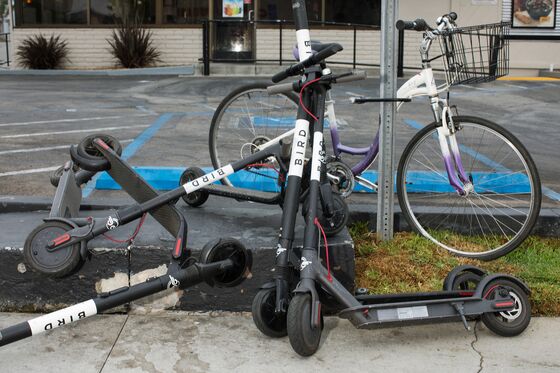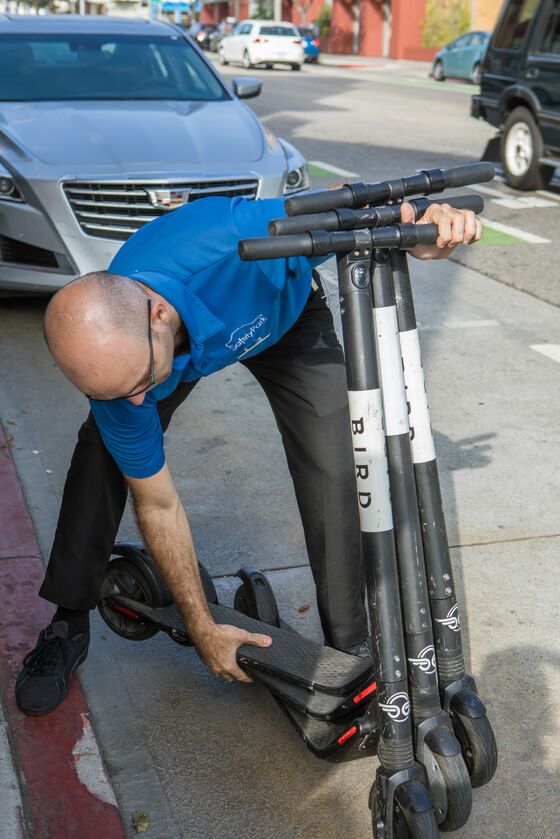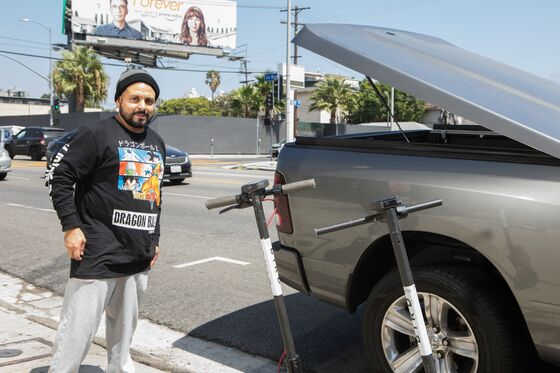 Bird calls itself a "last mile electric scooter rental service," hoping to disrupt not your entire commute, but just the last portion of it: a walk from the bus stop to the office, or the train station to a parked car. In a city like Los Angeles, where so much of the population is dependent on cars and the traffic is notoriously bad, scooters offer something of a middle way: faster than walking, and not so much trouble as driving.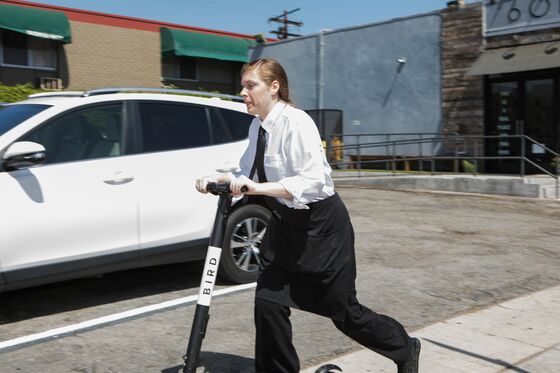 Elicia Tillis, who lives in Gardena, Calif., said she used a scooter for the first time recently when she was running late to her job at a kiosk in the Westfield Century City shopping center. The mall offers its employees a discounted monthly rate of $160 to park in the attached garage, but instead Tillis has relied on parking in a nearby residential area and walking the rest of the way. One day, after parking more than a mile away, Tillis, whose co-worker was enthusiastic about the scooters, downloaded the Bird app. "I was like, 'Oh no, I have to be at work in 10 minutes!' " she said. A well-charged scooter wasn't hard to find. "It leads you right to the good ones."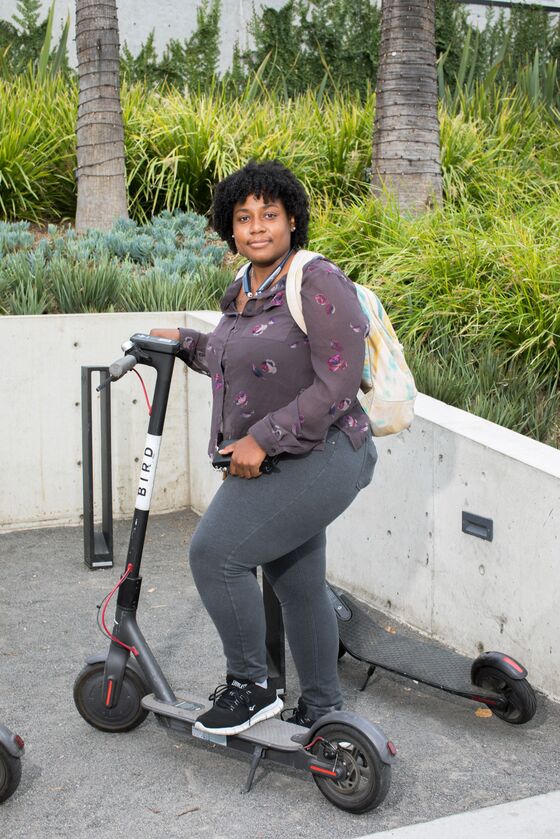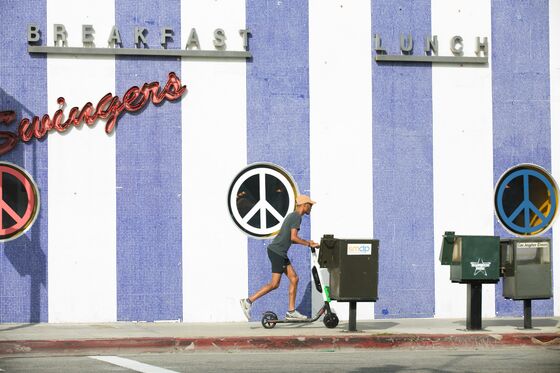 To contact the editor responsible for this story: Silvia Killingsworth at skillingswo2@bloomberg.net
With assistance from Editorial Board