BioNTech Supercharges a Factory to Produce More Covid Vaccine
(Bloomberg Businessweek) -- On the outskirts of Marburg, a small college town in Germany, a handful of hazmat-clad workers from coronavirus vaccine manufacturer BioNTech SE anxiously huddled around a clean-room lab bench on Feb. 9, as a chain of chemical reactions silently unfolded inside a giant plastic bioreactor bag. This was the moment of truth for the company's new factory, hastily retrofitted to produce 750 million doses a year of one of the most sought-after products in the world: the active ingredient for the messenger RNA vaccine sold by BioNTech and its partner Pfizer Inc.
Demand for the vaccine, which BioNTech initially created, has been so massive that the partnership's manufacturing facilities—a BioNTech mRNA plant in Mainz, Germany, three Pfizer factories in the U.S., facilities belonging to several other production partners across Europe, and Pfizer's formulation and vial-filling operation in Belgium—can't meet it. So the German company has spent five frantic months navigating paperwork, retraining workers, and renovating the Marburg site to get it ready to produce more mRNA.
Success would mean being able to vaccinate about 375 million more people per year and help bring the pandemic under control. But a setback could force the partners to revise their goal of making 2 billion shots this year, leaving many countries without the much-needed medicine.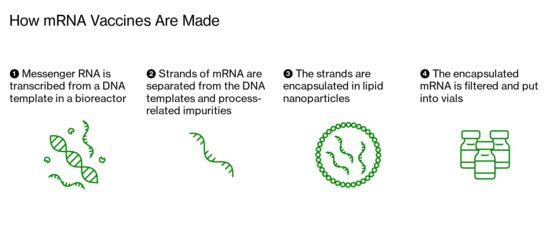 Vaccine shortages have turned into a political issue in BioNTech's European home. "Many citizens will have to have patience in this difficult phase of the pandemic," says German Health Minister Jens Spahn. "Vaccine doses are very, very tight." Some of Spahn's colleagues in parliament have suggested that drugmakers should convert other factory lines to boost vaccine supply, but the long path from plan to production at Marburg shows why that's not such a simple solution.
Months before BioNTech started knocking down walls at the facility last fall, it had to line up some crucial components that aren't on drugmakers' usual supply list. They include a high-pressure pump used to mix the mRNA with fatty lipids, which can take up to six months to obtain because they're only made to order.
The lipids themselves are another material the industry seldom uses that are challenging to suddenly produce in large quantities. Yet these particles are essential to the process: They encapsulate the mRNA, ensuring it doesn't break down in the body. Sierk Poetting, BioNTech's chief financial officer and operations head, says he ordered as much of them as he could last March, about the time that BioNTech and Pfizer signed their development deal.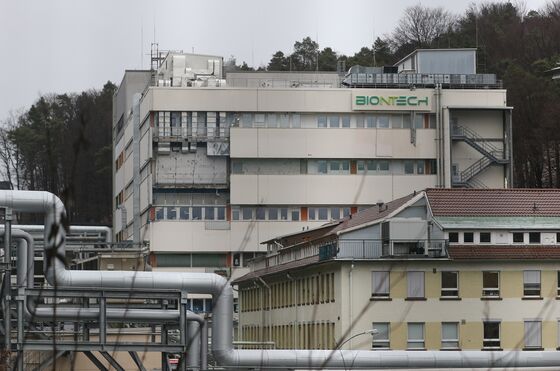 When BioNTech started working on the novel coronavirus a little more than a year ago, mRNA vaccines had been produced for only a handful of people in medical studies. Unlike conventional inoculations, which introduce a dead or weakened virus into the body, mRNA shots encode instructions for the body itself to produce a harmless copy of a key portion of the virus—essentially turning the body into its own vaccine factory.
Poetting started thinking about where to make the vaccine in April, while BioNTech and Pfizer's researchers labored on development. He started by expanding the existing production line at BioNTech's Mainz headquarters, but he knew more space would be required if the vaccine proved effective.
By summer, as Europe emerged from the pandemic's first wave, Poetting heard that his former employer Novartis AG might be ready to sell its factory in Marburg. He did a bit of scouting and realized he'd hit a jackpot: Once used to produce rabies, swine flu, and tetanus vaccines, the site, which came with 300 trained workers, was making complex biological medicines. Crucially, it also had two bioreactors—industrial-size pots for brewing drug materials. It would still need retrofitting, but that would be far easier than starting from scratch.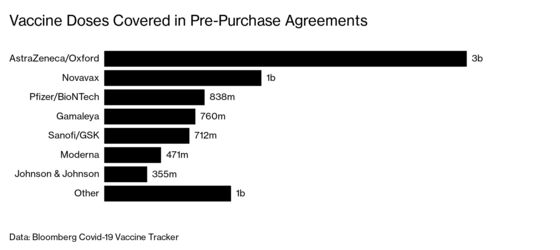 In September, flush with a €375 million ($453 million) grant from the German government, BioNTech announced the factory deal. Although the vaccine hadn't yet been proven to work, Poetting's team started measuring, making plans, and teaching the workers how to produce it. In November, BioNTech and Pfizer had to cut their estimate for how many doses they could produce in 2020 in half, to 50 million. And to hit their target for 2021, they knew they had to bring Marburg online fast.
Other drugmakers enlisted in recent weeks to throw their manufacturing weight behind mRNA vaccine production also seem to anticipate challenges. French drug giant Sanofi agreed in late January to handle the last step of production for BioNTech—filling vials with vaccine—but said it wouldn't have doses ready to ship until summer. BioNTech's similar production deal with Novartis also won't start yielding supplies until July at the earliest. The issue isn't unique to BioNTech. When Bayer AG joined forces with BioNTech rival CureVac NV on production of a different mRNA vaccine this month, it stipulated that deliveries won't start until the end of the year.
Those lead times might sound long, but by industry standards, the companies are moving at lightning speed. Setting up an outside production partner normally takes 12 to 18 months, says Florian von der Mülbe, CureVac's chief production officer, but "we are in the course of establishing it … within four to five months."
BioNTech closed on the Marburg factory in November. Later that month, clinical trial results showed its vaccine was 95% effective against Covid-19, stunning the world and prompting customers to start demanding even more doses.
Although the technology is new, making the vaccine is simpler than for some drugs, because there's no need to cultivate or feed living cells, says Poetting, a physicist by training who previously worked at Novartis's generic-drugs business. "It boils down to please add the plasmid, now please add the buffer, now stir it for X minutes [at] X degrees, now lower the temperature, and add some enzymes," he says. "It took 20 years to optimize the recipe and find the ingredients, but now it's really cooking."
Scaling up production of an mRNA vaccine still takes some finesse. "If you want to make 10 times the sauce for Thanksgiving, it might not work, because then everything is a little different," Poetting says. "The consistency is different. The way you have to put in your ingredients is a little bit different. It's not only everything times 10, it's a little bit more difficult."
Poetting's team used some of its limited stock of lipids to conduct the test run at Marburg, required to prove to Europe's medicines regulator that the quality of the substance produced at the site is up to snuff. The first batch, about 50 liters of mRNA material, should be enough to make 8 million doses of vaccine. If the process succeeds, BioNTech should be able to stockpile the test batches and ship them to customers, after a validation process, by April. If something goes wrong—even something as small as contamination caused by a puncture in a sterile glove wrapper—they'll have to try again. Says Poetting: "It's not a slam dunk that this works." —With Tim Loh and Chris Reiter