Biden Went Big in His First 100 Days, and Now Comes the Hard Part
(Bloomberg Businessweek) -- At 78, establishment stalwart Joe Biden returned to Washington as the leader of a party seeking a revolution. A moderate and a vocal defender of bipartisanship, he forced a sweeping, progressive aid package through Congress without a single Republican vote. Long known for making gaffes, he has so far governed in a hyper-disciplined manner. Is this the Joe Biden America thought it knew?
Longtime friends and allies of the president say he hasn't changed, the moment and political opportunity have. "I think in some ways, he and I share one thing: We believe in what FDR was doing. You have to meet the moment," says Bob Casey, a Democratic senator from Pennsylvania who lives in Scranton, Biden's hometown. "I think he knows we're in a unique moment. It's a moment of crisis and a moment of great opportunity to lift the country up."
Biden entered the Oval Office in January with Covid-19 cases coming off fresh highs, millions out of work, rising calls for racial justice, and a climate crisis. Americans were reeling from the deadly Jan. 6 attack on the Capitol and hung over from a presidency conducted largely by tweet. Biden's empathy and history of personal loss underpin his response to the Covid pandemic, and they've shifted the tone in Washington. Donald Trump's White House was chaotic; with Biden, an impromptu visit to the Vietnam Veterans Memorial at dusk is about as spontaneous as it gets.
The buttoned-up style is deliberate. "Trump's great talent is to distract you, and they did not fall for it," John Podesta, the former counselor to President Obama and chief of staff to President Clinton, says of Biden's team in the days leading up to the inauguration. "They had an early game plan they developed during the course of the transition, built around Biden's theory of the country and theory of the economy, and they executed it with real discipline and precision."
By his 100th day in office on April 29, Biden will have surpassed goals he set for Covid vaccinations and be close to meeting another on reopening schools. He's skirted fault lines between progressives and centrists and kept his party united. These first few months have gone even more smoothly than Democrats had hoped.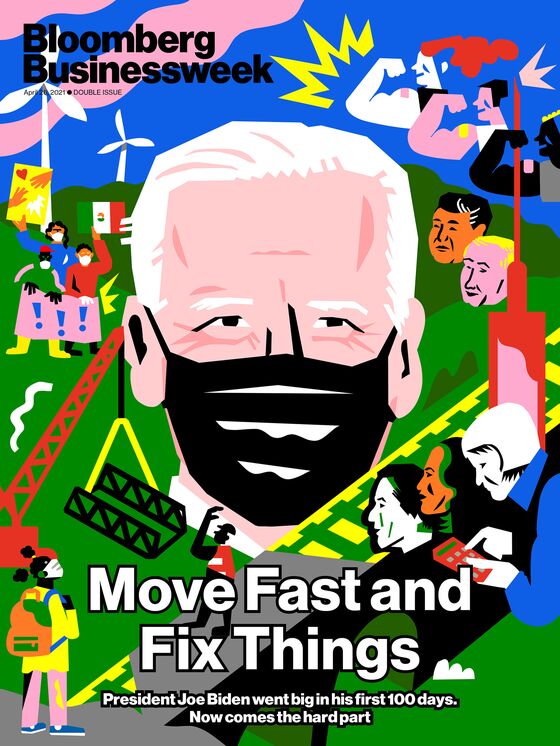 The next 100 days and beyond already look more turbulent. Biden faces a human-rights crisis on the southern border, where a surge of migrants has strained the country's immigration system and provoked criticism from Democrats and Republicans alike. New coronavirus variants are fueling the pandemic, threatening progress on vaccination, and there are troubling signs that the U.S. is running out of people who want a jab. The American Jobs Plan, Biden's $2.25 trillion infrastructure bill, is by no means certain to pass, and the next big bill on the horizon, the American Families Plan, looks like a long shot.
Biden's aides and confidants paint a clear picture of his strategy: pursue an ambitious agenda and redefine bipartisan "unity" as the support of voters across the political spectrum, rather than the endorsement of, say, Republican House Minority Leader Kevin McCarthy. The American Rescue Plan package pushed through Congress was a core example.
Treasury Secretary Janet Yellen told Bloomberg that passage of the rescue plan is a huge accomplishment. "We're succeeding in getting programs up and running. … I feel that the administration has built up momentum," she said.
"The impact of the pandemic, both on the economic side and health side, has been so disproportionate for minorities and low-wage service workers, so I'm going to be focusing particularly on metrics concerning these groups," Yellen added. "But I am expecting to see pretty rapid job creation and recovery in the coming months." She hopes the U.S. will return to full employment in 2022.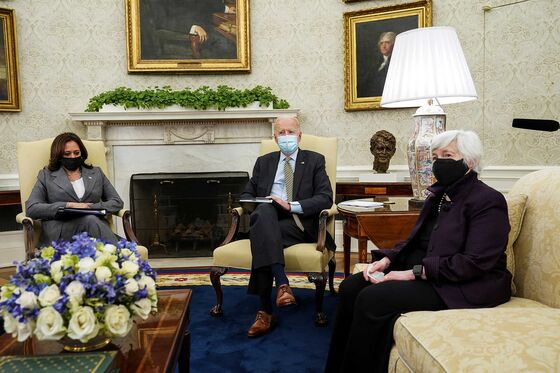 Normalcy was core to Biden's election pitch—a return to an era where people could go a day or more without hearing from the president. But his goals go beyond a return to the pre-Trump, pre-Covid status quo. Black leaders, who were vital in delivering Biden to victory, have warned that he can't simply usher in an era underpinned by structural inequalities. His plan to "Build Back Better" hints at an ambition to shrug off deficit concerns, give lower-income people an economic boost, and do away with centuries-old inequities.
"I did not expect him to be as big and as bold as he's been," says Jim Clyburn, a Democratic congressman from South Carolina whose 2020 endorsement reinvigorated Biden's flagging primary campaign. "He's got to continue to go big."
Many in Biden's West Wing and administration served under Obama or Clinton, both of whom lost their House majorities two years into their first term, underscoring the need to act while you can. Aides are pushing ahead less out of fear that their congressional window is closing than a belief that they'll need a record of accomplishments to hold it open. But Biden will achieve sweeping change only if he can pass two or more big bills through a trench-warfare Congress the Democrats narrowly control, and where his talk of bipartisanship rings hollow to Republicans.
"So far, it seems purely lip service," says Republican Senator Bill Cassidy of Louisiana. "The Covid relief package—clearly they decided to ram things through, some of which was totally unnecessary."
Biden's daily schedule is printed on a card that he tucks in the breast pocket of his suit. Each day's card includes the updated death toll from the coronavirus, plucked from a 10-page summary he receives each night from his Covid team.
Aides say Biden's early presidency will be judged largely on the vaccination campaign. The president believes in "approaching this like a war," says Jeff Zients, Biden's Covid response coordinator. "The key is to overwhelm the problem and to prepare for every contingency."
During his campaign, Biden and his team pledged to confront four concurrent crises: the virus, the economy, racial injustice, and climate change. In the weeks after the election, as virus cases mounted, they narrowed in on that. Biden vowed on Dec. 8 to administer 100 million shots in his first 100 days. The target was well below the Trump administration's projected pace, but some aides feared it would be hard to hit.
"So we threw everything at it," says Steve Ricchetti, a senior Biden aide. Zients and others prewrote emails so they could send them as soon as they got government accounts—to the Federal Emergency Management Agency, for instance, to set up mass vaccination sites. They took office with an hour-by-hour playbook for their first days.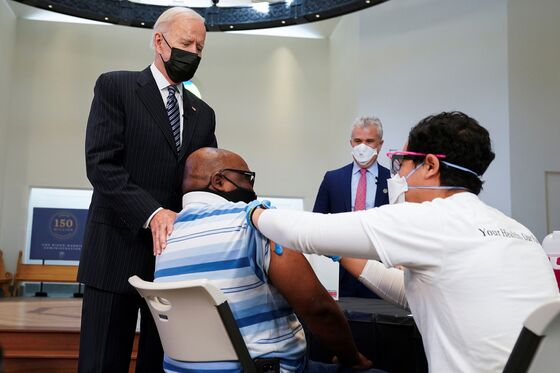 While the previous administration left vaccine distribution entirely to states, Biden set up his own channels to distribute shots. The new administration also worked to direct them to Black and other minority communities that were paying a heavy toll in sickness and death.
Under Trump, "none of that was there," Zients says. Biden aides say they walked into a shambles. "As far as we can tell," says Anita Dunn, a senior adviser in the White House, "they stopped doing anything from like around Nov. 10. They didn't govern anymore. They just stopped."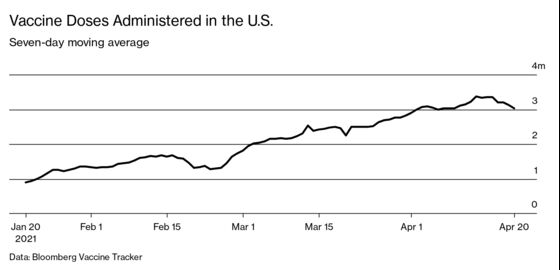 Former Trump administration officials dispute that characterization, and Team Biden didn't inherit nothing in the way of a Covid plan. The U.S. vaccination effort hit Biden's target, 1 million shots a day, on his third full day in office thanks to the program Trump had been standing up.
Still, the president ordered 300 million more doses of vaccines, preferring to risk having too many to having too few. The administration invoked wartime powers and cornered the market on U.S. production, blocking almost all vaccine exports and leaving it to China, Europe, India, and Russia to share their doses globally—a continuation, ironically, of Trump's America First approach.
Biden doubled his vaccination target, to 200 million shots in 100 days, and hit it a week early. His team likes to underpromise and overdeliver, the same tactic it adopted it on school reopenings. Negotiating with Congress about major legislation, however, requires a different approach, and carries a risk: overpromising and underdelivering.
RALLYING A BIG TENT FOR BIG RELIEF
As the health experts worked to tame Covid, Biden's team also had to confront a massive, pandemic-induced economic downturn. Millions of Americans had lost their jobs because of lockdowns and ensuing business closures. Parents, especially women, were forced to leave their jobs for lack of child care. While higher-income workers transitioned to working from home offices or kitchen tables, lower-income workers' jobs in stores, restaurants, and health facilities either disappeared or became far more dangerous.
Before Biden and his team pursued their broader agenda, they knew they needed to inject money into the economy for Covid relief. And they wanted a big number. The president and many of his aides, veterans of the Obama administration, believed the 2009 stimulus was too small and too poorly publicized.
"Barack was so modest, he didn't want to take, as he said, a victory lap," Biden told House Democrats during a videoconference in early March. "I kept saying, 'Tell people what we did.' He said, 'We don't have time. I'm not going to take a victory lap.' And we paid a price for it, ironically, for that humility."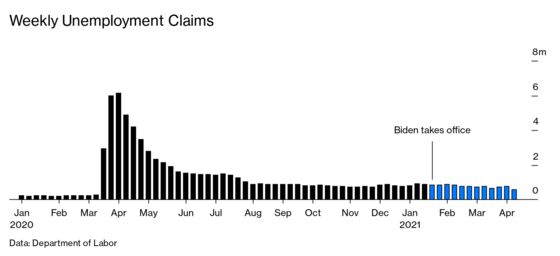 Like many in his party, Clyburn thinks Democrats wasted time in 2009 courting Republicans who only wanted to see Obama fail—and worries about history repeating itself with Biden. "They will do the same thing to this president," he says. "He knows that, and that's why he's working the way he is."
Putting together the initial package was difficult. Biden insisted that it include $1,400 stimulus checks—the priciest line item—because he'd promised that to voters if Democrats won Georgia's two Senate seats. Inside the White House, some top aides thought the checks shouldn't go to such a large swath of Americans. But the two new Georgia senators, Raphael Warnock and Jon Ossoff, pushed back, saying they couldn't water down the pledge that had just swept them to victory.
The director of the National Economic Council, Brian Deese, worked hard to unite the economic team behind the whole $1.9 trillion package, while his former boss, Larry Summers, publicly questioned the risks of injecting that much cash into the economy and raised fears of inflation. Administration officials are closely watching for signs of inflation but aren't panicking about it. The Federal Reserve, Yellen said, is in the best position to tackle inflation if it does become a problem.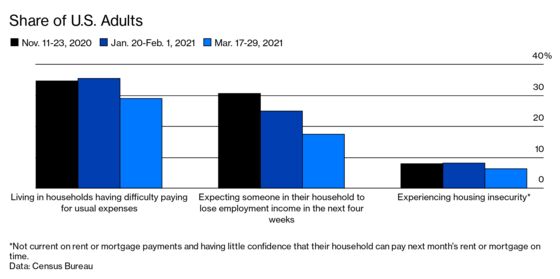 Democrats no longer view deficits and debt in the short term with the same level of alarm they once did. "The low-interest-rate environment isn't just something that's transitory," said Yellen. "Rather, a great deal of work suggests that it is a long-term structural shift, so I think we have a lot more debt capacity than we used to."
Although Biden met with Republican senators to discuss a smaller package, he didn't wait long for Republican support to materialize. (Democrats chose to use the reconciliation process to pass the bill with a simple majority, a rare chance to bypass the GOP.) White House aides instead tried to build public momentum by briefing governors and mayors and sending senior officials—including Vice President Kamala Harris—to do TV interviews in states where Democratic senators were wavering.
Poll after poll showed a majority of Americans supported the package, even if aides privately were unsure they could pass anything that large. And hours before the Senate vote, conservative West Virginia Democrat Joe Manchin was raising concerns about it.
As the clock ticked toward a vote on a Saturday in March, Biden began rewriting his speech in the White House residence. He called senators, including Manchin (who dropped his objections), Bernie Sanders, Ron Wyden, and Majority Leader Chuck Schumer, to thank them. That afternoon, he skipped his usual weekend trip back to Wilmington, Del., to deliver short remarks on the bill.
The legislation fully passed Congress on March 10. Biden and Harris watched the vote on TV in the Roosevelt Room with just a handful of top aides. It was the same room where, 11 years earlier, President Obama and Vice President Biden had watched Obamacare pass. Then, Obama and Biden had invited staffers to crowd into the room to commemorate the moment. This time the few attendees wore masks, and there was no Champagne toast.
One White House official calls it both the highest and lowest moment of Biden's first 100 days: As the scale of the achievement—an unheard-of $1.9 trillion in stimulus—sunk in, the sparse celebration reminded everyone "that Covid is still out there."
Since then, Biden has unveiled the American Jobs Plan, and he'll soon introduce the American Families Plan. Aides expect the debate over them to stretch into the fall, even if they publicly say they'd like to see progress on the infrastructure package by Memorial Day.
That plan will bring forward a debate that was skipped with the rescue bill: how, and whether, to pay for it with tax hikes. Biden proposes raising the corporate tax rate to 28%. Manchin has said he wants it no higher than 25%, and business and conservative groups are already lining up to fight any increase. Not all Democrats or even administration officials believe the entirety of the infrastructure package needs to be paid for, but Biden himself insisted on it in the days before the White House unveiled the package. White House aides believe there's a bipartisan way forward on part of the plan, but the pay-fors will be rocky.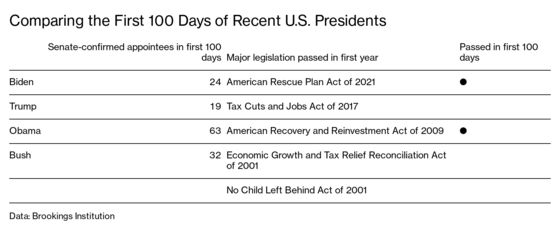 Infrastructure is "one of the highest-return investments for this economy at this time," said Yellen, adding that the proposed spending increase on research and development alone would bring the U.S. back to a level of public spending last seen in the 1960s. "R&D is an important factor determining productivity growth in the economy."
The third bill, which Biden will preview in a speech to Congress in late April, will focus on funneling money toward pre-K education and child-care centers and boosting the wages of child-care and home health aides. That proposal has the backing of powerful unions and left-leaning economists.
"We don't just want to return to the bad normal," says Mary Kay Henry, president of the Service Employees International Union, a major labor group that supports the American Families Plan. "We have an incredible opportunity to create the most racially diverse middle class the country has ever seen."
Is Joe Biden the president to realize that vision? One of the biggest questions about him so far is whether he's changed—not just in his messaging but in his politics. "He was never a leftist in the Senate," says Joe Grogan, who led Trump's Domestic Policy Council. "He campaigned as a moderate and a unifying force, and he's been none of that."
Those close to him say they're just following the road map he's long laid out. "I think he believed in a bold vision for the presidency. I would not call that an evolutionary thing," says Ricchetti.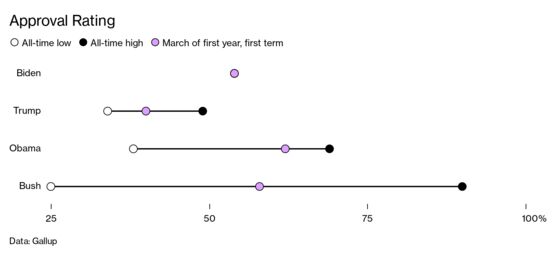 One former aide says Biden is ultimately a pragmatist who views politics as the art of the possible. He's willing to push the envelope on what he can achieve in office—and his team sees this as his chance to combat long-term problems such as racial inequity and climate change, restore the country's tone post-Trump, and build a solid coalition of Democratic voters for the next election.
According to one official, Biden can head into the midterms with a simple campaign message, asking: Are you better off than you were before? By ramping up vaccinations, providing financial relief to families, and trying to create better jobs for the working class, he is essentially mapping out an economic argument for 2022—that Democrats put Americans on a sounder financial footing. Recent polling shows that a majority of Americans support Biden's handling of the economy.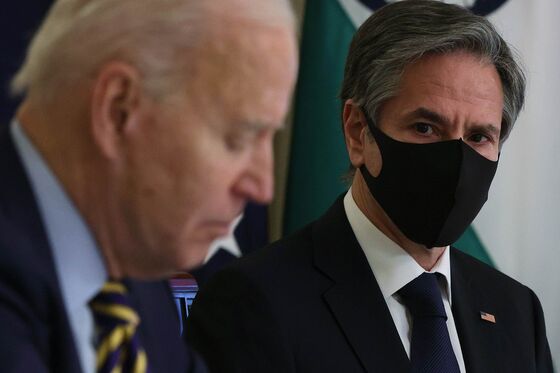 The challenges remain stark. Vaccine hesitancy may snarl efforts to end the pandemic. If Biden's next big bills don't pass Congress, his sweeping agenda may not be very memorable. Republicans intend to keep hammering him on immigration, and he'll only face more foreign policy hurdles in confronting China, Russia, and Iran and pulling troops out of Afghanistan.
Progressives may not remain happy with Biden if his legislative agenda stalls—or if he doesn't do enough, in their view, on voting rights or gun control or curbing the filibuster. He's already under pressure to do more on climate change: On April 20, Massachusetts Senator Ed Markey and New York Representative Alexandria Ocasio-Cortez, both Democrats, reintroduced the Green New Deal in Congress. From here on, the stakes are high and the political alliances more fragile.
Clyburn, Biden's kingmaker, says the president needs to stay the course. "Joe has been around a long time. He knows he's not going to get everything, no matter how much he asks for," he says. "So why not get some of a lot, rather than some of a little?"