The U.S. Postal Service Finds a Champion in Biden, Despite DeJoy
(Bloomberg Businessweek) -- George Washington believed mail service would play a key part in shaping the national consciousness. Woodrow Wilson's administration pioneered airmail. Franklin Roosevelt thought of post offices as hallowed public spaces. He helped design six in upstate New York towns; you can still buy stamps at most of them.
Donald Trump, on the other hand, called the U.S. Postal Service "a joke," vetoed billions of dollars in aid to the agency just as its employees were being ravaged by Covid-19, and falsely accused postal workers of seeking to corrupt the electoral process by selling mail-in ballots.
So you can imagine the relief among the rank and file at the USPS on Jan. 20, when Trump exited the White House and was replaced by Joe Biden. President Biden expressed admiration and support for the long-neglected USPS before the election and is likely to be its strongest supporter in decades. And if ever there was a federal agency in need of a champion, it's the Postal Service, which suffered a net loss of $9 billion last year as it struggled with pandemic-related absences and delivery delays, and faces the continuing threat of dwindling mail volume.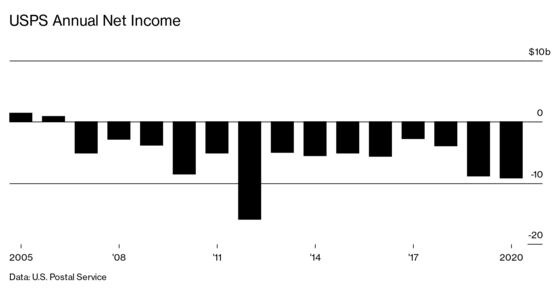 In addition, the USPS found itself stewing in controversy after its Republican-dominated Board of Governors hired Louis DeJoy, a major Trump fundraiser, in May 2020 as the nation's 75th postmaster general. DeJoy's early efforts to impose efficiency on the USPS in the midst of the pandemic resulted in widespread mail delays and led Democrats to accuse him of conspiring to slow ballot delivery on behalf of the White House by also removing mailboxes and sorting machines. It didn't matter that the second two initiatives had been in the works before DeJoy's arrival.
While concerns about his allegiances dominated the headlines, the Biden campaign offered some concrete, if less noticed, proposals to help the Postal Service. It called for emergency financial relief. It also advocated maintaining six-day-a-week mail delivery and eliminating a requirement that the agency prefund its future retiree health benefits every year, which effectively drove it into insolvency as overall mail volume fell. Prefunding accounted for about half of the USPS's 2020 losses.
Shortly after taking office, Biden issued an executive order calling for the electrification of the Postal Service's more than 230,000 trucks, vans, and other vehicles as part of his plan to address climate change. Presumably, his administration has a plan to cover the cost of replacing the aging fleet, estimated to be more than $5 billion. The USPS doesn't have that kind of money.
As with much of his overall agenda, the majority of what Biden hopes to achieve on postal issues depends on congressional cooperation. Although DeJoy's detractors would prefer otherwise, the president can't hire and fire the postmaster general. That's up to the nine members of the Board of Governors, who are appointed by the president, subject to Senate confirmation. Four of the current six appointees are Republicans. Biden has the opportunity to tilt the board against DeJoy by filling three vacant positions with governors of his own.
There's no indication that Biden has DeJoy's ouster in mind. When asked about it at a White House briefing on Jan. 25, spokeswoman Jen Psaki said, "We all love the mailman and the mailwoman. I don't have anything for you on it." Postal worker unions aren't calling for DeJoy to go, either. They're waiting for him to release a 10-year plan for the USPS that he's been working on. "The jury's out," says Jim Sauber, chief of staff for the National Association of Letter Carriers and a member of the Biden transition team on the USPS.
What should be encouraging for Biden is that there was bipartisan support in the House in the waning days of the Obama administration for a postal reform bill that included doing away with prefunding by integrating retired postal workers into Medicare, something the USPS has long supported. The Trump administration opposed getting rid of prefunding. Democratic and Republican House leaders say they're hoping to get postal reform moving again. "We need to help the Postal Service buy some time to create a new business model," says Representative Gerry Connolly, a Democrat from Virginia. (The USPS Fairness Act, introduced in both houses of Congress in early February, would take a step toward that by eliminating prefunding.)
Union leaders also see an opening for the passage of similar legislation in the Senate now that Michigan Democrat Gary Peters is chairman of the Homeland Security Committee, replacing Republican Ron Johnson of Wisconsin, whom they describe as an obstacle to such efforts. "He was against any postal reform," says Paul Hogrogian, president of the National Postal Mail Handlers Union. A spokesman for Johnson declined to comment.
Unions would also like to see Biden make good on his pledge of support for a direct cash infusion enabling the agency to hire more workers and reverse the Covid-related decline in service. Mark Dimondstein, president of the American Postal Workers Union, laments that almost 20,000 USPS employees a day, out of a 644,000-person workforce, have been in quarantine because they'd either tested positive for Covid-19 or been exposed to somebody infected. "The pandemic has had a huge toll," he says. "A lot of sickness, far too much death."
At the same time, the USPS has struggled with what Satish Jindel, president of ShipMatrix, a developer of software that enables customers to track their shipping operations, describes as a record number of parcels during the holiday season, followed by a record number of returns. He lauds the Postal Service for delivering almost 95% on time during the last week of the December rush. The same can't be said for first-class and marketing mail, better known to most people as the junkier variety. "Service right now is worse than it's been in at least 25 years," says Michael Plunkett, president of the Association for Postal Commerce, an organization representing banks, insurance companies, and other large users of these mail classes. A USPS spokesman says the agency's performance has improved in recent weeks as it's brought aboard more full-time employees and paid more overtime.
However, the pandemic has also highlighted the importance of the USPS. Its package volume rose 18% in 2020 as sequestered Americans did more online shopping. In the midst of the crisis, the service also transported 135 million ballots swiftly from state election boards to voters and back to the election boards, which should put to rest fears that DeJoy was in Trump's control.
None of this went unnoticed by the millennials who put "Save the Post Office" signs in their windows. Progressive groups popular with this age group, such as the Democratic Socialists of America and Black Lives Matter, also voiced support for a postal rescue plan last year. In New York, young people on the street applauded puzzled but appreciative mail carriers on Nov. 7 when Biden won Pennsylvania, clinching the election.
In short, the president might be able to keep his party's left flank happy and burnish his bipartisan credentials by shepherding a postal reform bill through Congress. No wonder he's taken such an interest in the post office.