Biden Wants the 'Quad' to Counter China, But Unity Will Be a Test
(Bloomberg Businessweek) -- The fiery insults and recriminations at the U.S.-China summit in Alaska in mid-March showed there hasn't been a quick reset on U.S.-China relations since President Joe Biden took office. Yet while Biden has sustained his predecessor's tough approach, he's thinking differently about how to confront Beijing.
Donald Trump sought to punish China through the brute force of unilateral tools such as tariffs and sanctions. The Biden administration is trying to amplify U.S. strength by banding more closely with allies across the region. Leading up to the talks in Alaska, U.S. officials choreographed a series of meetings with allies as part of an effort to corral them as a bloc. That included a virtual meeting of Australia, India, Japan, and the U.S., or the "Quad"; a visit by Secretary of State Antony Blinken and Secretary of Defense Lloyd Austin to South Korea and Japan; and a solo trip by Austin to India.
The meetings sent a not-so-subtle message that the U.S. will intensify the use of alliances as a force multiplier against China. "There's a rallying-the-crowd effort to tell China, 'You can't split the team anymore,' " says Sheila Smith, senior fellow at the Council on Foreign Relations. "There's a new level of coordination and a sophisticated use of levers."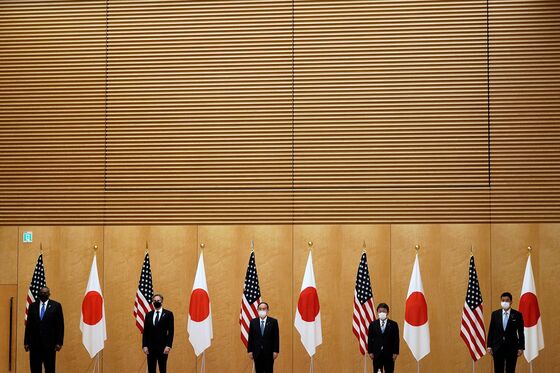 Chinese officials aren't happy about it, accusing the U.S. of trying to form a clique in the region. But India's and Australia's recent tussles with China, coupled with supply chain concerns during the pandemic, have given new urgency to alliances like the Quad.
As long as Trump eschewed collaboration—at times vilifying allies with almost the same level of vitriol he directed against Beijing—China held an upper hand against smaller countries in the region. Last year, after Australia called for independent investigators to be allowed into Wuhan to probe the origins of the coronavirus, China hit it with tariffs on such goods as coal and barley. Now Kurt Campbell, the Asia coordinator on Biden's National Security Council, says U.S. relations with China won't improve until Beijing stops its economic coercion against Australia.
During the Alaska talks, Blinken signaled the U.S. isn't representing only its grievances, but those of its allies. "I'm hearing deep satisfaction that the United States is back, that we're reengaged with our allies and partners," he told his Chinese counterparts in Alaska. "I'm also hearing deep concern about some of the actions your government has taken."
China's top diplomat Yang Jiechi fired back: "Secretary Blinken, you said you just came back from Japan and South Korea. Those two countries are China's second- and the third-largest trading partners."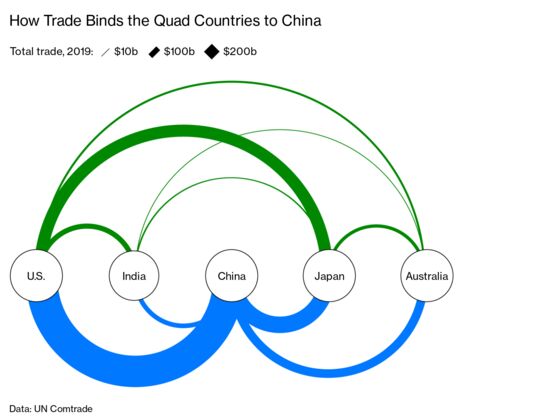 Implicit in his comments was that although countries may be deeply worried about Beijing's expanding military might, they're likely to think twice before being pulled by the U.S. into an anti-China bloc that could harm their commercial interests. While the Quad summit called for an "open" Indo-Pacific region, China wasn't mentioned in its final statement. The group, which came together after the 2004 tsunami in the Indian Ocean region, wants to be seen as having a positive message of cooperation, and not just an anti-China purpose. One new initiative is for Australia, Japan, and the U.S. to invest in India's capacity to manufacture more Covid vaccines.
Yet the group, which was first formed in 2007 and revived in 2017 under Trump, has a security component, too. The navies of Australia, India, Japan, and the U.S. last year conducted their first joint exercises in the Indian Ocean, making China feel increasingly surrounded. Meanwhile, China is changing the South China Sea's status quo, building artificial reefs and claiming the sea's fisheries and waterways.
In Europe as well as the U.S. and Asia, complaints about China's intellectual-property theft and human-rights abuses are often muted by fear of undercutting commercial ties. "You either see China as a strategic competitor, or you see it primarily as a trading partner," says Elisabeth Braw, a foreign and defense policy expert at the American Enterprise Institute. "If allies disagree on that basic perception, how could they possibly work on a unified strategy?"
The renewed focus in coming together against China reflects the shifting balance of power. While the U.S. is still the largest economy and military in the world, China has been steadily closing the gap. In 2020, a year in which global investment flows cratered due to the pandemic, China overtook the U.S. as the largest recipient of foreign direct investment, according to a United Nations trade agency.
The Quad acting as a collective could threaten China—if its members can stick together. "This is a hard strategy to implement persistently over time," says Smith. "China is going to do its best to peel someone off."