St. Barts Is Officially Back, and Better Than Ever
(Bloomberg Businessweek) -- From where I sit on a deep, citrine-­colored couch in the living room of Villa Marie, it's hard to imagine that anything around me is new. The African beaded necklaces, displayed on shelves just so, feel like they were arranged there long ago by a careful collector. The shuttered ­windows and beams in the plantation-style ceiling vividly evoke colonial-­era Caribbean originals. The server who brings my fennel-and-­ginger detox juice is decidedly youthful, but also ­practiced and charming.
And yet this is St. Barts, where almost all things have been rebuilt from scratch. "Everything you see, it was all gone," says Nicolas Rondelli, the hotel's general manager. He, too, is new—a recent transplant from Corsica. "The roof above our heads? This is what it looked like just over a year ago," he says, pulling out a photograph taken on Sept. 6, 2017, the day after Hurricane Irma made landfall as a Category 5 storm. I see the same room we're sitting in, but it's ravaged, with upturned chairs, blown shutters, and a wide-open sky overhead.
"It looked like King Kong came in with a temper tantrum," recalls David Zipkin, co-founder and vice president of regional airline Tradewind Aviation. "Boats in the street, cars stacked three on top of each other."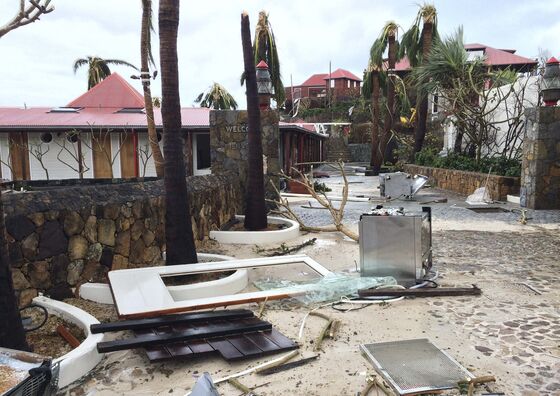 The hurricane was the island's first major crisis since it became autonomous from France in 2007. Still, it had plenty of advantages over its hard-hit neighbors, including a strong infrastructure, a healthy economy, wealthy landowners, and a low poverty rate. After the storm, tourism officials, business owners, and residents stoically emphasized these upsides rather than the devastation. It was a way to be sensitive, Zipkin says, and a strategic way to persuade visitors to return soon.
By December 2017, most of the high-end retail shops, restaurants, and galleries were open for business in the capital, Gustavia. The yacht crowd returned slowly. The island's 800 villas came back one by one, most in time for the spring regattas. Ahead of the 2018 holiday season, all but two of the five-star hotels on St. Barts flicked on the lights for the first time in 15 months—most with fully renovated interiors and expanded amenities.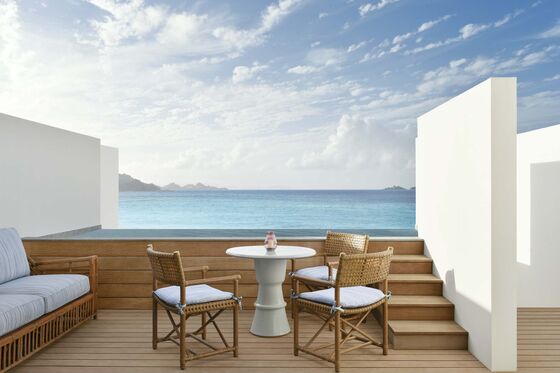 "Everything is better than before," a gray-haired, very tan gentleman ahead of me in the customs line at the airport told me. "Except that Eden Rock is closed." He's right. It takes some effort to find any signs of damage around the island. From the new white-on-white beach bar and overhauled Mediterranean restaurant at Cheval Blanc, I spot one villa in disrepair, but sales director Eva Sitarz says it's been that way "for years."
Many changes aren't obvious. Roads and pedestrian paths now have reflectors to help mitigate the island's longstanding lack of overhead lighting; there are fewer electrical poles, as well, as the island expedites a plan to put utilities below ground. Of all St. Barts hot spots, only two were permanently closed: the tucked-away beach bar O'Corail and La Gloriette.
To my surprise, most of the foliage is lush and fully regrown. ("Mother Nature works fast here," several people tell me.) One exception is the tamarind standing barren at the entrance of Tamarin restaurant, my favorite dining spot.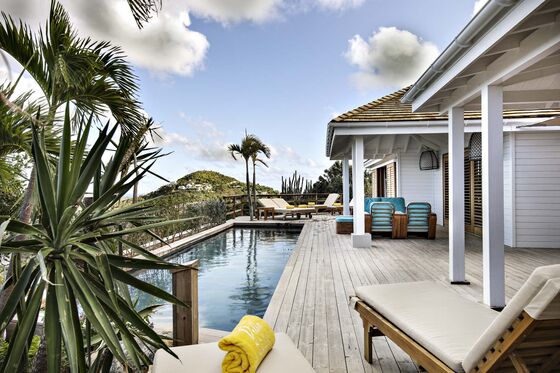 At Le Sereno, a laid-back hangout for windsurfers on tranquil Grand Cul de Sac beach, the hotel's crooked palms look just as I remember them. Asked about the miraculous surviving trees, managing director Samy Ghachem laughs. "The original ones got wiped out," he says. "I sent someone to Miami to individually hand-pick trees with character—we didn't want this to look like your generic Marriott when we rebuilt."
Almost everywhere I go, the tone is giddily optimistic. Hotel Manapany, on choppy Anse des Cayes beach, has been upgraded from a flight-crew bolt-hole to a plush ecoresort with colorful bungalows and a Dr. Hauschka spa. Marche de St. Barts is a lively, open-air market in Gustavia that brings together local coffee roasters, bakers, and artisans on the first Sunday of each month.
Nowhere is more consistently packed than Nikki Beach, with its new sushi bar and performative bartenders. When I swing by for a last lunch en route to the airport, every seat is taken. The hostess suggests I try Eden Rock. Wait, what?
It turns out the iconic hotel has quietly opened a water sports center, pop-up spa, and bar on a small deck where there used to be beach suites. In the sapphire waters off St. Jean beach, a young British and American crowd ride motorized surfboards and Seabobs, while the waitstaff energetically deliver chicken pesto panini, burgers, and buckets of rosé. For those of us who've made it to Eden Rock, it feels like we're having more fun than anyone else on the island.
"When are you coming back?" the bartender asks as I sign the check. "Whenever you guys open for good," I tell him, half-joking. "Try for late October then," he says. "It'll be a huge party."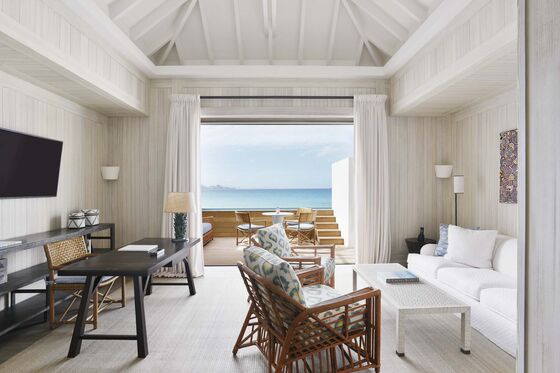 With Moroccan-tiled bathrooms and private plunge pools, the best rooms on the island are the Jacques Grange-designed beach suites at Cheval Blanc. Also impeccable are the eight townhouse-style rentals at Le Toiny. All-white and airy, with expansive pool decks, they're on the scenic, mountainous eastern end of the island.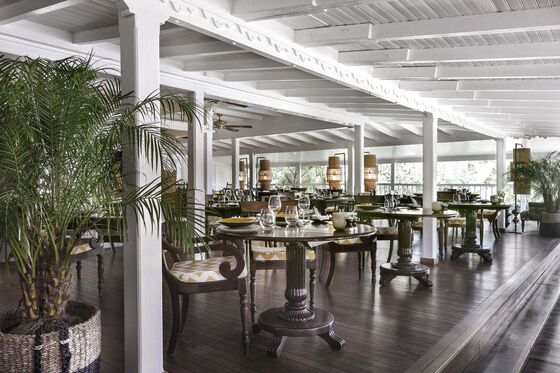 François Plantation, a classic French restaurant at Villa Marie, feels like dining in Paris. Dishes include sole meunière and a Grand Marnier soufflé for two. (Young sommelier Jordan Crozier is a talent to know.) For healthier fare, try Tamarin—it favors lightly cooked fish such as Thai-style tuna tataki and draws an appropriately model-size clientele.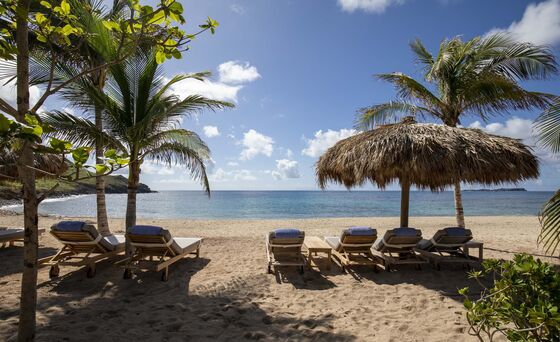 The beach club at Le Toiny is at once secluded and a scene; the chaises are shaded with thatched umbrellas, and hammocks are slung between palm trees. But the tide can be rough and the shore is rocky and shell-strewn. Love to swim? Le Barthélemy has one of the cleanest, most tranquil stretches of sand—grab a snorkel and seek out sea turtles. Saline Beach is low-key, pristine, and great for jumping waves.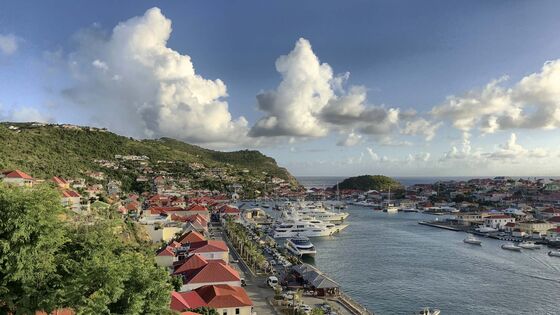 Flying to St. Barts is easier than ever now that Tradewind has expanded its service from San Juan, Puerto Rico. A single-ticket agreement with United Airlines makes interline transfers easier. (You can check your luggage straight through, even though your connecting flight is on a different airline.) St. Barth Commuter has also added flights, with new routes from Guadeloupe, plus additional scheduled options from St. Martin and Antigua. Keep in mind: If you're planning to take the affordable 45-minute ferry, St. Martin's recovery is running behind that of St. Barts, and its airport is partially operating out of a tent.
To contact the editor responsible for this story: Chris Rovzar at crovzar@bloomberg.net, James Gaddy