Here's One Indulgent Way to Stand Out at Work
(Bloomberg Businessweek) -- So you finally picked up your first fountain pen—perhaps a classic 18-karat-gold-nibbed Montblanc Meisterstück 149 you've spied in a display window or an urushi-lacquered Nakaya Portable Writer from Japan that you've been coveting online. Well, here's some bad news for your American Express card balance: That was merely the first step. Now you need to fill your luxury writing instrument with equally luxurious ink.
You could buy a bottle of blue or black—often, a dust-covered container of Parker Quink can be found for less than $10 on a bottom shelf at Staples. But if you were going to stick to such boring colors, you'd still be using a cheap Bic from the office supply closet. No, you've gone down a different road. You've become part of a rich history, using the same tools your great-grandparents wrote with before there were ballpoints. You're a fountain pen person, and you've got a rainbow of ink colors at your command, including turquoise, pine, chocolate, and, depending on exactly how enthusiastic you are, coral.
In recent years, established brands such as Japan's Sailor Pen Co., J. Herbin from France, De Atramentis of Germany, and newcomer Colorverse from Korea have begun deepening their palettes further, introducing inks that shimmer and sheen. And those are actually two different things. A sheening ink is one that gives off a tint that varies from its main color, an effect you may not notice when it's wet. "Especially on coated papers, as they start to dry, they start to crystallize into a red or purple or green," says Lisa Vanness, director of marketing at Vanness Inc., which sells pens and inks online and at a store in Little Rock that's been in business since 1938. Inks that shimmer, on the other hand, contain particulates that sparkle on the page—in case that coral color wasn't enough of an affectation.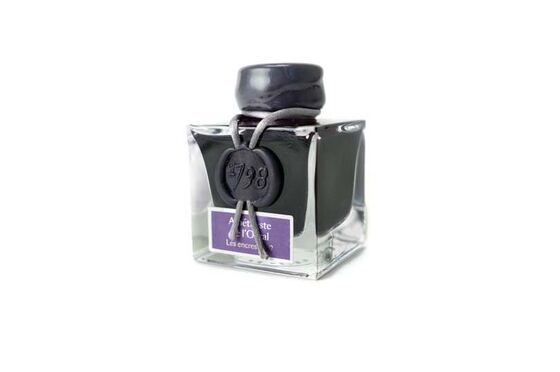 Between the two types, shimmering inks are the ones that look really audacious—like a playful marker all grown-up. But if you've chosen to embark upon this hobby, you shouldn't be above demonstrating some flair with your words—even if you save those sparkly inks for your own notebook or writing to your sweetheart. One ink good for love letters is J. Herbin's 1798 Améthyste de l'Oural ($28 for 50 milliliters), a subdued purple that's speckled with silver. Better for the workplace—signing that birthday card going around the office, for instance—are Colorverse's Schrödinger and Cat set ($36). The bigger of the two bottles, Schrödinger (65ml), is a rich green, while the royal blue Cat (15ml) glistens in a festive turquoise. Even bolder than Cat is De Atramentis Pearlescent Ink Heliogen Green-Gold ($16 for 35ml), a chalky green almost overpowered by swaths of gold sparkles that pool here and there in your cursive. It's probably not the kind of ink you want to use for signing a loan agreement.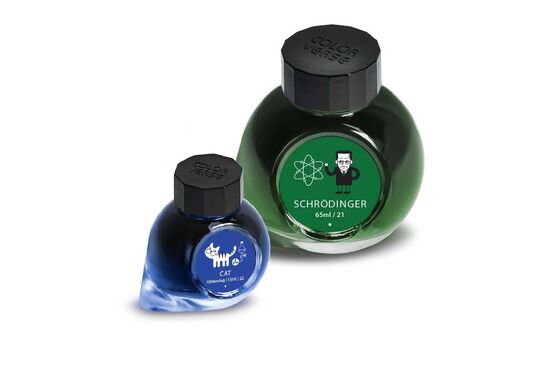 If you're seeking subtlety, inks with sheen are a better choice. Akkerman Shocking Blue ($28 for 60ml) is a deep sapphire that glints a reddish-purple, making it a favorite of aficionados since its arrival in the U.S. earlier this decade. Originally made for the P.W. Akkerman fountain pen store in The Hague and named for a 1960s Dutch rock band, it's consistently one of Vanness's top 10 sellers. Good for marking up drafts is Sailor's Kobe Ink #4 Kitano Ijinkan Red ($30 for 50ml), which has a slight gold sheen in the right light. Lower-key, and unlikely to raise eyebrows among colleagues, is Kaweco Smokey Grey ($14 for 30ml), which is, well, smoke-colored and also sheens a bit gold when used in high-quality notebooks and seen in the right light. (On cheap printer paper, it looks more like graphite.)
Eccentric as your newfound love of fountain pens and inks might make you at work, just know that you aren't alone. Worldwide, fountain pen sales are forecast to total $1.15 billion this year, up 3 percent from 2017 and almost 31 percent from a decade ago, according to market-research company Euromonitor International.
That figure doesn't include sales of ink, which can be quite pricey. Some Sailor inks run higher than $40 for a 50ml bottle—more than five times the cost, on a per-milliliter basis, of Glenlivet's 18-year-old Scotch. But unless you're a light drinker with a serious writing problem, the ink should last you a lot longer.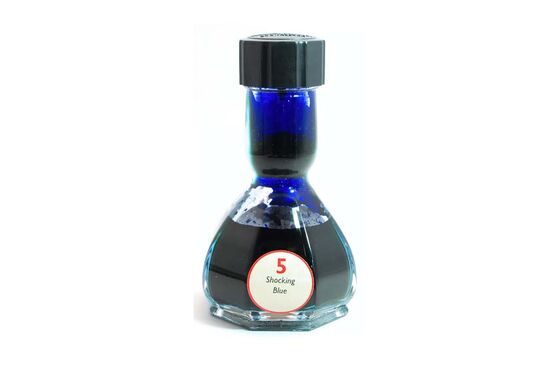 To contact the editor responsible for this story: Chris Rovzar at crovzar@bloomberg.net, Justin Ocean