MBA Students Want More Digital Offerings Even After the Pandemic
(Bloomberg Businessweek) -- While MBA students were generally disappointed with the shift to online learning, there are some features of virtual classes they liked—and want to see continued even after in-person instruction resumes, a Bloomberg Businessweek survey of MBA students shows.
The revelations come from a survey of 3,532 students at 95 business schools around the world, conducted from May to early August. In part of the survey, we asked open-ended questions, where students could write extended answers.
When asked to suggest things schools should keep doing after a return to physical classes, more than 11.5% of the surveyed students said that classes should be recorded so they could rewatch them, according to the Businessweek analysis.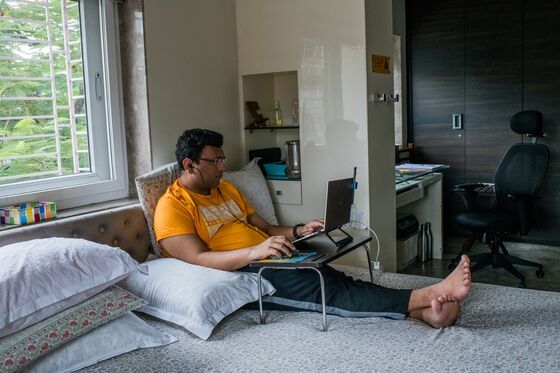 Typical was Adhiraj Didwania, a student at IE Business School in Madrid. He's been taking classes from his home in Kolkata, India, since March, and he plans to become a product manager at a large technology company when he graduates. Didwania wrote, "Record all classes and share the recordings after class." In a follow-up interview, he said, "For subjects or topics that are important to me, it would be great to go back and view critical portions again in case I need a future reference."
Many students echoed his sentiments: "Videos offer students the flexibility to learn/review course concepts on our own schedule and at our own pace. These videos should certainly not replace live lectures, but complement them." Said another: "Sometimes you just want to go back and listen to a portion of the lecture again and this has been a great new addition!"
Some cited the value of being able to review previous classes in more complex subjects, especially those that become progressively more difficult and rely on a clear understanding of earlier lectures: "… it is easy to miss some important points in difficult classes (e.g. data modeling). If we have the video, we can easily go back until we totally understand it."
Even better than recording live lectures was offering prerecorded ones that students could watch before class. One wrote, "I did like having some of the lectures prerecorded allowing us to use the full class time to have guided discussions."
The second most-mentioned benefit of virtual teaching, cited by more than 6% of surveyed students, was the increased availability of guest speakers. It's easier for guest speakers around the world to join a class via Zoom for an hour than taking the time to travel to campus.
In the survey, Amanda Neveu, who graduated from Dartmouth's Tuck School of Business in June, wrote: "We had some amazing guest speakers this year. Many Tuckies want to come back to Hanover but I think this should continue to ensure we get the best speakers from across schools and educational backgrounds."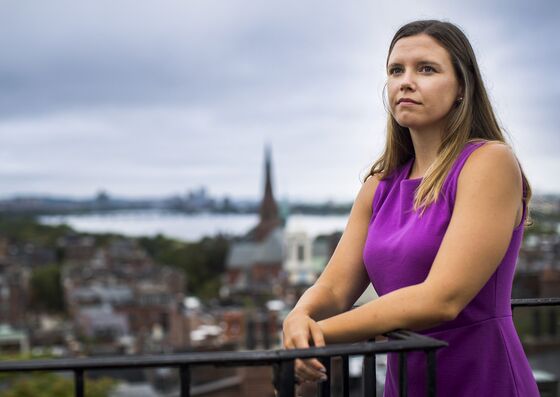 Neveu, now training (from home) as a consultant at EY-Parthenon, said in an interview that the professor of her Managing Stakeholders in Private Equity class switched gears when the pandemic struck to focus on managing in a crisis. He brought in (via Zoom) two of private equity's biggest players, David Rubenstein, co-executive chairman of Carlyle Group, and Stephen Schwarzman, chairman of Blackstone Group. "Really cool to have them in class," Neveu said.
Many students said that online teaching got better over time. Initially some classes were little more than Zoom lectures with PowerPoint slides. More tech-savvy professors soon caught on to a Zoom feature allowing for breakout sessions, putting students in small groups to work together during class. With in-person classes, students often ended up working with the same people. Digitally, the professor made the assignments—or left it to Zoom to do randomly, which brought students in contact with a broader range of their peers.
One widely cited drawback of video learning was having to stare at a computer for long stretches. This answer, from a student in Europe, summed up the views of many respondents: "3 hour lectures on Zoom or Go to Meeting, people can't focus that long in front of a screen."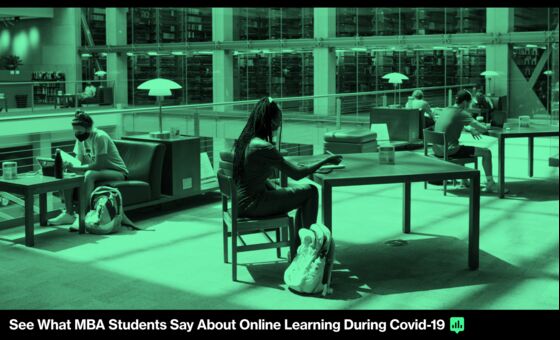 And there can be more interruptions when watching from home. Neveu said Tuck doesn't allow students to use laptops in regular classes so they don't get distracted by email, texts, social media, or anything else. At home you have to rely on self-discipline. While in a Zoom class, she says, she would set her mobile phone to "do not disturb" so it wouldn't ping her.
Like almost everyone else, MBA students also craved contact with others. Networking is one of the main reasons they go to business school. So what did they do if they couldn't meet in person with others? Same as everyone else, according to 8.6% of students surveyed: "Zoom happy hours."

Details of how we conducted the survey, which includes students from top-ranked schools in the Bloomberg Businessweek 2019-20 MBA ranking such as Stanford, Dartmouth, Harvard, IMD, Insead, and Ceibs, can be found here. A more detailed look at the entire survey's results can be found here.