A Coffee Roaster's Lessons From Scaling Up—and Back Down Again
(Bloomberg Businessweek) -- The takeover of a small chain of coffee shops in 2018 supercharged Belleville Brûlerie's expansion and delivered brand recognition, helping the Parisian supplier of beans land bigger clients. Soon the company's American co-founder and majority owner, David Flynn, was overseeing a roasting operation and a mini-retail empire including coffee shops and boutiques selling at-home brewing equipment, bagged grounds, and accessories, as well as an old-world neighborhood cafe serving meals that he'd taken over a couple of years earlier—and 50 employees. But by 2019 the team was stretched thin, and Flynn felt the roasting operation was being neglected.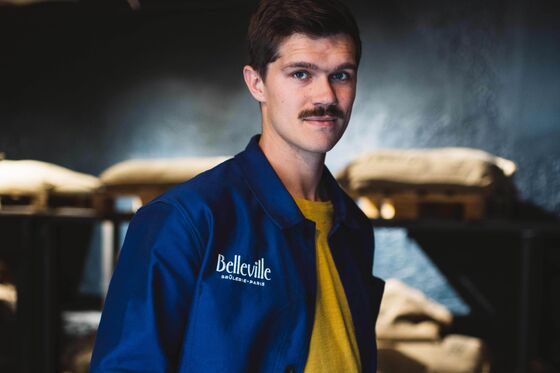 So after scaling up, he decided to scale back down, with no regrets. Flynn declared bankruptcy on Cuillier, the coffee shop business that Belleville Brûlerie had maintained in a separate holding company. And after initially retaining the cafe-bar, La Fontaine de Belleville, he sold that this year, too, to focus on the roasting business in northeastern Paris. Now, Belleville Brûlerie is preparing for another expansion—this time looking to replicate its success with beans—with a roasting outpost and cafe in Tokyo in early 2022. "We're in a good place," Flynn says.
Here are his takeaways from the experience:
Look under the hood thoroughly before making any acquisition, he says. Flynn and his team went from consulting for a small chain of coffee shops to acquiring it. "We knew it was a bit of a risky play in operational and labor terms," he says. "But we were so focused on the financial aspects of the deal that we didn't do enough of our own homework." What they ultimately discovered was coffee equipment in subpar condition and lease arrangements with unfavorable terms, the latter proving to be a burden beyond repair. There were other challenges for which Flynn says they could've been better prepared, such as having the right people to handle the growth. "I don't think we had the team in place to manage the change," he says. "We acquired a company that had way more staff than we did. That was a steep learning curve."
Question the business model
Only after making the acquisition did Flynn discover that Belleville Brûlerie's new business model was unworkable. The market didn't support it, and he couldn't find a way to juggle managing all the different pieces. "We wanted to run coffee shops in addition to our roasting operation, but the market wanted restaurants with all-day service," he says. Even with Belleville Brûlerie becoming a household name, takeaway volumes were low in Paris, so tiny coffee shops were never going to thrive. "The only way to make money was to run a restaurant," he says, but for many reasons, including the time investment it requires, it wasn't compatible with running a roaster." While the boutiques functioned well and were a natural extension of the primary roasting business, the leases on the spaces were too expensive, he says. Flynn advises entrepreneurs chasing scale to think long and hard about how they want to expand their operation and whether the business model makes long-term logistical sense. "That will determine how you equip yourself for the change."
Consider internal dynamics
Maintaining open communication and transparency with your teams about how operations may change as you scale up is important, but it isn't always enough to preserve morale, Flynn says. "This may be specific to France, but as young companies get bigger and hire more, the relationship between owners and staff can become more conflictual. They see you as the big, bad boss without their best interests in mind." Even though Belleville Brûlerie was able to offer more opportunities to its workers as it expanded, some employees' perceptions of the growth soured, he says. "There was this fear that growing meant negative or inconvenient change." The strain of that relationship is a risk small-business owners need to anticipate and manage as they grow.
Bigger doesn't mean better
Leading a large team may feel good as an entrepreneur, but it doesn't always translate into financial success and stable growth. "This lesson took me a while to learn: Don't measure your business by the number of employees you have. It's easy to fall into that trap, but it's not necessarily what growth means."
The decision to shrink the business after an expansion shouldn't be taken lightly, Flynn says. "Really drill down and ask yourself: 'Are we struggling because we don't have the right systems in place? Or are we struggling because we just made some bad investments?' If the latter, cut your losses and make a change. If you don't have the systems in place, then you have a decision to make," he says. "Can you realistically keep operating at this scale? Do you have enough time and capital to get through the rocky patch? Or do you scale back, put things into place, and restart? I think it's important to remember that it isn't a failure to scale back. It's better to retreat while you still can and then try again."
 
Read next: A French Yoga Company Seeks Better Balance Post-Pandemic