Breitling's Play for Younger Watch Buyers Fronted by Charlize Theron and Adam Driver
(Bloomberg Businessweek) -- Georges Kern looked poised for the top job at luxury conglomerate Cie. Financiere Richemont SA, where a 17-year run took him from youngest chief executive officer of one of Richemont's major brands to the head of all watchmaking, including oversight of storied names such as Cartier, Piaget, and Vacheron Constantin. Then four months after his promotion in early 2017, he quit.
Kern took the top job at Breitling SA, a switch that sent shock waves through the tightknit Swiss watch community. In family hands for more than a century, Breitling had recently been sold to CVC Capital Partners for more than €800 million ($909 million). It was the first time a private equity firm had taken over a major watchmaker. The industry is dominated by publicly traded multibrand luxury groups and a small crop of private companies, including Patek Philippe SA and Rolex SA.
Breitling has thrived on chunky, functional timepieces that come with busy dials and are favored by older men. While the company was profitable, sales weren't advancing, and there were issues looming when Kern joined: The brand had no presence in China, the sales network was patchy, and Breitling's product lineup was starting to look as outdated as its marketing, which featured macho men in their aircraft and blond women in revealing outfits breathlessly awaiting their landing.
Kern aims to court a new clientele—young, digital, outdoorsy—and to break into China. Breitling opened two stores in Beijing this year, plus a pop-up in November, and held a flamboyant gala featuring Brad Pitt, who is part of the brand's new trio of ambassadors, alongside fellow actors Adam Driver and Charlize Theron.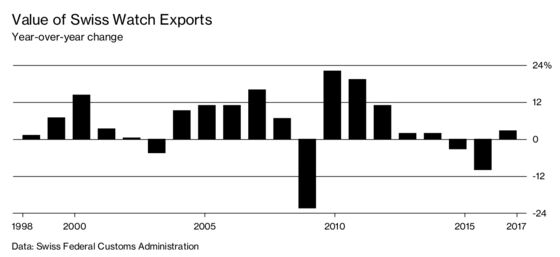 Kern's challenge speaks to the malaise afflicting the wider industry. There are dozens of glitzy luxury houses that boast high name recognition but suffer from low appeal to a younger generation of buyers. In Breitling's case, trying to connect with them meant coming up with a new narrative articulated across the company—from an updated corporate design to shops that resemble a hipster loft to watches that draw on Breitling's century-long heritage. "We have enormous brand awareness, but we need to increase awareness for our products," Kern says. "It's all about storytelling."
Private equity and the Swiss watch industry would appear to be polar opposites. One is all about unemotional efficiency, cost control, and investment decisions leading to a successful exit, typically in less than a decade. The other prides itself on generations of continuity and relishes extravagances such as complex watch movements developed in-house, opulent marketing campaigns, and expensive boutiques.
According to Kern, the new owners have sharpened Breitling's approach. While the CEO's whirlwind makeover sounds expensive, Kern says the company is actually spending less than previously because he's done away with lavish event sponsorships and other outlays that did little to advance the brand. "Once the nail is in the wall, you don't have to hit it again," says Kern. "You have to be smart about how you invest. We need to reallocate into new areas where we were not present before."
Kern is reducing the number of locations where his watches are sold, concentrating instead on those that will market the brand more prominently. Breitling has withdrawn from 200 retail outlets, with plans to leave an additional 400 in coming years. At the same time, Kern wants to double the number of dedicated Breitling boutiques from the current 75. Besides Beijing, recent openings include Dubai and a new shop in Zurich, just off the high-end Bahnhofstrasse.
Besides its aviation roots and the star power, Breitling is pushing its active lifestyle credentials with sports partnerships that include triathletes and surfing champion Kelly Slater. Breitling watches are now available online in the U.S. and China, and its e-commerce push will expand to Europe early next year. The number of retail outlets selling the brand in China will eventually balloon to 100 from 25.
The product lineup is also getting a makeover. Kern is cutting the number of configurations and materials—known as references—to 120 from 600 to make the collection less complicated. He's also culling underperforming lines, reducing the number of series to 8 from 12, and wants to introduce higher-priced models. Breitling's typical selling point lies between $4,000 and $8,000 for a watch, putting it in direct competition with the likes of Rolex, Omega, or IWC Schaffhausen.
Kern has tied his financial fate to Breitling. When he joined, he was allowed to purchase a 5 percent stake in the company—a major reason he left the much-larger Richemont. Private equity companies typically hold on to an investment for about half a dozen years before exiting via a sale or an initial public offering. So far CVC hasn't disclosed its plans for the brand, and Kern says he doesn't know which is the preferred option. But he does know that he'll need an additional two to three years to reach what he calls cruising speed. "There are clear signs telling us the strategy works well, but we need some more time to really make it a global phenomenon," Kern says. "It still needs to mature. And it will."
To contact the editor responsible for this story: James Ellis at jellis27@bloomberg.net