Adidas Failed to Revive Reebok. Now Authentic Brands Will Try
(Bloomberg Businessweek) -- When Adidas AG announced its purchase of Reebok in 2005, it heralded the $3.8 billion deal as a "once-in-a-lifetime opportunity." With its cult following among fitness fanatics and a strong U.S. presence, Reebok stood to double Adidas's sales in the crucial North American market, where archrival Nike Inc. held a commanding lead.
But Reebok quickly turned out to be a stone in the German company's shoe. The aerobics boom from the 1980s had long fizzled and innovations like the Reebok Pump inflatable shoe proved short-lived fads. Adidas embarked on an endless restructuring effort as it tried year after year to halt Reebok's decline. By the end of 2020, patience in Herzogenaurach—a sleepy town in rural Bavaria where Adidas is based—had waned, and Chief Executive Officer Kasper Rorsted put the company up for sale again.
On Aug. 12, Authentic Brands Group Inc. snapped up Reebok for $2.5 billion, adding the sneakers with the Union Jack emblem to its hodgepodge of brands that includes fast-fashion retailer Forever 21, skateboard specialist Airwalk, outdoor outfitter Eddie Bauer, and shirtmaker Brooks Brothers.
While Adidas had recently managed to stop the bleeding thanks to strict cost control, Reebok no longer fit its strategy, particularly after Adidas had made great strides in the U.S. with its Yeezy collaboration with Kanye West and a tie-up with Beyoncé's Ivy Park athleisure line. Rorsted, a no-nonsense Dane with a turnaround track record, will now hand the returns from the sale back to shareholders, who'd long demanded action on Reebok, and focus on Adidas's core brand.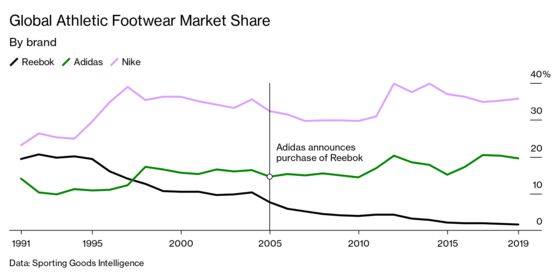 Adidas's failure to restore Reebok serves as a cautionary tale for any business trying to reignite a brand that's fallen out of favor with consumers. At the height of its success, Reebok eclipsed even Nike for several years in U.S. sneaker sales, but the boom faded as quickly as it came, no matter how hard Adidas tried to turn back the clock. That task now falls to Authentic Brands, which has made the revival of well-known yet tired brands its specialty. "There is nothing like a fresh pair of eyes, some cash, and enthusiasm to change things," says Mike Tomkins, chairman of MandM Direct Holdings Ltd., an online retailer in Europe that specializes in buying clearance stock directly from brands. "If Authentic really gets behind it and gives it their all, they can make every success of it. Unless you are stupid, no one buys a brand simply to drag it down."
The chance to tap Reebok's deep archive of classic footwear and apparel styles—from Jane Fonda's aerobics boots to Shaquille O'Neal's black-and-white bull's-eye kicks—could be a draw for retro-minded consumers. After all, niche manufacturers from Fila Holdings Corp. to Converse have resonated with both younger shoppers and their parents looking for a dose of brand nostalgia.
Tomkins says Reebok may be able to gain a real stronghold among independent sportswear retailers who are finding it increasingly difficult to compete against larger retail rivals, particularly as Nike and Adidas build a formidable presence with their network of stores and online outlets.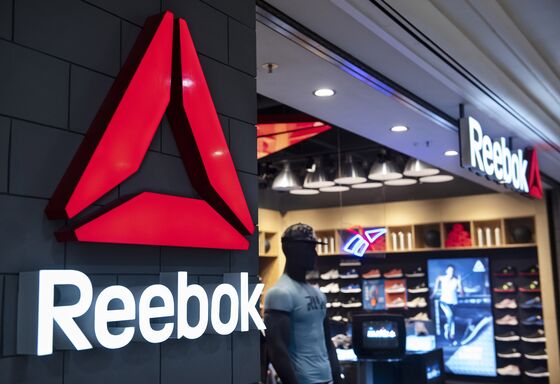 Over the years, Adidas tried to return Reebok to being a pure fitness brand whose natural habitat is the gym, abandoning team sports and celebrity athletes. It embarked on a 10-year partnership a decade ago with what was a little-known training program called CrossFit that went on to become a big hit. But the many restructurings under Adidas contributed to the brand's failure to build a clear identity. "Reebok struggled with culturally relevant partnerships and performance tech and as such has become less relevant in a fierce and naturally competitive landscape," says Joe Stubbs, vice president of global marketing at Interbrand.
The company was started in the late '50s by two English brothers, Joe and Jeff Foster, who named the business after an African antelope. With the help of American businessman Paul Fireman, Reebok gained a strong foothold in the U.S. in the late '70s. Business really took off after the company introduced the Freestyle aerobics shoe, which featured soft leather padding and two Velcro ankle straps. It quickly became Reebok's best-known model.
At first glance, Adidas looked like a good match to give a boost to Reebok. With its Salomon outdoor and TaylorMade golf divisions, Adidas had some experience running different brands under the same roof. But Reebok in particular soon laid bare a strategic conundrum: whether to allocate more resources to the smaller unit to help it expand or reserve the lion's share for the biggest business. Adidas ultimately decided to keep Reebok's focus on fitness and athleisure, even as the main brand flourished with fashion-focused labels such as Adidas Originals, the Yeezy collaboration, and Ivy Park. From 2006 to 2020, Reebok's annual sales declined 29%, to €1.4 billion ($1.6 billion), while Adidas's revenue almost tripled, to €18 billion.
"There is no doubt that Adidas knew exactly what it needed to do to grow Reebok, but doing so would have affected their own brand," says Reebok co-founder Joe Foster. "I can't say it is wrong when a company that pays $3.8 billion makes those decisions. Whoever pays the piper calls the tune."
The challenge for Authentic is whether to simply focus on the Reebok classic styles to create a more profitable niche brand or invest significantly into new styles as well as research and development to try to make a dent in the sales of its former parent and Nike. While Authentic has built its business buying tarnished brands, reviving Reebok may turn out to be a step too far, says Michael Stone, chairman of branding and licensing company Beanstalk. "It's almost not worth trying to break into it again, even with an iconic name," he says. "The shelves are full. No one's going to move over for you to move in."
 
Read next: Sneakerheads Have Turned Jordans and Yeezys Into a Bona Fide Asset Class