Australia's China Ties Fray Even as Two-Way Trade Booms
(Bloomberg Businessweek) -- As he took the podium to address Australia's Parliament in November 2014, China's President Xi Jinping lauded a relationship at an all-time high. "We are not burdened by historical problems between us, nor do we have any conflict of fundamental interests," Xi told lawmakers. He vowed the nations would be "harmonious neighbors who stick together in both good times and bad times."
Five years later, the bad times have come—and the two nations are poles apart, despite their multi-billion dollar trade relationship. A downturn in their relations tipped into a crisis in April, when Australia, a strong ally of the U.S., led international calls for China to allow investigators into Wuhan to probe the origins of the novel coronavirus, a move that badly bruised China's pride.
Now Chinese ministers are refusing to answer the phone calls of their counterparts Down Under. China is using its embassy in Canberra and state propaganda arms to accuse Australia of being a puppet of the U.S. and of not doing enough to halt racist attacks against Chinese students and tourists in Australia. It's placed crippling tariffs on Australia's barley exports and halted beef imports from four large meat plants. In April, China's ambassador to Australia, Cheng Jingye, said Chinese consumers might choose to boycott the nation's exports because of strained relations.
China's "continued coercion is partly about deterring Australia from doing future actions contrary to China's interests and partly about deterring third parties," says Darren Lim, a senior lecturer in international relations and Asia at Australian National University.
Meanwhile, the U.S. is spurning some traditional alliances under President Trump's "America First" doctrine, and U.S. leaders are distracted by the pandemic and the upcoming presidential election. So Australian Prime Minister Scott Morrison is attempting to band what he calls "like-minded" democracies—such as Japan, India, and European countries—into multilateral groupings that can act as a counter to China's expansion.
Morrison "has realized the time has come for Australia's national interests and values to be best served by allowing strategic concerns to override trade considerations," says Malcolm Davis, a former defense adviser to the government and now a senior analyst at the Australian Strategic Policy Institute in Canberra. "He knows Beijing will retaliate, but bending the knee to it isn't an option."
The Australian business community is aghast at the tit-for-tat recriminations. Australia is more dependent on China than is any other developed economy in the world. But most of the public agrees with Morrison. The annual Lowy Institute Poll, which tracks Australian views on foreign policy, last month showed 23% of Australians trust China to act responsibly in the world, down from 52% two years ago. Confidence in Xi's ability to handle global affairs has almost halved since 2018, to 22%.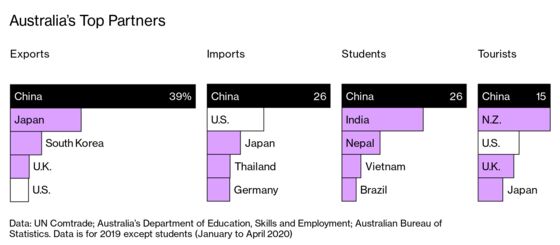 The Australian government is readjusting policy and is prepared to harden its stance against Beijing on a number of fronts: China's handling of the pandemic in its early stages, apparent breaches of its "One Country, Two Systems" pledge for Hong Kong, and further militarization of the South China Sea.
During the past couple of months, Australia has announced it will ramp up military spending and concentrate its defenses to protect its vast sea border. And it's warned that government, health, and education services and various industries were being targeted by a "sophisticated" actor conducting state-based cyberattacks. Some Australian academics have said this actor was likely China.
Last week, Australia suspended its extradition treaty with Hong Kong in response to Beijing's sweeping new security law for the territory and warned Australian citizens they risk "arbitrary" arrest in China.
The rise of China and its assertive foreign policy are matters of increasing concern to Australian leaders, with the building of military bases on disputed islands in the South China Sea and U.S.-China relations becoming heated. "China does gain a lot from commerce with Australia, and disrupting it would impose major costs on the Chinese economy," Lim says. "But if the political imperative to be aggressive is there, then that economic logic may get blown away."
Australia's decision in 2017 not to ratify an extradition treaty with China can be seen as the start of the present decline; it was certainly viewed as an affront by the Chinese, coming immediately after the visit of Premier Li Keqiang. Since then, political and diplomatic ties have deteriorated, especially after Australia's 2018 decision to ban Huawei Technologies Co. from participating in its 5G network and the passage of anti-foreign-interference laws.
Even so, there has been a steady increase in trade and investment. Australian exports to China have risen every year since 2016. That means greater dependence on the Chinese market, which took more than 38% of Australian exports in 2019, up from about 22% a decade before.
More than 90% of respondents in the Lowy poll said they wanted the government to seek other markets for exports. But that task has been complicated by the pandemic—a world hit by recession is less likely to pay more for Australian goods, and that strengthens Beijing's hand.
Australia views the threat of trade retaliation as China following its playbook against nations it squabbles with, as it did in 2017 with South Korea and in 2012 with Japan. As in those cases and others, there's no direct evidence that China is using customs rules or domestic regulations to limit trade and business to punish actions it doesn't like.
Chinese consumers aren't boycotting Australian goods. In fact, beef exports to China have risen so fast this year that they hit the safeguard level at which higher tariffs are imposed two months earlier than in 2019. Although there was speculation in May that China was limiting Australian coal imports as punishment, it now seems China has imposed broader import restrictions to protect domestic miners.
The boycott threat is mainly psychological and only works if Australia feels vulnerable. But Morrison and his ministers seem to be waiting for China to lower the temperature so a new "settling point" in the relationship can be found.
The Australian government knows the country's relationship with China has changed permanently. "I don't think anyone in the strategic-policy community in Australia really believes this is going to get any better," says Davis of the Australian Strategic Policy Institute. "China is a rising, assertive, would-be hegemon that's seeking to overturn the world order. Australia has now realized it has to do its bit to stop that from happening."