Australia Is About to Elect a Labor Government
(Bloomberg Businessweek) -- Just over a week after Australia seized the crown for the developed world's longest stretch of uninterrupted economic growth, tens of thousands of protesters poured onto the streets to rage against their deteriorating living standards. "Workers and their families are angry," said trade union boss Michele O'Neil as up to 170,000 people clogged some of Melbourne's busiest streets on April 10. Chants and banners demanded wage growth, and O'Neil was clear on who was to blame: "We are going to fight to get rid of this rotten government," she said to applause.
That boast is far from hollow. Opinion polls show the trade union-affiliated Labor Party on track for a comfortable election victory on May 18 over Prime Minister Scott Morrison's center-right Liberal National Coalition government. Such an outcome would result in a sharp leftward political shift just as the nation's almost 28-year growth streak runs into a soft patch.
Labor, led by former union boss Bill Shorten, is offering an ambitious program of tax cuts, rebates, and social spending increases targeted to lower-income voters. It also plans to raise the minimum wage and boost wages for working on holidays and weekends. While this might give growth a short-term lift, it would also make the already high-cost country an even more expensive place to do business.
It's also coming at a time when household spending—which makes up almost 60 percent of gross domestic product—is looking sickly in the midst of a real estate downturn. "With a housing market that is already weakening quite substantially, I think there is a view that a number of Labor's measures will be negative for the economy at a time when clearly growth is already disappointing and underwhelming," says Su-Lin Ong, head of Australian economic and fixed-income strategy at Royal Bank of Canada in Sydney and a former Treasury official.
Powered by Chinese demand for resources, rapid population growth, and a homebuying binge that's made Australians among the world's most indebted people, the economy kept growing as other developed nations grappled with recessions. Yet there's been a toll politically, with neither major party managing to sustain significant economic reform amid unprecedented leadership instability. Government attempts to liberalize industrial laws, reduce carbon emissions, and tax mining super-profits all failed to survive. If elected, Shorten would be the eighth prime minister in 12 years.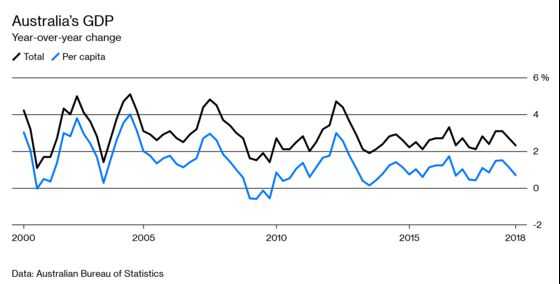 The last time Australia voted in a Labor government was 2007. There had been just four prime ministers in the preceding 32 years, the budget was in substantial surplus, net government debt was zero, interest rates were at 6.75 percent, GDP growth was running as high as 4.5 percent annually, and wages were growing at about 4 percent. Today the budget is forecast to squeak back into the black after more than a decade of deficits, net debt is 18 percent of GDP, and economic and wage growth have both slowed to 2.3 percent. On a per capita basis, Australia's GDP growth streak looks a lot less impressive, making it tough for the government to claim credit for low unemployment and boosting the appeal of Shorten's populist pledges to deliver fatter pay packets.
Shorten has laid out the most ambitious policy program by an opposition-seeking government in a generation. Along with tax cuts and wage increases, it includes an aggressive green energy plan and closes tax breaks for stock market and real estate investors. His bet is that the wealthy will lean toward voting for the conservative government no matter what he does, so there's not much to lose by raising their taxes to fund breaks aimed at less well-off and younger voters.
Shorten's prospects are benefiting from the infighting, scandals, and leadership instability in the ruling conservative party, which dumped right-wing hard man Tony Abbott for urbane millionaire Malcolm Turnbull, only to then oust him for the plain-speaking and proudly suburban Scott Morrison. The government is promising little more than a broad tax cut and sound fiscal management.
It's a reversal of the traditional campaign, where the opposition tries to offer a small target and the government announces a more ambitious agenda using the benefits of incumbency to sell it. Now Labor is the one announcing bold policy changes, and Morrison is keeping things tight, warning voters they're better off staying with the devil they know. It's a strategy that's proved successful in the past. The last time an opposition took such a reformist agenda to the electorate—in the so-called unlosable election of 1993—the Paul Keating-led Labor government reversed an early poll disadvantage to hold on to government by savaging the proposals.
To raise living standards and prolong its economic growth streak, Australia needs structural changes, says Ross Garnaut, one of the architects of the economic reforms—such as floating the currency and deregulating the finance industry in the 1980s—that helped set up Australia's golden era. Garnaut warned in a recent discussion that monopolies and rent-seeking have expanded, "feeding back into the political system as vested interests' dominance over the public interest in policymaking." He's suggesting a corporate tax system that's tougher on industries that face less competition and easier on highly competitive ones, as well as a greenhouse gas reduction program and investment in clean energy to allow Australia to benefit from its natural advantages. "Australia is in trouble," Garnaut said, as it has "allowed internal imbalances to grow in ways that will make it difficult to face up to shocks as they arise."
If Shorten can keep his party's lead for a few more weeks, we'll see whether the looming left turn delivers such a shock or a shot in the arm to the world-beating Australian economy.
To contact the editor responsible for this story: Malcolm Scott at mscott23@bloomberg.net, Cristina LindbladNasreen Seria