Australia Braces for Life After Covid Zero
(Bloomberg Businessweek) -- Like many in Australia, Maherau Arona saw the coronavirus as a distant threat, at worst, long after it became a daily reality in most of the world. Following a month and a half of lockdown, the Sydney suburb where the 53-year-old social worker lives returned mostly to normal in May 2020. Protected by a hermetically sealed border, people there and in the rest of the country lived for the next year largely as they had before Covid-19. They could holiday on the beaches of Byron Bay and Noosa, pack into pubs and cafes, and even see Hamilton onstage. Few were in a hurry to get vaccinated, and the national government, led by Prime Minister Scott Morrison, didn't seem to view distributing shots as urgent. While there were some setbacks, including a surge of cases that threw Melbourne into a lengthy second lockdown, Australians essentially skipped the trauma that was transforming societies elsewhere.
But when the delta variant arrived in June—first spread, apparently, by a limousine driver who transported overseas air crews—the fragility of this normal life suddenly became clear. The government of New South Wales, the state of which Sydney is the capital, imposed sweeping restrictions on movement, while other states rushed to close their domestic borders, implementing snap lockdowns. With the virus racing across Sydney's western suburbs, a vast sprawl that's home to many working-class immigrants, people were largely forbidden from leaving their residences. But in New South Wales and in neighboring Victoria, where similar containment measures failed to halt a growing delta outbreak, the number of cases and deaths kept rising.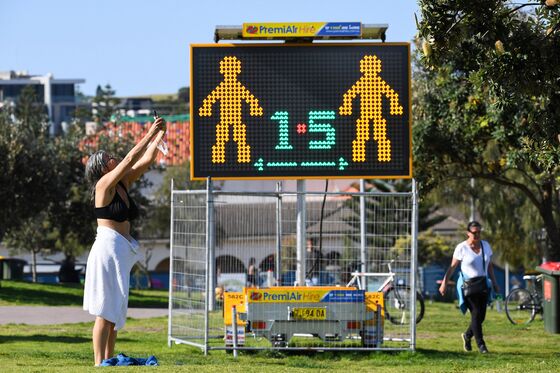 Arona lives in Penrith, not far from Sydney's worst-affected areas. Gradually, she began to hear of friends and acquaintances getting sick. In early September her nephew, who's in his early 40s and hadn't yet received his second dose of the Pfizer-BioNTech vaccine, became one of them. He worked in a warehouse and had had to continue going in while much of the city stayed home. Several days after being diagnosed, he was taken to the hospital in an ambulance. There, doctors put him into an induced coma; his relatives called into his intensive-care room by video, hoping he could hear them. After five weeks in the ICU, he's now slowly recovering. What happened to him "really broke me," Arona says. "I don't think we realized the reality of it, the impact that it would have on our community."
As the world prepares for a third year battling the coronavirus, many Australians are gaining a direct understanding of something that's been apparent elsewhere for a long time: Covid is here to stay, and societies that thought they could keep it out are going to have to live with it, too. In August, Morrison reversed his government's previous policy of seeking to eradicate the virus, conceding that suppression efforts are futile and, with high enough vaccination rates, much less necessary. With more people receiving shots, Sydney and Melbourne have ended their monthslong lockdowns, and Morrison is pushing state governments to scrap domestic border closures. One of the most contentious national measures, a near-total ban on foreign travel of any kind, will be lifted in November. New South Wales will soon end all quarantine restrictions for vaccinated travelers—a dramatic reversal of some of the world's harshest border policies.
Australia, in other words, is slowly ending its lengthy, real-life experiment in epidemiological exceptionalism, renouncing a "Covid-zero" philosophy that almost no governments now view as realistic—and acknowledging that vaccination is the only reliable way to mitigate the disease. (Among major economies, China is the final holdout.)
But in the Lucky Country, as Australia is sometimes called, the new normal is far from universally welcome. Unlike the failed containment efforts in most other places, its hard-line policies undoubtedly saved thousands of lives. As of late October only about 1,600 people had died from Covid—just over the average daily death toll in the U.S. In beach-lined Queensland and mineral-rich Western Australia, which have almost no local transmission, the figures are in the single digits. For the citizens of those states, home to about 30% of the national population and the third- and fourth-largest cities, Brisbane and Perth, "living with the virus" as an endemic disease isn't a path toward ending an emergency. Rather, it's a substantial downgrade from living without the virus. Not surprisingly, the premiers of Queensland and Western Australia have been slow to provide firm timelines for opening their borders to the rest of the continent, let alone for going along with plans to resume international travel. It may soon be easier for someone from Sydney to take a trip to London than to parts of her own country.
The experiences of the small number of other societies, mostly in Asia, that are trying to shift from an elimination model to something more sustainable don't offer any ready templates. Highly vaccinated Singapore, for example, serves as a cautionary tale, with authorities forced to revive social distancing rules after hospital admissions surged just weeks into a long-planned reopening.
Australian attitudes toward accepting Covid as a permanent, sometimes fatal reality remain mixed. In a poll published shortly after Morrison unveiled his policy U-turn, more than 60% of respondents said the number of Covid deaths they viewed as "acceptable to live with" was less than 100 a year—far fewer than the likely toll even after vaccination rates reach high levels. That leaves Australia's leaders grappling with a pair of challenges that are nearly unique in the Western world: finding a responsible way to let the virus wash through a population with almost no previous exposure to it, and convincing the public that the benefits will outweigh the human costs. Neither task is enviable, but at this point they don't have much choice.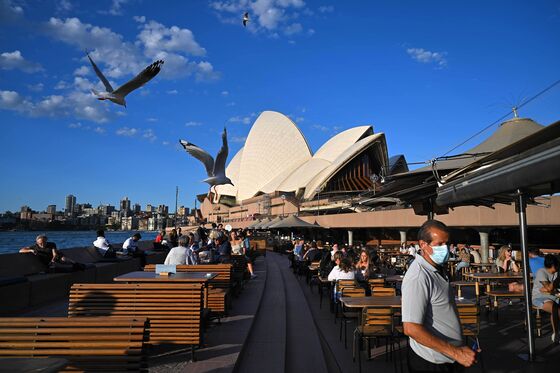 Australia's initial instincts for dealing with Covid had deep historical roots. At the beginning of the 1918 influenza pandemic, its first response was to require strict quarantines for arriving ships. (It didn't work—cases soon appeared in Melbourne and spread throughout the continent.) Sydney maintained an active maritime quarantine station until 1984, with the passengers and crew of vessels suspected of carrying disease offloaded into an isolated barracks complex. Sealing the country against perceived foreign threats remains a defining political issue. Prime ministers of both major parties—Morrison's center-right Liberals and center-left Labor—have sustained draconian policies aimed at deterring illegal immigration by sea, detaining asylum-seekers and confining them to camps in Nauru or Papua New Guinea.
When Covid emerged in Wuhan, Morrison's government acted quickly, announcing a ban on arrivals from China at the beginning of February 2020. That was followed in mid-March by a comprehensive border closure, with nonresidents barred completely from entering. The restrictions were harsh even by the standards of other places attempting to keep the virus out at any cost, which by then included Hong Kong, New Zealand, and Taiwan. Australia put hard caps on the number of people permitted to enter its quarantine system each week, and thousands of citizens were told they'd have to wait, potentially for months, before they could book one of the few seats airlines were allowed to sell on inbound flights. Still more unusual, the rules also prevented departures, a stricture more typical of the Warsaw Pact than of a liberal democracy. To receive permission to go overseas, would-be travelers needed to demonstrate they had a compelling reason, submitting documents such as job offer letters or death certificates as proof. The ban was later expanded to include even Australians who normally live abroad; if they happened to be in the country, they would be turned away at the airport if they didn't have permission to leave.
Modern Australia is a nation of immigrants, with almost 30% of the population born in Asia, the Middle East, the Pacific islands, and elsewhere. Millions were cut off from relatives, business opportunities, and educational plans. But Morrison could point to concrete benefits, particularly in contrast to the horrifying scenes unfolding elsewhere. By the middle of last year, most of his voting public was enjoying a level of day-to-day normalcy unimaginable in the U.S. or the U.K. before large-scale vaccination. The health system was never really tested, let alone overrun. For many, the notion that they or an immediate family member might succumb to Covid was almost inconceivable. Australians were also experiencing considerably less economic pain than most. Consumer spending recovered quickly with the end of lockdowns, not least because everyone was taking holidays within the country instead of jetting to Bali or Thailand, and gross domestic product declined just 0.3% in 2020. The U.K., by contrast, suffered an almost 10% slump.
Popular support for Australia's uncompromising philosophy was soon overwhelming, with politicians of all major parties calling for travel bans to be maintained or expanded. Almost no public figure dared suggest that, in the long run, the country would need to reevaluate its approach. In May of this year, Jayne Hrdlicka, chief executive officer of the airline Virgin Australia, told an audience something that, by then, was plainly obvious: The borders couldn't stay closed indefinitely, and when they opened, "some people may die." The reaction was swift and furious. One senator called her comments "extraordinarily offensive," while Morrison said he found it "very difficult to have any truck" with Hrdlicka's view. "I'm not going to take risks with Australians' lives," he declared sternly.
That commitment to preventing Covid deaths did not, however, extend to acquiring a large portfolio of vaccines. Australia waited until November 2020 to conclude a deal with Pfizer Inc., several months after other countries signed major orders with the company, and secured just 10 million doses of its vaccine, barely enough to cover the adult population of Queensland. Instead, it bet heavily on AstraZeneca Plc (which it favored in part because the company was willing to have its shot manufactured in Melbourne) and on a domestic vaccine that was still in development.
It's fair to call the strategy a disaster. The Australian formula, being developed at the University of Queensland, never made it out of clinical trials; the antibody response it elicited in some volunteers appeared to produce false positives on HIV tests, which would have provided a golden opportunity for anti-vaxxers to claim it caused AIDS. And well-publicized, though rare, problems with blood clots made many Australians reluctant to receive the AstraZeneca shot, with the government ultimately recommending it only for recipients age 60 or older. "You don't have to be a public policy genius or a wizard economist to know that you shouldn't put all your eggs in one basket," says Malcolm Turnbull, a former Liberal prime minister and an outspoken critic of the vaccination strategy. The result was "a shambles. It was an absolute own goal."
With such scarce supplies, Australia had administered just 3 doses for every 100 people by the end of March, compared with 17 in Germany and 52 in Britain. Morrison and his subordinates were unperturbed, however. That month, with Australia recording fewer than 15 positive Covid tests each day and no deaths, the senior bureaucrat in the federal health department, Brendan Murphy, explained that vaccination was "not a race," a phrase Morrison soon adopted. "We're not like the U.S. or U.K. or most other countries in the world, where they've got people in hospital dying," Murphy said.
Just a few months later, Australia had exactly that—and almost all the patients were unvaccinated. As in other countries, the most severe impacts were in poorer areas, where residents were likelier to have chronic health conditions, jobs that couldn't be done from home, and cramped housing arrangements. That described parts of western Sydney, where some of the strictest lockdown measures in the democratic world, including a 9 p.m. curfew and A$3,000 ($2,250) on-the-spot fines for anyone caught exercising outside with more than one other person, failed to stop rising cases and deaths. It was also true in some rural communities, particularly those populated by Aboriginal Australians, who by one estimate are being infected at twice the rate of the broader population.
The virus's spread highlighted divides that some foreigners might assume don't exist in one of the world's most prosperous, peaceable societies. At least on the surface, lockdowns didn't appear to cause great distress in Sydney's affluent, predominantly White eastern half, where people thronged beaches and jogging paths. In the west, police and soldiers patrolled the streets, ensuring that anyone who didn't have an approved reason for leaving, such as work or a medical appointment, remained at home. "The common image of a true Australian is blond hair, blue eyes, hanging out on the beach, happy-go-lucky," says Jioji Ravulo, a professor of social work at the University of Sydney who's been working to promote vaccination in Pacific communities, which Covid has disproportionately affected. "But that's not the reality for a large number of people who live here."
 
In February 2020, before most countries outside China had reported more than a handful of coronavirus cases, Jamal Rifi went to a local hardware store to buy an oversize plastic tent. A general practitioner in Belmore, about 7 miles from the center of Sydney, Rifi was convinced that even with border restrictions, Covid would become a serious problem. Rifi called over staff from his medical practice, which is immediately next door to his red-brick house, to help him put up the structure in his driveway. Soon they were operating a testing clinic.
When vaccines became available, Rifi took a similarly proactive approach, turning the parking lot of his office into a vaccination center. Then he set up two more, at an old lawn-bowling club and a rugby pitch. Rifi, who's originally from Lebanon, tried to make the facilities welcoming to the broadest possible population. On the booking system, vaccine appointment slots identify the languages spoken by the available doctor, with Arabic, Persian, Turkish, Italian, and even Turkmen as options.
In the early days of the delta outbreak, it was sometimes difficult for Rifi and his colleagues to persuade their patients to take the virus seriously. "We had too many people dying at home," he says, "because they refrained from calling the hospital, because they didn't want to be isolated, or they underestimated the ferocity of this virus." One effect of the belated realization that Covid is real and is killing people in Australia has been surging demand for vaccines, of which there are finally ample supplies. The federal government has made several deals to secure more Pfizer shots and has also begun to roll out injections from Moderna Inc. At Rifi's clinics it took five months to administer the first 10,000 doses, while the next 15,000 took only six weeks.
Nationally, about 74% of the population has now received at least one dose, according to the Bloomberg Covid-19 Vaccine Tracker. That's more than in the U.S. and not far behind the most vaccinated countries in Europe. New South Wales has fully vaccinated more than 80% of its adult population, with Victoria not far behind, triggering the broad removal of social distancing restrictions in both places. States are also gradually imposing mandates that could push the total to 90% or more. In Victoria, which includes Melbourne, the groups that now have to receive shots include lawyers, actors, and retail staff—requirements Premier Daniel Andrews said were essential to "get our freedom back." The pandemic plan for New South Wales, where the mandates cover employees at swimming pools, nail salons, restaurants, and cinemas, among many other businesses, uses similar language, calling vaccines "our ticket to freedom."
While there's no question the vaccines will be highly effective in preventing severe disease and death, politicians might be wise to temper expectations at least in the short term, if events elsewhere are anything to go by. Like Australia, Singapore took a virtually zero-tolerance approach to Covid for most of the pandemic, augmented by one of the world's most successful vaccination campaigns. Yet when the island nation embarked on a multistage reopening plan in August, the number of infections jumped more quickly than expected. Although the vast majority were mild or asymptomatic, the rising volume of severe cases put enough pressure on the hospital system that the following month the government reimposed some of the rules it had just lifted. Switching from Covid zero to living with the virus is more easily said than done.
 
As Covid becomes a part of everyday life in Australia, the burden of care is falling to people like Brian Burns, an emergency room physician who practices in Sydney's idyllic Northern Beaches. Since late September, Burns has been part of a medical team working four-day rotations in Dubbo, a country town on the edge of the vast outback of western New South Wales. They're on call at the local airport from 10 a.m. to 10 p.m. When someone needs specialized treatment, the doctor on duty climbs into the cabin of an AgustaWestland helicopter, along with a pilot, crew person, and paramedic. On board they keep drugs, oxygen supplies, a stretcher, and a small ventilator—a piece of equipment many rural hospitals don't have, often because local staff aren't trained to operate one. Soon they're roaring over the burnt-orange plains at 130 knots, bound for some of Australia's most isolated places.
Unlike the doctors who had to learn in real time early in the pandemic how to treat severe Covid, Burns and his colleagues aren't flying blind. They know, for example, that unvaccinated patients can deteriorate with shocking rapidity and arrive at the hospital in near-critical condition. "There are some people at home who know they have Covid, or think they may have Covid, and they get sicker and sicker," Burns explains in an interview from a Dubbo hangar, "and for various reasons don't make contact with the health system, because of their living arrangements or their working arrangements or fear of involving the government." Some of the worst cases are among Aboriginal people, who are on average much poorer than non-Indigenous Australians and have worse health outcomes well beyond Covid, as well as significantly lower vaccination rates.
The team can generally arrive within a couple of hours. "We're bringing intensive-care-level support," Burns says. On the ground, "we can anesthetize them, put a tube in, put them on a ventilator, give them all kinds of drugs, and then bring them back." Some are taken to a larger regional hospital, while others go all the way to Sydney. The goal is to keep any one facility from being overwhelmed, a challenge Australia didn't have to grapple with early in the pandemic.
As the country shifts away from lockdowns and border closures, it will be critical to ensure that hospitals can handle many more severely ill Covid patients without compromising their ability to treat other serious conditions. Since only a small percentage of the population has ever been exposed to the virus, the number of cases "will go through the roof" as restrictions fall away, Gladys Berejiklian, the then-premier of New South Wales, said in September.
Like in Singapore, most will be nothing to worry about—asymptomatic or mild infections in the vaccinated. But between the still-significant number of unvaccinated citizens and of vaccinated people who are very old, very sick, or both, the surge could swamp ICUs. In 2019, according to the Organization for Economic Cooperation and Development, Australia had 9.4 intensive-care beds for every 100,000 people, slightly more than Italy and Norway but fewer than half the number in the U.S. and Germany. While hospitals have attempted to add resources, it's not clear whether the efforts have paid off. A study released in October, which drew on a survey of every ICU-equipped hospital in the country, estimated that the number of staffed intensive-care beds had actually declined since the start of the pandemic, and that much of the theoretical "surge" capacity couldn't be delivered because of a shortage of nurses. In her September remarks, Berejiklian acknowledged that the initial reopening phase could be ugly. "We are going to see things we've never seen before in our hospital system," she warned.
The parts of Australia that have managed to keep the virus out are in no hurry to trigger a similar experience. The country's loose federation gives states wide latitude over both health policy and law enforcement, so when they open their borders is largely up to them. Not long after Berejiklian's comments, Yvette D'Ath, the health minister for Queensland, said hospital demand was "at peak already" because of the routine demands of an aging population. That leaves little room for Covid cases, of which the state currently has almost none. In Western Australia, which also remains virtually Covid-free, hospitals recently postponed hundreds of elective surgeries because of understaffing. The restrictions put in place to protect the two states' health systems have created surreal scenes, including police checkpoints at boundaries once marked only by signs. In September some families celebrated Australia's Father's Day from opposite sides of plastic dividers separating Queensland from New South Wales, parts of which are so economically integrated that the runway of a major airport begins in one and ends in the other.
Those barriers, at least, could soon be dismantled: After sustained pressure from Morrison, Queensland laid out a phased reopening plan on Oct. 18, which calls for allowing quarantine-free domestic travel with some testing requirements once 80% of eligible state residents are vaccinated. Unrestricted international travel would follow only after the rate hits 90%. By contrast, the premier of Western Australia, Mark McGowan, has refused to lay out clear criteria or a timeline for reconnecting with the rest of the country or the world. After Morrison's deputy, Barnaby Joyce, compared McGowan's approach to building a "hermit kingdom on the west coast," the premier was quick to note that unlike most of their compatriots, his constituents were living as they did in 2019. "Anyone paying any attention at all would appreciate the remarkable quality of life we're able to enjoy here," he said in a Facebook post. Western Australia would open up to "Covid-infected states," he said, only when "it's safe to do so."
 
That the coronavirus is on its way to becoming endemic globally, circulating routinely and indefinitely just as malaria and HIV do, is now obvious. What isn't clear, and won't be for some time, is how harmful it's likely to be once the current pandemic is over and a substantial proportion of humanity has developed immunity, whether through vaccination or infection.
Lessons could be drawn from one of the four known endemic human coronaviruses, OC43, which was first identified in the 1960s and is the culprit in some common colds. While its precise origins have never been established, some researchers have suggested it may have crossed from livestock to humans as the "Russian flu," a disease that spread from Central Asia in the late 19th century and killed as many as a million people. If that hypothesis is correct, then at some point in the following decades OC43 lost its punch, becoming a virus that humans' immune systems can mostly handle. How much death and disablement it might have caused in the interim is, of course, impossible to know.
In a different outcome, the coronavirus could become more like the pathogens that cause influenza. That would be good news from one perspective: Seasonal flu can be fatal in the old and infirm, but it's a problem governments and health systems are generally able to manage. It certainly doesn't provoke border shutdowns, school closures, and suspensions of civil liberties, as Covid has. From another perspective it would be more worrisome, still posing a mortal threat to some part of the population and potentially adding to the burden on hospitals, which can already struggle to keep up when flu is widespread. Few doctors would relish the idea of another flu-like disease filling up their waiting rooms every winter.
In July the Grattan Institute, a public policy think tank in Melbourne, modeled several potential outcomes of Australia's reopening on the basis of vaccination rates. Its report estimated that with 80% of the population fully vaccinated, Covid might kill between 2,000 and 3,000 people in the first year after restrictions are lifted. While that figure wouldn't be wildly out of step with what can happen in a bad flu season, it would significantly exceed the total number of Australian Covid fatalities since the beginning of the pandemic. "There's really low appetite for deaths," says Anika Stobart, one of the study's authors. "Given our experience with Covid to date, people just don't want to see any."
After the failure of its efforts to prevent the virus from reaching its shores, Australia has no choice but to join the rest of the world in learning, firsthand, how to make the transition from pandemic to endemic. Unlike the U.S. or the U.K., never mind India or South America, it has the luxury of doing so with high levels of vaccination. Compared with what those places experienced, even its worst-case scenarios will be mild. But the shift is still unlikely to be easy. "There's no particular reason why this virus should suddenly become much less lethal," says Michael Baker, a professor of public health at the University of Otago in New Zealand and an architect of that country's Covid-zero policies. "In a population where immunity is established with vaccination and boosted with periodic exposure, we're still seeing that play out," he adds. "It's very hard to know what that equilibrium will look like. It may take years to figure out."
 
Read next: Harvard Immunologist Champions At-Home Covid Tests to Beat the Pandemic