These Goggles Act Like Surgical X-Ray Specs
(Bloomberg Businessweek) -- Augmedics' surgical "X-ray specs" are really an augmented-reality headset that superimposes CT scans and other images over a patient's body, helping surgeons map an operation without looking away.
Nissan Elimelech
Age: 41
Chief executive officer and founder of Augmedics, a 17-employee startup in Yoqneam, Israel
While working as a sales rep for Medtronic Plc, Elimelech, a biomedical engineer by training, saw the need for a surgical navigation system that doctors could use while keeping their eyes on the patient. He founded Augmedics to develop Xvision in 2014, aided by display maker Lumus Ltd.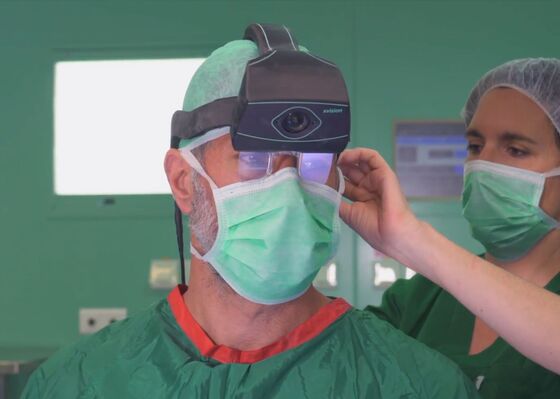 Augmedics has raised $9 million from investors including Terra Venture Partners and AO Invest AG.
Elimelech says Augmedics plans to sell Xvision to hospitals at prices comparable to conventional surgical navigation systems, about $200,000 to $300,000.
① A surgeon places a reference marker on a patient before performing a 3D scan, then loads the images into the system's workstation. The surgeon puts on the Xvision headset, which contains two eyeglasslike displays, a processor, and an infrared camera.
② The system uses the reference marker to align the images, giving the surgeon the illusion of peering into the patient's body. Separate markers attached to the handles of surgical instruments help update the AR view in real time, enabling images representing the instruments inside the patient.
Clinical trials are under way in Israel, and Elimelech says he expects the U.S. Food and Drug Administration to clear Xvision for spinal surgery in early 2019.
To contact the editor responsible for this story: Jeff Muskus at jmuskus@bloomberg.net, Eric Gelman