Biden Ends Trump's 'Remain in Mexico' Rule, and a Border Camp Empties
(Bloomberg Businessweek) -- For 10 months, Francisco Caal lived with hundreds of other asylum seekers in a tent city across the Rio Grande from Brownsville, Texas, forced by former President Donald Trump to wait there for the U.S. government to decide his fate.
He'd fled Guatemala with his wife, Jeannethe Trujillo, he says, after he endured death threats and a bullet in the gut, the couple fearing for their lives. But when they reached the U.S. border and asked for asylum, immigration agents turned them back because of the Trump administration's 2019 "Remain in Mexico" policy for asylum seekers. They waited and worried in a squalid limbo, spending their days inside a home made from ragged tarps lashed to the camp's chain-link fence, all with a view of U.S. soil, just 70 feet away.
They prayed that Covid wouldn't get them before they were allowed to cross to "the other side," as the camp dwellers, who came from Central America, Cuba, Venezuela, and Haiti, call America. "We just put ourselves in God's hands," Caal, 52, said on Feb. 24, sitting on a log inside the makeshift home as his wife cooked some black beans over their little fire pit.
On Thursday, Feb. 25, a month after President Joe Biden ordered an end to Remain in Mexico, aid workers told Caal and Trujillo to report to a United Nations clinic in the camp for a Covid test and be ready to move. A few hours later, they were among the first 27 people allowed to cross the Gateway International Bridge to Brownsville. About 300 have followed, or almost half the camp's population, according to United Nations agencies coordinating the effort in Mexico.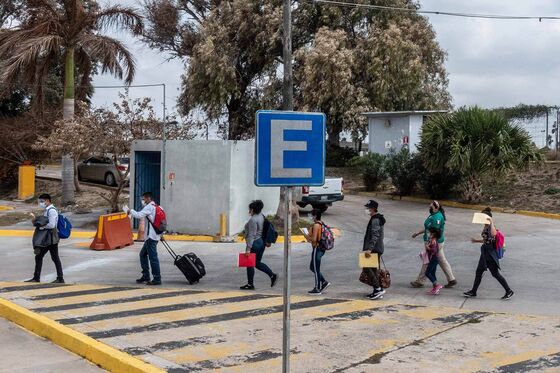 There were about 700 people in the Matamoros camp before the U.S. started admitting them. At the current rate of crossings, the camp could be cleared out in days. Any decision to close it will be made by Mexican authorities. 
Emptying the camp in Matamoros would eliminate a symbol of Trump's immigration crackdown and count as an early success for Biden, who aims to undo his predecessor's most draconian anti-immigrant policies. The move comes as the new administration prepares for a battle to pass a sweeping immigration reform bill and as it draws criticism for reopening a Trump-era shelter for migrant children in Texas.
Meanwhile, the number of migrants crossing the southern border is surging. Border agents have detained 70,000 people illegally crossing per month since October, a sharp increase from a year ago.
The camp is a disturbing byproduct of Trump's push to slash the number of people given asylum in the U.S. After Trump took office, border agents cut the daily number of people allowed to cross the Rio Grande to ask for asylum, so immigrants slept on the bridge to keep their place in line. After Trump imposed Remain in Mexico—known officially as the Migrant Protection Protocols, or MPP—in January 2019, the line got longer. Asylum seekers flooded in from Central America, Cuba, and beyond, so they camped around the bridge, turning the Mexican side of the border into a tent city teeming with thousands of men, women, and children. They often had to wait months for a hearing in the U.S., and when the pandemic arrived, the Trump administration suspended all hearings.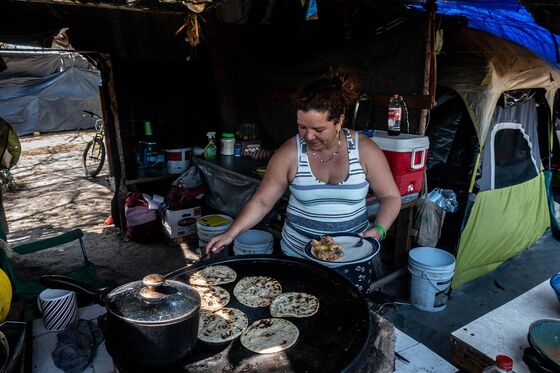 Helen Perry, a former Army nurse who's executive director of the aid group Global Response Management, or GRM, was shocked when she first visited the camp in September 2019. Perry had spent years working in medical clinics in war-ravaged places like Iraq. "This was worse than anything I'd seen," she says. There were no bathroom or medical facilities. Children suffered from eye and skin infections and intestinal maladies, caused by the raw sewage running through the camp and into the Rio Grande, where they liked to bathe and play.
Soon she made the camp GRM's biggest operation, with services like toilets, hand-washing stations, and clean drinking water, and a clinic that could provide ultrasounds, EKGs, and oxygen treatment. In February 2020, Perry and her project coordinator at the camp, former Army Ranger and combat medic Sam Bishop, grew alarmed as Covid spread west from China and Europe. "We were all anticipating essentially a bloodbath in the camp," Bishop says.
Perry had received an article about battlefield sanitation in 1919—coinciding with the Spanish flu pandemic—from a medical historian she knew in London. The article described simple practices for heading off disease outbreak: hand washing, good air circulation, spacing out cots, and isolating the sick. "I figured if this helped during the Spanish flu pandemic, it might be applicable for Covid," says Perry. She and Bishop applied the practices to the camp and built an isolation ward for Covid patients, expecting a surge of cases.
Ornelia Alonso, one of the first to arrive in the camp almost two years ago, was terrified that the coronavirus would sweep through the place, sickening and killing people by the hundreds. Alonso, 62, who's seeking asylum for alleged political persecution in her native Cuba, followed the doctors' simple advice. She wore face masks, washed her hands a lot, and tried to keep her distance from people.
Remarkably, the camp didn't have a single Covid case until June, and it still hasn't had a case serious enough to warrant hospitalization. Of 1,800 people tested for Covid antibodies, about 250 were positive—suggesting they'd had the virus but never got too sick. "It's like we miraculously developed some kind of herd immunity," says Alonso, who traversed 11 countries by plane, boat, bus, and foot to get to America, by her account, only to have to wait indefinitely 70 feet from the border.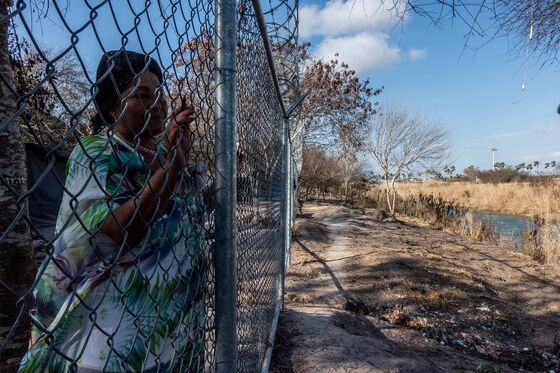 Biden may be bringing an end to the traumatic limbo these asylum seekers have endured for almost 18 months. But there's still a long way to go. There are about 25,000 more people in the Remain in Mexico program, with a few thousand spread across the length of the U.S. border with Mexico. (Many of them don't live in camps, having found housing in border towns or returned to their countries of origin.) Since Feb. 19, the U.S. government has processed more than 700 people entering from Tijuana, Ciudad Juarez, and Matamoros. 
Not all of the migrants at Matamoros are actively registered in MPP. Some have inactive status and others aren't part of the program. The Department of Homeland Security said in a statement on Feb. 24 that the agency "will work in partnership with the Government of Mexico, and partners on the ground, to facilitate the safe processing of current camp residents who qualify for [MPP]. New arrivals to the Matamoros camp will not gain entry into the United States through this limited process." 
Those enrolled in MPP can register on a new UN website and will be told where and when to show up for Covid testing and processing. DHS, stressing that the border is closed, has instructed people not to approach unless they are summoned as it winds down the MPP program. It's not clear how the U.S. will handle people who come to the U.S.-Mexico border in the future intent on seeking asylum. 
In the meantime, those departing Matamoros make the short walk in groups across the bridge to the U.S. From there, they get onto buses and are driven a few blocks to the Brownsville bus station. They have a chance to speak with an attorney, and volunteers with church and activist groups are on hand to help them, says Cindy Andrade Johnson, a Brownsville resident and volunteer. Some immediately head to where their sponsors live. Johnson says organizations including her church and community members have raised money to help pay for transportation and hotel rooms for those who must wait to travel on. 
"I am seeing overjoyed people with hope for great futures, but they are worried and there is a little anxiety," she said on Feb. 27 in Brownsville, waiting for the day's first group of asylum seekers to cross over.  
For Francisco Caal, at least, the stress and fear of living in limbo is ending. Ornelia Alonso can say the same: She was also part of the first group to be allowed into the U.S. Now they face more uncertainty as they wait for a court date to go before a federal immigration judge to argue their case for asylum. The judge could tell them no; he or she could order them deported back to the danger they faced at home. 
Caal wasn't thinking much about all that as he and Trujillo sat inside the bus station in Brownsville after walking into America. They were headed to La Grange, Kentucky, where Trujillo's brother lives and will take them in. He had no idea where life would take them in America. But he wasn't too worried.