The $180,000 DBX SUV Is Aston Martin's Road Map Out of Limbo
(Bloomberg Businessweek) -- In some ways, those intending to buy the $180,000 Aston Martin DBX SUV are more fortunate than those who paid the $682,000 deposit required for its $3 million Valkyrie.
For one, DBX owners have already started receiving their vehicles, far sooner than folks who signed up for the Valkyrie. Aston Martin has yet to deliver even one of the supercars, which it introduced in 2017, though it says shipments may start later this year. There are other things to love about the DBX as well: distinctive exterior styling that takes cues from the elegant Vantage; quality interior materials and technologies on par with Audi, BMW, and Porsche; and the manufacturer's promise that other powerful variants are still to come.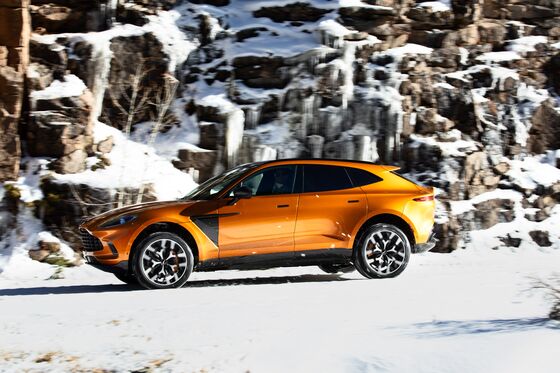 The company has placed its future stability on the broad shoulders of the DBX, its first SUV. Aston is one of the last heritage luxury brands to release one. Last year, pickup trucks and SUVs accounted for almost 80% of all vehicle sales in North America; that number is expected to rise in 2021 and beyond.
By 2023, Stroll says, Aston will be selling 14,000 vehicles a year, double its output from 2019. At least half of those sales, presumably, will be DBXs, designed to satisfy consumer appetites and, most specifically, to appeal to women. According to the company, as of 2019—the last year for which data is available—only 4% of the 85,000 cars it's ever sold went to female owners—a weak statistic that must change if Aston Martin wants to remain viable.
The DBX made its debut in 2019, though coronavirus constraints postponed sales until late last year. Specs-wise it remains the same as then: A 542-horsepower V-8 engine is borrowed from the handsome DB11 coupe and hits 62 mph in 4.5 seconds, respectably mid-pack among its peers, such as the BMW X5 and Porsche Cayenne SUVs. Top speed exceeds 180 mph.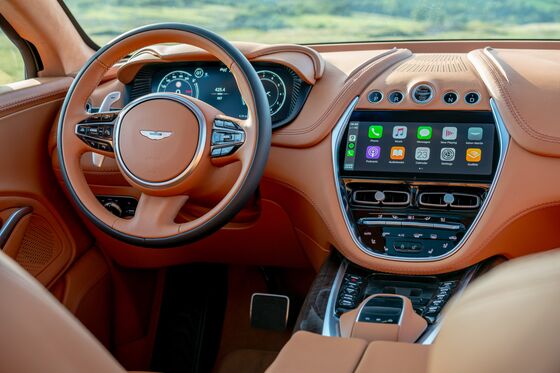 But a recent week of test-driving in the hills of West Hollywood, over the broad expanse of Beverly Drive and the curves around Highland Park, revealed some important new information.
First, the DBX looks like the happy medium between a Jaguar F-Pace and a Lamborghini Urus; it's more chiseled than the Jag but softer than the $218,000 Italian.
The SUV's most distinctive feature is the wide "DB" grille—horizontal slats stretch across the entire front like a sideways pinstripe. Venting channels, carved like hockey sticks into the bottom of the frameless doors, help elongate the look along the sides. Small air vents that look like snake nostrils on the hood and a high and tight rear end, complete with a tiny spoiler, accentuate a sporty stance.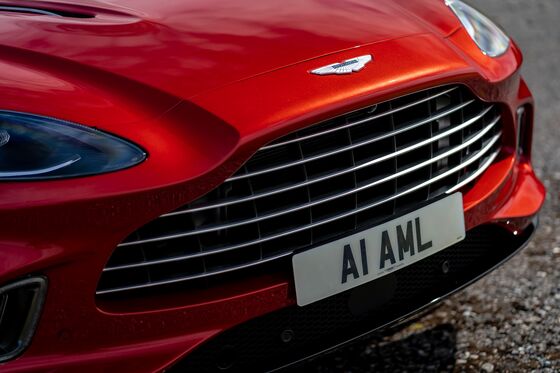 Inside, Aston Martin has put more apparent care into the cabin components than it has in any vehicle in years. Everything feels weighty and well-made: The seats are trimmed in sumptuous leather sourced from longtime partner Bridge of Weir; an 80% wool fabric is also available to cover the five seats.
The sweeping panoramic roof allows sunlight to drench the cabin and command console, which is covered entirely in leather and defined by a 10.25-inch screen at the center; a second, 12.3‑inch screen serves as the instrument panel. (Neither screen is touch-sensitive—that and the abysmal 15 mpg combined fuel efficiency are the vehicle's two missteps.) Apple CarPlay comes standard, as does a 360‑degree camera system and ambient lighting that offers 64 different colors in two zones.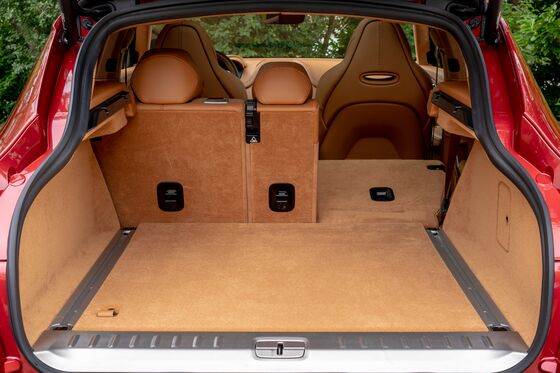 Kudos also for a set of creative, practical extras for drivers on the go: A Pet Pack ($3,400) includes a portable washer for dogs, while a Snow Pack ($2,165) provides a roof-mounted ski rack, snow chains, and (joy!) boot warmers. The Event Pack ($33,700) borrows from the Rolls-Royce Cullinan playbook with a fold-down bench built into the rear bumper, a modular picnic hamper, and umbrella storage (umbrellas not included). Even for those who can't or won't choose these more expensive options, the class-leading head- and legroom, ergonomic sport seats, dual lifting armrests, and 54 cubic feet of storage space with the rear seats folded make the DBX a pleasantly livable daily driver.
Oh, yes—the driving. That is, after all, what Aston Martin's other cars do considerably well. With an almost 5,000-pound hulk and a chassis that gives it a truck-tall ride height, the DBX will never be mistaken for a sports car. But behind the steering wheel you'll find punchy torque, nimble steering, eager rear-wheel drive, and firmly balanced brakes that honor the Aston Martin reputation.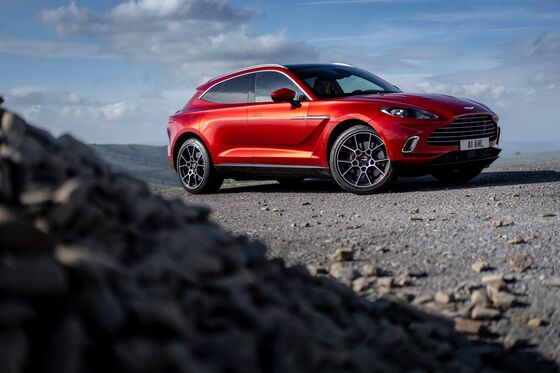 Adaptive air suspension, anti-roll control, electronic adaptive dampers, descent control, and even a system that raises and lowers ride height by almost 2 inches—for when you want to go off-road—make driving the DBX over any terrain feel smooth and confidence-boosting.
Better still, Aston Martin has hinted it will soon offer a high-performance "AMR" variant with more power and a more aggressive suspension. Here's hoping the automaker will prioritize those extra DBXs in the production line ahead of the already outdated Valkyrie.
If the company can find its way out of its other issues, financial and logistical, the product will carry it just fine. The DBX, as it turns out, might just be the road atlas Aston Martin so desperately needs.