As Trump Fights China, Big Tech Savors Jio and India's Promise
(Bloomberg Businessweek) -- In April, Reliance Industries announced Facebook Inc. would pay almost $6 billion for 9.9% of Jio Platforms, the Indian conglomerate's telecom and internet unit. The news unleashed a deluge of interest as global investors smelled opportunity and began bombarding the company with queries, spurring Reliance to impose what it called the "7-4-45" rule, strictly rationing access for even A-list companies such as Intel, KKR, Qualcomm, and Silver Lake Capital: seven days to examine the books on a secure website, four hours of virtual meetings with top executives, and—if a deal seemed close—a final 45-minute videoconference with Reliance Chairman Mukesh Ambani.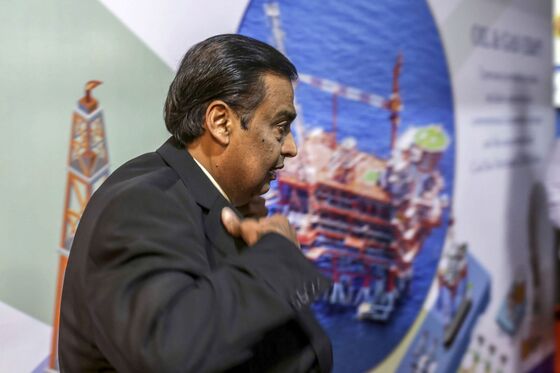 By mid-July a dozen companies had concluded deals with Reliance, which netted an additional $14 billion, boosting total investment in India's tech sector so far this year to almost $38 billion. With Jio, the immediate draw was the company's 388 million mobile subscribers. But just as important—for backers of Jio and other Indian tech outfits—was potential access to a market with more than a half-billion mobile internet subscribers and hundreds of millions more on the way. "This is about the right to play in what promises to be the world's second-largest digital economy," says Vijay Shekhar Sharma, founder and chief executive officer of One97 Communications, which runs Paytm, India's leading digital payments service.
As companies from Facebook and Google to Amazon and Walmart see plateauing user numbers at home and escalating tensions between the U.S. and China's tech industry, they're looking more closely at India. Although the South Asian nation has long had more potential than payoff, its hundreds of millions of digital neophytes hunger for everything from streams of Bollywood films to boxes of breakfast cereal from online grocers. The coronavirus has hurt growth, but it's done little to slow global interest in a country that's on track to overtake Germany and Japan to be the world's No. 3 economy by 2039.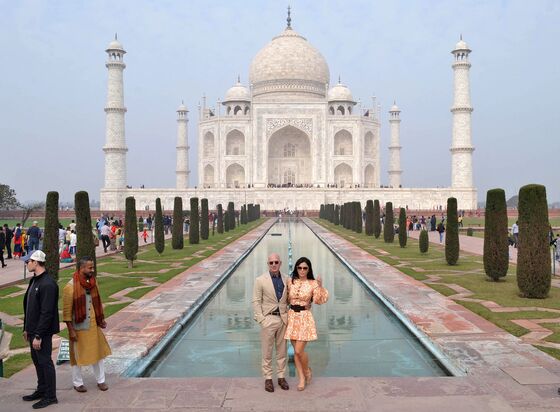 This year's investment rush began in January when Amazon.com Inc. founder Jeff Bezos, on a visit to Delhi, declared "the 21st century will be India's" and announced a $1 billion investment to help small businesses there track inventory, sales, and accounts. In July, Sundar Pichai, CEO of Google's parent, Alphabet Inc., pledged $10 billion to digitize India, including a $4.5 billion investment in Jio. The next day, Walmart Inc. said it would spend $1.2 billion on its Indian subsidiary, Flipkart, which faces growing competition from Amazon and, yes, Jio. All told, more than 800 deals totaling $37.7 billion have been signed this year, according to researcher CB Insights. "The possibility of lighting up a billion ideas in a country deeply rooted in openness and free expression is making India an investor magnet," says Ajit Mohan, Facebook's managing director for the country.
One group no longer welcome at the party is the Chinese, whose companies have increasingly targeted India. TikTok, the video app facing opposition in the U.S., and the UC Browser from online marketplace Alibaba Group Holding Ltd. have each been installed almost 700 million times in India, researcher Sensor Tower estimates. And handset maker Xiaomi Corp. accounted for about a third of Indian smartphone sales in the first quarter, according to Counterpoint Research. Then, after 20 Indian soldiers were killed in fighting on the disputed Himalayan border in June, India banned dozens of Chinese apps, citing a security threat. Tensions with China have "created an opportunity of a lifetime for Indian entrepreneurs," says Mohanjit Jolly, a partner at venture capital firm Iron Pillar Capital in California.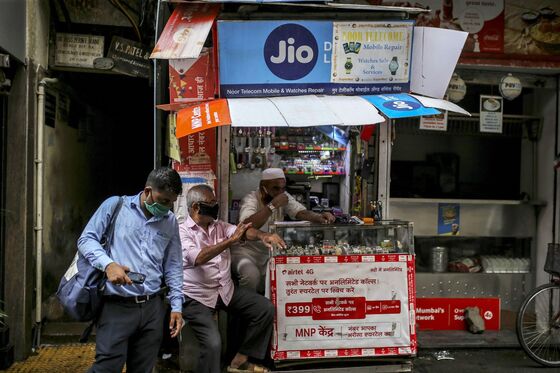 Until the arrival of Jio, which means "live" in Hindi, foreigners dominated India's tech sector. The country is Facebook's biggest national market, with 328 million social network accounts and 400 million-plus subscribers to its WhatsApp messaging service. Amazon controls almost a third of e-commerce there, with more than 500,000 small businesses using its platforms. Netflix and Amazon Prime dominate video streaming.
Jio is poised to challenge those companies and more. Since its founding just four years ago, it's built a 4G network covering virtually every corner of India and become its leading mobile phone carrier. To keep customers glued to their handsets, it offers shopping, movie and music streaming, videoconferencing, and online news, and it's expanding into banking, e-learning, and apps for farmers. "Few companies have the potential to transform a country's digital ecosystem in the way Jio Platforms is doing in India," KKR & Co. boss Henry Kravis said in a note after committing $1.5 billion.
Jio's rise worries some market watchers. Its cutthroat wireless data pricing and packages that offer free voice calls dramatically expanded internet access but helped drive a half-dozen rivals out of business. With its formidable bank account and ties to industry giants, Jio is ready to become a Big Tech player in its own right, says Urvashi Aneja, director of technology consultant Tandem Research. Jio's expansion, combined with economic fallout from the pandemic, could allow it to crowd out smaller players by giving preference to its own services, Aneja says. "Regulators need to ensure that Jio doesn't grow into a monopoly," she says.
Reliance boss Ambani hasn't publicly addressed those concerns, but he envisions a buoyant future for Jio. In recent years it has bought or invested in more than 20 startups in education, e-commerce, health care, and more. In May, Jio launched a grocery delivery service in 200 cities that it plans to link with millions of mom and pop stores, allowing customers to see what's in stock and place orders for speedy delivery. And with Google, it's planning to produce smartphones that could retail for less than $50, aimed at the 350 million Indians who still use basic handsets. "The time has come for a truly global digital product and services company to emerge from India," Ambani said at a July shareholder meeting. "This is Jio's ambition."
 
Read next: Mukesh Ambani Won the World's Most Expensive Sibling Rivalry