Get Ready for Cannabrews
(Bloomberg Businessweek) -- Brian Athaide was at his desk in Grimsby, Ont., when news broke in October 2017 that Constellation Brands Inc., maker of Corona beer, was investing in Canopy Growth Corp. in a deal valuing the cannabis producer at about $2 billion. Athaide, who was chief financial officer of wine and beer company Andrew Peller Ltd., realized he was in the wrong business. "My phone started ringing off the hook from different cannabis companies wanting to do similar deals," he recalls. "Do I want to be in a declining industry? Or do I want to be where the growth is?"
Athaide chose growth. Now he's chief executive officer of Green Organic Dutchman Holdings Ltd., a Mississauga, Ont.-based company that plans to make pot drinks. Although Green Organic's products have yet to hit store shelves, its shares are already worth more than C$1 billion ($757 million). The company's success is a result of the traditional beverage industry's surging interest in cannabis drinks as more jurisdictions move toward legalizing pot.
The coming year will see more of this convergence. While Canada legalized many forms of the drug in October, edibles (including drinks) go on sale over the next 11 months. The prospect, along with a loosening of restrictions on marijuana use in some U.S. states, the U.K., and elsewhere, has lured some of the biggest names in drinks. Constellation has increased its investment in Canopy to $3.8 billion from $200 million. Molson Coors Brewing Co. has started a joint venture with Gatineau, Que.-based Hexo Corp. to sell nonalcoholic cannabis drinks. Coca-Cola Co. has said it's interested in drinks infused with CBD—the nonpsychoactive ingredient in marijuana that can ease pain but doesn't get you high—though it doesn't have immediate plans to enter the market.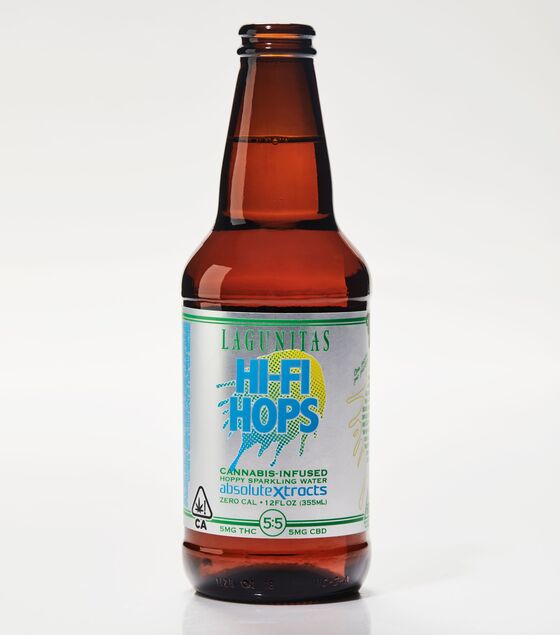 Heineken NV's California-based craft beer subsidiary, Lagunitas, recently began selling a sparkling water infused with cannabis in California, while Australian startup Cannabis Co. is marketing Down Under a hemp gin flavored with weed terpenes. The investments are part of an effort to tap into what Roth Capital Partners LLC estimates could eventually be a $150 billion-a-year legal weed market.
The tie-ups promise to deliver a variety of beverages such as intoxicating cocktails, rehabilitative sports drinks, and sleep-inducing teas. Before people trade a Bud Light for a bud, however, producers will have to develop better recipes. Some current beverage offerings are seriously lacking, according to Canopy CEO Bruce Linton. "They're gross," he says, with very high quantities of THC, the main psychoactive compound in cannabis, and "often very strong masking flavors, so you don't know they taste gross."
Another complication: Different strains of weed produce varying reactions even in seasoned users. Pot takes longer than alcohol to digest and takes effect because cannabinoids are fat-soluble rather than water-soluble. While waiting, a cannabis drinker might have another round. By the time both kick in, she may be more intoxicated than intended. "You know how you'll feel after a second beer," says Peter McDonough, who used to head marketing and innovation for distiller Diageo Plc in North America and now sits on the board of Trait Biosciences Inc. "The challenge cannabis companies have is they need to create a more predictable experience, and they need to figure out a proper way for people to figure out the dose."
Along with billions of dollars in investment, the confluence of industries is drawing a flood of talent from traditional beverage companies. Victor Jerez, former head of strategy at Glenfiddich Scotch distiller William Grant & Sons Ltd., resigned to focus on opportunities in the cannabis industry. Chris Burggraeve, former chief marketing officer of Anheuser-Busch InBev NV, left to invest in cannabis companies, saying the trend could be as significant for Big Beer as the rise of craft brewing.
Bringing drinks industry marketing know-how to a drug that's verboten in much of the U.S., Europe, and other parts of the world alarms some opponents of marijuana legalization. "From a public-policy perspective, it's our worst nightmare," says Kevin Sabet, CEO of U.S. lobby group Smart Approaches to Marijuana. "You have the alcohol industry that's based on an addiction-for-profit model entering the cannabis space when they don't even understand the substance." Dosage is a key concern, he says, because cannabis extract can be 90 percent pure, "compared to the 5 percent Woodstock stuff."
Marijuana producers see an opportunity to fine-tune the range of sensations the drinks could provide. Users will eventually be able to choose a mood to match their desired evening, according to Cam Battley, the chief corporate officer at Aurora Cannabis Inc. One cannabis product might help the user have an uninhibited social night out with friends, while another would promise a heightened sense of touch during an intimate night at home. "In a short number of years, you will see the global cannabis sector grow to be larger than the global brewing sector," Battley says. "We know it will be in the billions. We don't know how many billions."
To contact the editor responsible for this story: James Ellis at jellis27@bloomberg.net