As Merkel's Power Drains, the Threat to Europe Grows
(Bloomberg Businessweek) -- From her seventh-floor office in Berlin, Angela Merkel is surrounded by uncomfortable relics of Germany's 20th century history. To the east lies the Reichstag building, hollowed out by fire in 1933 in an act of arson the Nazis used as a pretext to cement Adolf Hitler's hold on power. Next door stands the Swiss Embassy, one of the few buildings in the city center to survive World War II almost intact. The line of the Berlin Wall marking the Cold War boundary with communist East Germany is just to the north.
The barbarity represented by those daily reminders has underpinned Germany's you-first approach to neighbors and allies since the federal republic was created in 1949. Germany even gave up its fabled deutschmark, a totem of hard-earned postwar affluence, to forge a monetary union and satisfy French and British fears over its post-reunification muscle.
Now all that risks being cast aside. Like many of its neighbors, Germany is threatening to turn inward. The new Italian government's questionable commitment to the euro may be the current cause of consternation among European Union officials and investors—from Christine Lagarde, head of the International Monetary Fund, to Lloyd Blankfein, chief executive officer of Goldman Sachs Group Inc. But the real black swan is Germany and the prospect of a yawning vacuum in the 28-nation bloc. Don't forget: Germany, which started the deadliest war in history, sits at the center of a continent that—barring the past three decades—has known little but conflict and tumult for centuries.
"The rest of Europe would find, I fear, that this Germany would engage in something much more like American retrenchment. In other words, it would say, 'What's in it for us to be the guarantor of European unity and stability?' " says Constanze Stelzenmueller, Robert Bosch senior fellow at the Brookings Institute in Washington. What's more, she adds, "the public mood might well support a politician who popped up and articulated this kind of position."
The trigger for such a shift would be Merkel's ouster. She's in the throes of the most serious threat to her chancellorship in more than 12 years in office over her liberal stance on migration. If the forces arrayed against her manage to bring her down—and they may try soon—they will demand an about-face in policy. That would mean putting the interests of German voters first and those of European allies a distant second. Euro area bailouts? No thanks. Solidarity on immigration? No longer. Greater EU integration? Forget it. Help for Greece? Don't even go there.
Some in Merkel's Christian Democratic Union never really reconciled themselves with a party leader who broke the mold as both the first woman chancellor and the first from the former communist East. She lacked Helmut Kohl's stature and the party connections of Wolfgang Schäuble, Kohl's heir apparent, who eventually served two terms as Merkel's finance minister. Her management of the euro area debt crisis did her no favors with her base, which grew increasingly frustrated with each successive bailout package. Those same sentiments arose at the beginning of June with criticism from her Bavarian sister party, the Christian Social Union, of Merkel's agreement with France to pursue a euro area budget, which would cede more control of Germans' tax dollars to Brussels.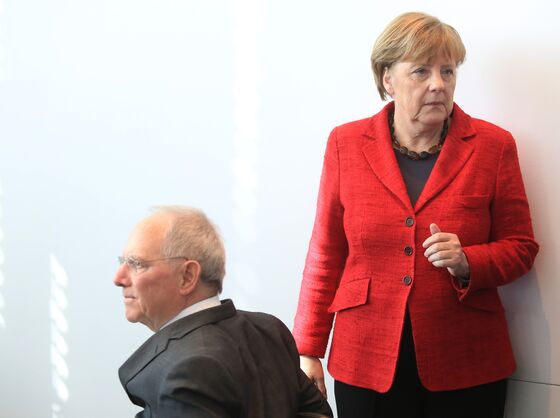 But it was her open-door policy during the refugee crisis of 2015-16 that provided the accelerant to the sparks of dissent. Bavaria was on the front lines of the influx of more than 1 million arrivals, prompting state leaders to push back against federal policy. Conservative voices grew emboldened after Merkel's flabby showing in last year's election. That vote installed the anti-immigration Alternative for Germany (AfD)—one of whose leaders suggested shooting refugees at the border as a last resort—as the largest opposition party.
Merkel's most vociferous antagonists look abroad with envy. Over the border in Austria, Sebastian Kurz, who was 19 when Merkel came to power in 2005, gained the chancellery last year in an alliance with the far-right Freedom Party. In Hungary, Viktor Orban's brand of anti-immigrant populism won him a resounding electoral victory this year. Italy's populist Lega party entered government after extending its traditional northern support deep into the south with anti-immigrant rhetoric.
With public opinion shifting, CSU leader Horst Seehofer sensed his moment. Defying Merkel, he threatened to use his powers as federal interior minister to start turning back migrants at Germany's frontiers. If he follows through, the chancellor will either have to perform a humiliating climbdown or sack him, risking a rift with his Bavarian party that could deny her coalition its parliamentary majority.
Seehofer says he'll start rejecting migrants who were already registered in another EU country unless Merkel manages to get a deal that achieves the same result at a June 28-29 summit of EU leaders in Brussels. The outcome is already in doubt: Orban and his allies in Poland, Slovakia, and the Czech Republic, all of which refuse to accept any refugees at all, boycotted a preliminary meeting on migration on June 24.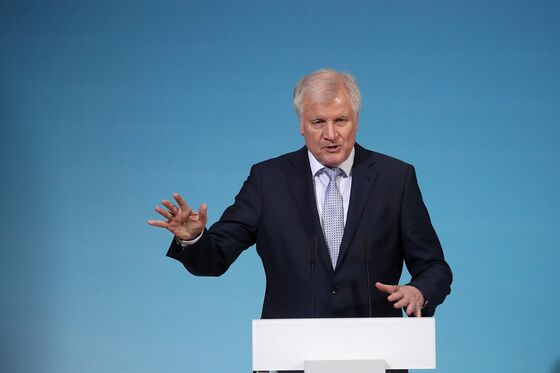 Migration is "a European challenge that requires a European answer," Merkel says, arguing that Germany would risk undermining EU unity by taking unilateral action on its borders. Acting collectively is "one of the most decisive issues in holding Europe together."
That message falls on deaf ears in Italy, the biggest arrival point for the third straight year for migrants crossing the Mediterranean. There, Seehofer's counterpart, Matteo Salvini, is turning away humanitarian vessels and demanding more help from the rest of Europe.
The paradox is that Merkel might be Italy's best hope for achieving a comprehensive agreement on migration. If she were toppled and replaced by a hard-liner, the new German leader would be unlikely to ignore Salvini's provocations and heed Italy's pleas for help.
No leader is indispensable, and after almost 13 years of Merkel, German voters have a right to call for change. The standoff that threatens her ouster may not come, since Bavaria's CSU is vying to maintain its absolute majority in Bavarian regional elections in October in the face of a challenge by the AfD, and it has little interest in stoking national instability.
But with the political forces massing against Europe—from demagogues to refugees—and leaders in Russia and the U.S. with no qualms about upending trans-Atlantic relations, Merkel looks like she's preparing to fight to hang around for a while longer. Her aim: defend an outpost of consensus-driven politics that appears to be increasingly exceptional in today's world. For Brookings's Stelzenmueller, Merkel's "incremental, dilatory, piecemeal approach" can be "infuriating." That's especially so "when you sense that there's a tsunami approaching the borders of Europe and the levees just aren't high enough."
And yet it was just that approach—derided on all sides—that resulted in a coalition willing to write the checks that held the euro together when Greece's financial troubles promised to blow it up. Starting in early 2010 and through countless make-or-break summits for the next five years, Merkel brought along a reluctant German parliament while holding off urgent calls to do more, faster.
In the end, Greece got some $280 billion in loans, and Ireland, Portugal, Spain, and Cyprus also received financial rescues in exchange for deeply unpopular and painful spending cuts. Youth unemployment in Greece reached 60 percent in 2013; even now it's about 44 percent. Throughout, Merkel held the line, urging everyone "to do their homework." With the help provided by Mario Draghi's European Central Bank, Europe is on the mend.
But years of being belted around have taken their toll. In Italy, Greece, and across swaths of southern Europe, Merkel —held up by fans as Europe's savior—will forever be seen as the relentless enforcer of fiscal discipline, and her political demise would be cheered as the final curtain on the age of austerity.
Officials in France might feel relief that the EU's dominant figure had finally released the bloc's tiller. French President Emmanuel Macron once dismissed Germany's dedication to running up budget surpluses as a "fetish." Many in Poland, Hungary, and Eastern Europe, backers of her emphasis on austerity, would see her fall as a vindication of their hard line on refugees.
The contumely heaped upon the 63-year-old Merkel stands in stark contrast to the image she cultivated at home as she established herself as Europe's indispensable leader. Although she has degrees in physics and chemistry, she was photographed in her early years as chancellor wheeling a shopping cart through her local food store, trailed by her security detail. She even bagged her own groceries and boasted she makes a mean potato soup. She and her second husband, Joachim Sauer, rejected the sprawling living quarters in the chancellery and instead live in her 19th century apartment building in Berlin's central Mitte district.
Yet just as Merkel's ambition—and ruthlessness—were underestimated on her way up, in what must surely be her final term, her ability to hold Europe together is overlooked.
The one place where her European clout is clearly understood is Washington. The dominant image of the Group of Seven summit in Canada was of Merkel in front of her fellow leaders bearing down on an obviously petulant President Trump, sitting with his arms crossed, his chin jutting out. Her standing in Europe is one reason he's so keen to undermine her. In a recent series of factually incorrect tweets, he conflated migration to Europe with crime—as he's done at home—and suggested Merkel was on the ropes as a result.
"The people of Germany are turning against their leadership as migration is rocking the already tenuous Berlin coalition," Trump said. "Crime in Germany is way up. Big mistake made all over Europe in allowing millions of people in who have so strongly and violently changed their culture!"
For the president, "Merkel represents that somewhat old-fashioned, open-borders idealism that's rapidly disappearing in Europe," says Nile Gardiner, director of the Heritage Foundation's Margaret Thatcher Center for Freedom in Washington. "Donald Trump is at heart a Europe skeptic. He's not a believer of the Europe project, while Merkel is the guardian of the Europe project." —With Nick Wadhams
To contact the editor responsible for this story: James Hertling at jhertling@bloomberg.net, Howard Chua-Eoan