Forget GameStop. If You Want Real Risk, Invest in Supercars
(Bloomberg Businessweek) -- Everyone notices the doors, but few pay much attention to the sills.
In 1954, Mercedes-Benz unveiled its sinuous 300SL coupe with "gull-wing" doors that hinged vertically from the vehicle's roof into the sky. They were unlike anything the car world had seen. They were also a bit of an afterthought.
Equally vanguard was the chassis, a bundle of thin, hollow steel tubes welded into an intricate lattice of triangles. It was airplane stuff, years ahead of the heavy boxed beams that Detroit and Stuttgart had long relied on.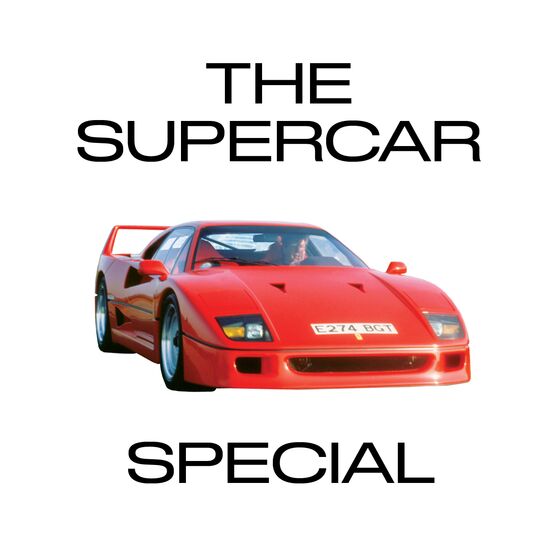 That futuristic chassis required higher sills, which meant a traditional door wouldn't work. Thus, the gull-wings; thus, the legend. Today the 300SL is among the world's most expensive and collectible vehicles.
But as an investment, well, it's kind of meh. If you were prescient enough to buy a seminal 300SL new for its $7,000 sticker price, lock it in a garage, and take good care of it, the machine would fetch roughly $1.4 million today, an annualized return of about 8%, not accounting for inflation, storage, and maintenance. You'd have been much better off in the Dow Jones index, which requires zero oil filters.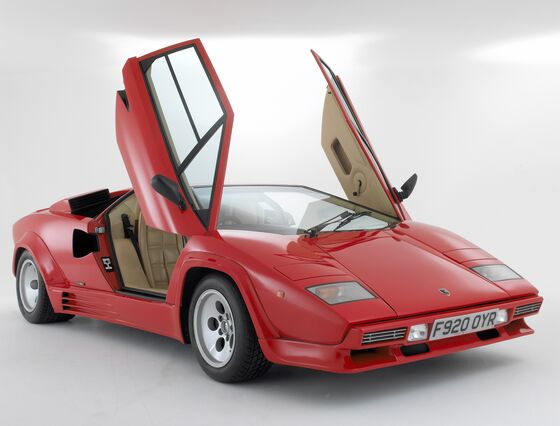 Making a killing on high-end, exotic sports cars is about as easy as winning a race in them: You have to be extremely skillful and more than fortunate. "There are very few supercars which will be a solid investment when purchased over the medium term," says Clive Wilson, who tracks the market as the valuations editor at Cap Hpi in London.
The only time that Stephen Serio, who hunts down rare cars for wealthy individuals, has been able to predict a spike was from talking to a range of collectors and noticing a tiny trend in their tastes. He likens it to insider trading, albeit a legal version. "Honestly, everyone's guessing," he says. "You've got to get lucky."
For every Lamborghini Countach, the definitive poster supercar, there's a Lamborghini Urraco, which was made in the same era and today goes for about as much as a well-appointed new Volvo. If you bought a 300SL in late 2014, you'd be sitting on a 20% loss right now.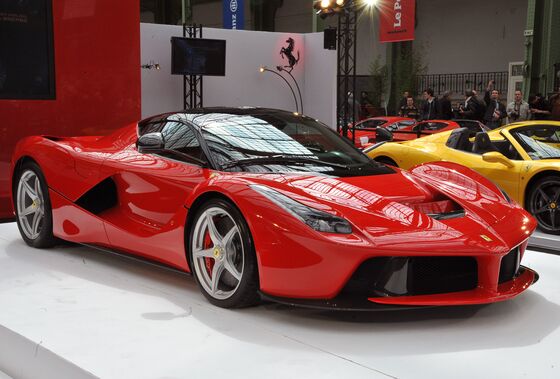 Historical precedent offers a few clues to a good investment. Usually, a vehicle needs to introduce a change in technology or performance. Mercedes did this with its winglike doors and its airplane chassis. Lamborghini did it in the '60s when it put the engine behind the driver in its Miura.
The vehicle also needs to be striking—objectively beautiful—in a shocking, atypical way. Again, Lamborghini is the paragon here with its Countach, an exercise in geometry and the first of many so-called wedge cars when it made its debut in 1974.
Scarcity is clutch as well. Valuations tend to stay high for models that aren't replaced by any particular product.
Ferrari's LaFerrari, for example, was a one-off made for three years, rather than part of the lineup. Crucially, only 499 of them came out of the factory. As time goes on, those numbers inevitably drop, buttressing value further. "People always want what they can't have," Wilson says.
Production volume can be tricky, though. At the end of a model's life, automakers often crank out "limited editions" with extra options and supersize sticker prices. The brand's faithful—dubbed "pet buyers" by auction savants—gobble them up, but their production runs are often far greater than earlier iterations.
"It's a constant gerbil wheel," Serio says. "If they're making something to be collectible, you can pretty much be sure it's not going to be."
Michael Prichinello has bought about 350 vehicles since he co-founded the Classic Car Club Manhattan in 2005. His recipe for a good investment is a car that "has played or will play a meaningful story in the arc of automotive history." All-wheel drive, torque vectoring, carbon-fiber chassis, and electric motors all represent crucial chapters in supercar evolution, each tied to a breakthrough machine.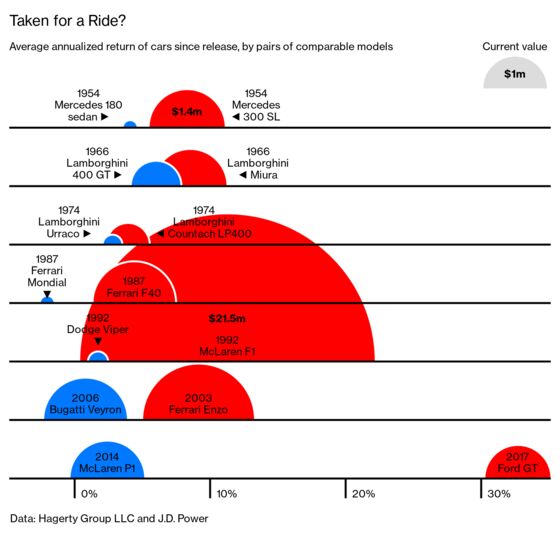 Cars tend to attract a cult following when a company gets out of character, after an executive gives a green light (and a billion-dollar budget) to a vehicle they maybe shouldn't have. Buyers realize they are getting something that might never have been. This is why Ford GTs are so coveted; the car was incongruous with the company when it showed up at Le Mans in 1964.
Prichinello puts the early Teslas in this category, as well as the first of the midengine Corvettes and the hybrid Porsche 918. "There's a big quotient on quirkiness, the things that don't make sense," he says. "There has to be some weirdness, and the weirdness can't be a detraction."
Even some of the best supercars, the ones that check every box, don't have that special something. They end up as the automotive equivalent of a dividend stock. Still, if you're looking for a dubious high-risk investment that goes 200 mph, here are some general guidelines.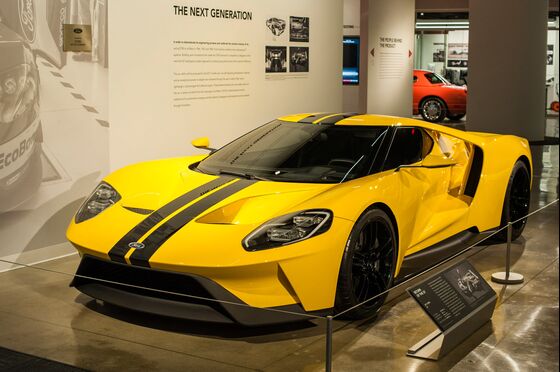 Be first … or last
Seminal versions tend to hold their value, as do those in the final year of production. Collectors have recently purchased Corvettes that act as bookends, betting on the last versions with the engine up front in the 2019 model year, and the first iterations with the engine in the middle of the car out last year.
Sweat the small stuff
Imperfect maintenance or shabby condition can chew up almost half the value. When a particular market turns south, pristine examples tend to hold their value for at least a little while. What's more, a supercar with unusual configurations, say, a manual transmission or racing components, can move to the top of its class. Even an uncommon color can make a huge difference.
Consider the cost of ownership
Changing the fluids on a Ferrari F40 runs about $1,000. The fuel tanks should be replaced every 10 years, which is generally a $12,000 job. In short, there's no such thing as a buy-and-hold supercar. These days serious collectors rent purpose-built climate-controlled garages where professionals handle security and maintenance logistics. Insurance specialist Hagerty Group LLC has four such facilities, dubbed Garage + Social, and charges $500 per month per car. On a $300,000 car, that's essentially a 2% expense ratio before insurance and five-figure brake jobs.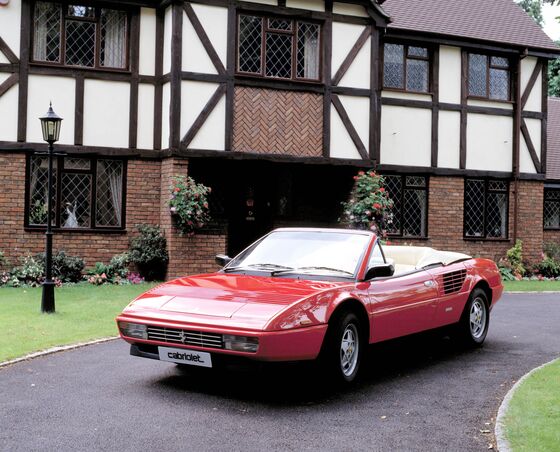 Make sure it's liquid
Some of the rarest supercars sputter on the resale market. Often the manufacturer is out of business, making maintenance a pain. More critically, the vehicles that keep momentum have a crowd of fanboys. Active owners' clubs and driving events act as a sort of flywheel effect, driving transactions, boosting prices, and pulling in new acolytes. There's a case to be made that the supercar market is due for a bit of a bull run. For one thing, valuations have slowly and steadily swooned since 2015. Then came Covid-19, which crimped production, making 2020 somewhat of a standout vintage.
Buy low-ish
Generally, there's the one-generation rule: When teenagers get to a place where they can afford the car that was a poster on their childhood wall, the vehicle's price will spike. Consider the '70s-era Lamborghini Countach. For 40 years, its price was pedestrian; from 2014 to 2016, its value surged sixfold. On newer cars, the nadir tends to come about eight years out: The vehicle has lost its shine among those looking for the new new thing, and yet, it's too fresh to be deemed a "classic."